CREEPY JAR
On leaving the big leagues and surviving the wilds of indie game development
Leaving the safety of a steady job with an established game developer and going it alone is an adventurous move – it's a jungle out there, after all. But echoing the themes of its Amazonian survival game Green Hell, Creepy Jar's small team of Polish developers parted ways with Techland, where they had senior roles in the development of Dead Island and Dying Light, and set out to make their own way in the world.
Founding members Krzysztof Kwiatek and Krzysztof Satek had been a partnership long before Techland came calling, their interest in game development formed through a mutual "addiction to games". As part of a studio called L'art, the two Krzysztofs' first game was 2003 skijumping sim, Skoki Narciarskie: Polski Orzet. "At the time, ski-jumping was very popular in Poland because of Adam Malysz, who was a superstar here," Satek recalls (indeed, Malysz himself graced the box art).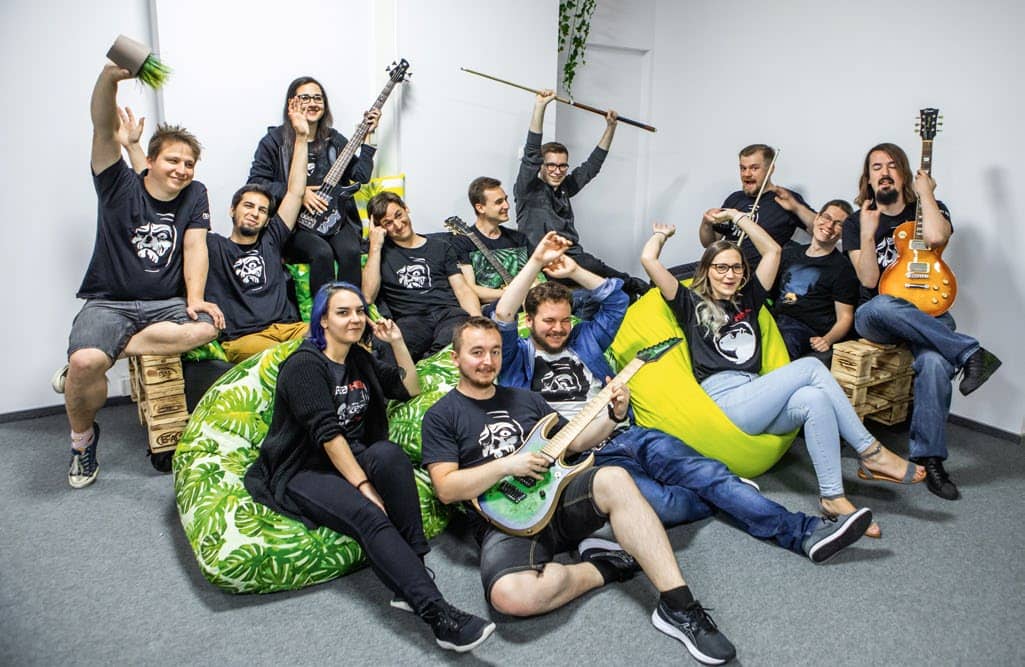 Buoyed by the success of this literal jumpingoff point, Satek and Kwiatek founded a new studio, Prominence, and turned their hand to a different kind of sim game, creating a prototype of an illegal street racer with the working title of Dirty Roar. The team's search for a publisher yielded interest from the Wroctaw, Poland-based Techland, and while Dirty Roar itself was never completed, Techland was impressed enough by Prominence's demo that it hired the studio to create two other motorsport games, the Volkswagen-licensed GTI Racing, and rally sequel Xpand Rally Xtreme. By Satek's own admission, the pair still had a lot to learn about game development – "We thought we knew how to create games after Ski Jumping, and it wasn't true!" – but the relationship would prove fruitful.
"We began pre-production on Dead Island," Satek reveals. "The idea was from Techland, to create this zombie game, and in the beginning the project came to our company in Warsaw." The studio created a demo and showed it to a number of publishers, and with Deep Silver picking up the rights, the project grew exponentially. "Our team was just nine people at the time," Satek says, "but they asked us to close our company and start the Warsaw division of Techland, and we ended up working there for eight years."
During this time, Satek and Kwiatek found themselves working on some of Techland's biggest games, including Dead Island: Riptide, Dying Light and Dying Light: The Following. Their experience in creating first person survival-horror games would clearly later inform the direction of Green Hell, but despite the success of those games, the pair found that working for an ambitious and ever-expanding developer didn't suit them, and chose instead a different, if riskier, path. "Techland was a pretty huge company, particularly after Dying Light," Satek says. "In Wroctaw there were 300 people at the time, and 60 or 70 in Warsaw. Techland had plans to create big projects in Warsaw and it just wasn't something we wanted to do."
You can read up to 3 premium stories before you subscribe to Magzter GOLD
Log in, if you are already a subscriber
Get unlimited access to thousands of curated premium stories, newspapers and 5,000+ magazines
READ THE ENTIRE ISSUE
December 2020