Reflections on 10 Years of Gaming
Casual Game Insider
|
Fall 2020
I've been playing board games my entire life, but I started getting into the hobby around 2010. My then-girlfriend, now-wife introduced me to Ticket to Ride in grad school. Soon after, friends showed us Carcassonne, Lords of Waterdeep, and Kill Doctor Lucky.
Since then, I've attended gaming conventions, played an insane number of games, and even gotten paid to write about them a few times. I've made a lot of new gaming friends, too.
Because I've been playing board games pretty seriously for a decade, I thought I'd share some of the things I've learned — as well as some advice on how to make the most of the hobby.
1 There are a lot of games out there
Board Game Geek has around 120,000 entries. Of course, many of those are expansions, promos, games with a standard deck of cards, and other things we don't want to count. Let's say 75% of those aren't actually games, just to be safe. That still leaves 30,000 games. If I try 500 in my lifetime, I'll consider it a success. I probably own about 25 right now, and I'd (very roughly) estimate that I play 40 different titles each year.
That's a staggering amount of variety. There are casual games, party games, solo games, cooperative games, heavy games, real-time games, campaign games, dexterity games, and dozens of other kinds of games that you can try. You'll find the kinds of games you like, and we'll talk about that shortly. But never stop trying new kinds of games. There will always be games that combine things you like in new ways. Or even things you don't like in a way that somehow works for you. And some games are just so off-the-wall that there's nothing else like them (my current favorite example of this is Q.E.). Keep trying new things. It's one of the best parts of this hobby.
2 Don't underestimate simple games
Some of what I consider to be the best games out there have simple rules that belie great strategic depth. Arboretum is a favorite example. There are 6-10 suits of eight cards, numbered 1 to 8. All you have to do is put them in your arboretum and score paths of different trees. How hard could it be? Turns out it can be extremely hard. It's an absolute brain burner.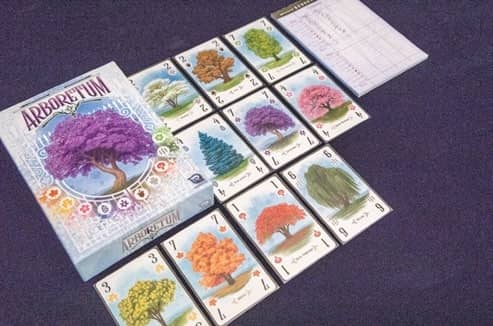 Never underestimate a small or simple game. They can pack a big punch, and being surprised is one of my favorite things about simple games.
3 You can like whatever games you want
I don't especially like auction games. Sure, I adore some games that include auctioning as part of the game. I love Tulip Bubble, which is basically all auctioning. But in general, if a game is largely driven by auctions, I'm hesitant to play. I just don't like bidding on stuff.
You can read up to 3 premium stories before you subscribe to Magzter GOLD
Log in, if you are already a subscriber
Get unlimited access to thousands of curated premium stories, newspapers and 5,000+ magazines
READ THE ENTIRE ISSUE
Fall 2020