Creating Experiences through Game Publishing.
A Leap Back in Time
Back in 2011, Harkins was at a gathering with his regular board game group, and they had just finished playing a game about time travel when Harkins thought, "That wasn't much fun, I can do better than this."
Harkins went home, gathered his ideas, and went about the task of designing his own board game about time travel. He didn't subscribe to the notion that one needs years and years of educational background before approaching game design and publication — he just dove right in. As he soon discovered, the path to success consists of luck, talent, and the will to see the process through to the end.
His first game, a time-traveling strategy card game called Legacy: Gears of Time, grew to the point where people wanted to "trade me money for a board game that I had made," Harkins recalled, chuckling. It was then that he remembered thinking, "Hey, I have this game that people seem to like, so I'm gonna try putting it on Kickstarter."
Harkins told us that the whole experience was a bit different for him because (by today's standards) it was fairly simple. Kickstarter was still in its infancy at the time, and he found that the novelty of the new platform worked to his advantage. "When I started, Kickstarter had maybe 16 game creations for possible backing and now there are like hundreds," Harkins said.
With the success of Legacy: Gears of Time , Harkins officially had his first game designed and published. The follow-up to this was Epic Resort — a quirky workerplacement game featuring heroes looking to relax.
Around 2014, Harkins started looking at games from other designers and ended up signing a game called Vault Wars by John Gilmore. Publishing Vault Wars opened up opportunities to work with even more games and designers. In only three years, Harkins had graduated from simple game creator to full-blown game publisher.
The Floodgates of Sagrada
But it wasn't until 2017 that Harkins realized that he had a bona fide "game-changer" in Sagrada.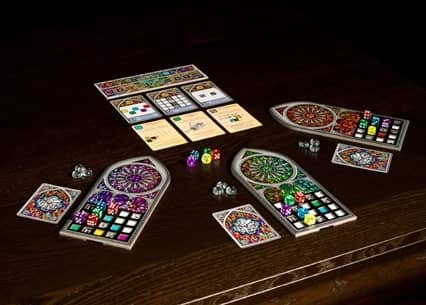 The concept of drafting colored dice to create miniature stained-glass windows provided such a distinct blend of theme and game design that, once implemented into game-friendly play, resonated with board game fans everywhere.
Continue Reading with Magzter GOLD
Log-in, if you are already a subscriber
Get unlimited access to thousands of curated premium stories and 5,000+ magazines
READ THE ENTIRE ISSUE
Fall 2019