GAME REVIEWS: MENTAL BLOCKS
Casual Game Insider
|
Summer 2020
Mental Blocks is a cooperative puzzle game in which each player is dealt a card that shows one perspective for the block tower they are building.
During setup, each player is dealt a card that shows either a gray isometric view from the side of the tower (showing no colors or lines) or a colored, two-dimensional view of one side. You keep this card secret during gameplay. Depending on the difficulty you choose to play, each player may also be dealt a restriction card which they must follow (such as only being allowed to touch black blocks or square blocks) or a glitch card may be in play that affects everyone (such as not allowing you to move around the table or swapping block colors).
You set a timer and the game begins. Except for any limitations imposed by restriction cards, players are allowed to freely talk about their perspective and restriction cards, move around the table, and work together to build the block tower. If the majority of players vote that they believe the structure is correct, they reveal the answer card and check if their tower has the correct shapes and colors forming the correct structure. If they are right, they win the game. If they are wrong or run out of time, they lose. There is also an optional hidden traitor variant in which one player secretly knows the correct structure. In this game mode, the traitor wins if the time runs out, the wrong player is accused of being the traitor, or the block tower is not successfully built. The other players win if they correctly build the tower or if they vote on the traitor and correctly identify them.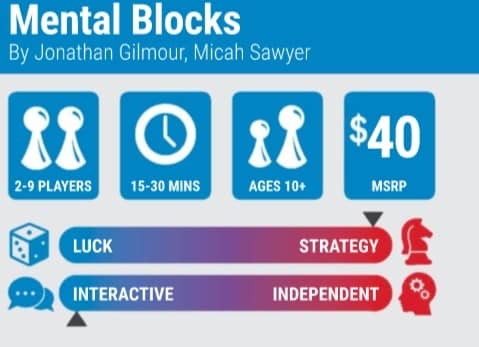 Mental Blocks is a unique game that has players thinking along new lines that aren't often called for in gaming. The challenge of working together, trying to figure out how your perspective fits in with everyone else's, while also being aware of the ticking clock, can be difficult, exciting, and even humorous at times. It's also a game that will likely have you moving around, checking the tower from different angles — so, while it is very much a game of logic and puzzles, it still has some movement and action weaved into it.
We found that the fully cooperative gameplay offers a fun challenge on its own, without the need to introduce the traitor variant. The overall concept can be difficult to teach and is something you have to play to learn. But with several ways to tweak the difficulty, a nice range in player count, and excellent component quality, Mental Blocks is a unique and well-produced party game that is worth checking out.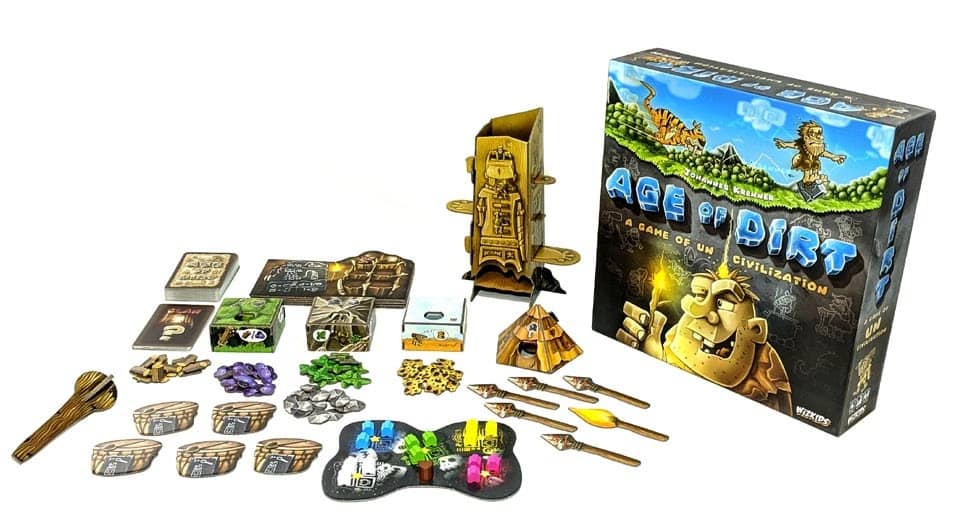 AGE OF DIRT
Grow your tribe, expand your cave, and become the chief of chiefs in a game of cavemen and cube towers.
A tower is set in the middle of the table along with four location boxes. Each player starts the game with four meeples and a small cave. On your turn, you choose one of three actions. You may send out a clan member by placing one or two of your meeples into one or two of the four boxes. You may spend resources to build an invention card from your hand or from the table, to expand your cave so that you can hold more invention cards in hand and hold more resources, to add an invention card to your hand, or to build a spear or drum (you may only have one of each at any time). Or you can call back clan members.
When calling back clan members, you choose one of the boxes and take all the meeples that are in it and drop them into the tower. Not all of them may come out that turn. For each meeple that does come out, the player who owns the meeple takes a resource (the resource type depends on the box that was chosen).
If a player's meeple does not fall out of the tower and he has a drum, he may discard the drum to tap the tower wall with the drumstick in an attempt to jostle it out. Some boxes also have dangerous animal meeples. When one of them falls out of the tower it eats one meeple belonging to each player who had a meeple come out of the tower. You can save your meeple in this situation by discarding a spear.
Players earn points by completing invention cards, which also grant special abilities, so the game has a solid escalation in the later stages. The first player to reach ten points wins the game.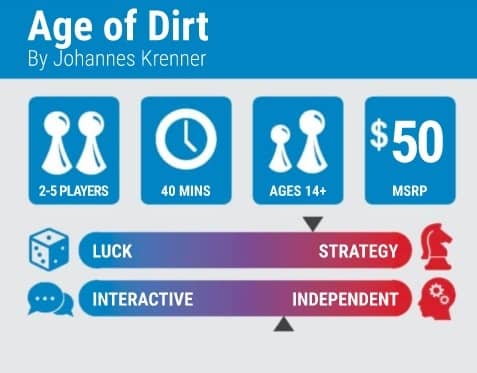 Age of Dirt is a thoroughly fun and enjoyable game. From dropping the meeples into the tower to the amusing artwork, everything about it is designed to be a good, silly time. You won't find a whole lot of strategy here, but that's not what it's trying to be. You still have to adapt your plans based on what falls from the tower and when, as well as the cards you complete and the abilities you gain. The components are excellent, especially the tower — it's always fun to see what comes out.
Overall, it's a very endearing, joyful game that plays at a nice brisk pace, will keep you entertained, and will leave you wishing cube towers would appear more often in board games.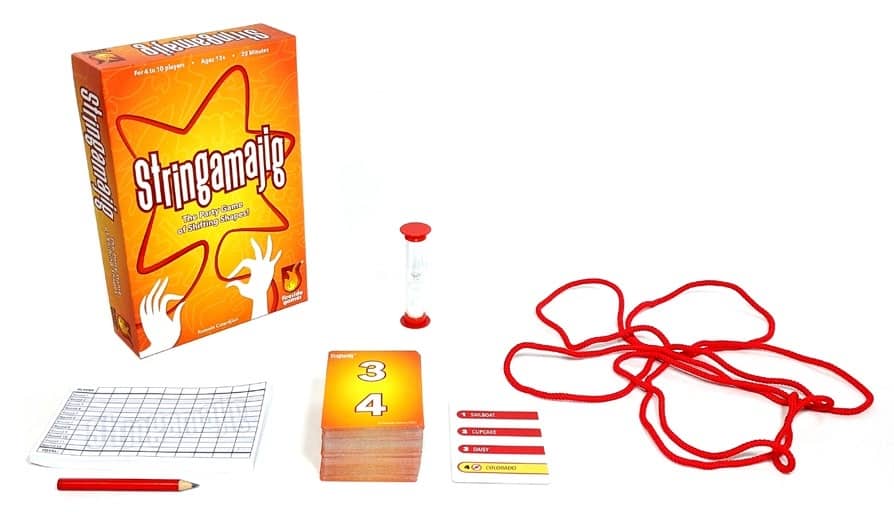 STRINGAMAJIG
Can you get the other players to guess the word "tooth" using only a loop of string and some charade skills? How about "snail"?
You can read up to 3 premium stories before you subscribe to Magzter GOLD
Log in, if you are already a subscriber
Get unlimited access to thousands of curated premium stories, newspapers and 5,000+ magazines
READ THE ENTIRE ISSUE
Summer 2020