Bihar Election: Is The Cha Cutting Enough?
Modi plays the Bihar game with seasoned politicians, and finds his tactics backfiring.
Even one of Delhi's best known political scientists, a lanky, learned man loaded with numbers, theories and history, is wary of sticking his neck out on which way the Bihar wind is blowing. "We can all be right or we can all be wrong," he says, a la Yogi Berra. But this much he is willing to concede, off-the record: after the first three phases, the unlikely combo of Nitish Kumar and Laloo Prasad Yadav is way ahead. As you head for the door, he says his driver, a Bihari, thinks just the opposite. The man, he says, has already bet Rs 55,000 on a BJP victory because his sources in the satta bazaar have told him Narendra Modi-Amit Shah are way ahead.
This wasn't how the BJP projected this to be. This was supposed to have gone just one way, their way. But as the dirt-track race veers into the last laps, the buzz is increasingly getting louder. Could 2015, which started for the BJP with a resounding rout in Indraprastha, end with a double-drubbing in Pataliputra? The 'bhakts' have started looking a wee bit anxious, gone is the cockiness of an imminent, overwhelming and certain victory. In its place is a grim, grudging acknowledgement that the "regressive 18th century forces", as the prime minister described the opposition, may just be about to do what Arvind Kejriwal did, minus the muffler.
It ain't over till it's over, of course, and many BJP leaders still put up a brave face.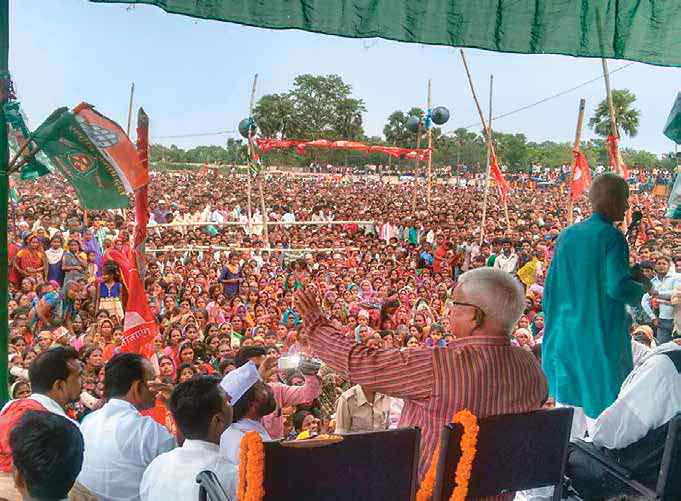 "Call me at 2 pm on November 8," the BJP president tells one interviewer after another. That is the time on counting day, soothsayer Shah has predicted, when Nitish, the incumbent Bihar chief minister, would wave the white towel, concede defeat, and leave for the Raj Bhavan to tender his res ignation from a job he has held for a few months shy of 10 years. The prime minister himself predicts a 'Double Diwali' for the BJP this time, the first being three full days ahead of the real one, on November 8.
But don't be fooled by the bravado; the worry lines are deepening on even the most phlegmatic tilak-smeared forehead. From predicting a landslide in favour of the NDA in September, they have now come round to say that BJP+allies would come within kissing distance of the 122 seats req uired to form a government. But it's the comments from various BJP worthies that reveal the growing unease that all isn't hunky-dory and that it might be time to buy insurance:
Oct 29: "If the BJP loses, terrorists in Pakistan and terror cells at home will celebrate by bursting crackers."—Amit Shah
Oct 28: "The Bihar verdict would be no referendum on the performance of the Modi government."—Arun Jaitley
Oct 26: "A defeat in Bihar would be a loss for the people of the state, not so much for the BJP."—Sakshi Maharaj, MP
A victory for the Grand Alliance of Nitish and Laloo is by no means signed, sealed and delivered. Far from it. But in his first real face-off with seasoned political players, not of the spreadsheet variety, and in a state where politics courses through its people's veins, Narendra Modi has more than met his match. Every slur, every sting operation, every bit of misinformation has been countered in a manner Team Modi has been unaccustomed to so far. So much so that psephologists say that in a bipolar election like this, there will be no half-measures; the result is going to be clear and decisive. Think Delhi, think Kejriwal: 67 out of 70.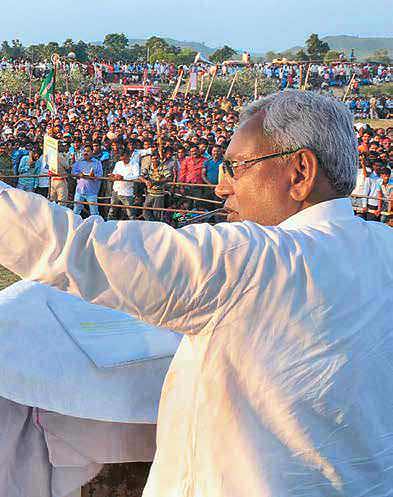 You can read up to 3 premium stories before you subscribe to Magzter GOLD
Log in, if you are already a subscriber
Get unlimited access to thousands of curated premium stories, newspapers and 5,000+ magazines
READ THE ENTIRE ISSUE
November 9, 2015