A Realist Takes On An Illusionist
Outlook
|
September 28, 2015
Nitish has delivered results for everyone to see. But Modi's patter holds some pull.
THE BJP is already celebrating victory in the Bihar elections clairvoyant farmers who sowed their seeds and can predict a bumper crop without any pest, hailstorm or drought. The 'angel' they are looking up to for delivering the rich bounty is none other than the 'devil' in the other camp: Laloo Prasad Yadav. If you believe their story, he is their greatest ally, not Ram Vilas Paswan, Upendra Kushwaha or Jitan Ram Manjhi. He is the bogeyman who will drive the horrified masses to them and get them to their goal.
And you wonder, why did Nitish Kumar have to propitiate the bringer of nightmares? As chief minister, Nitish had an extraordinary track record: he had turned Bihar around, and the godforsaken state was going up in development indices. Besides, his integrity was impeccable. He could well have gone to the polls alone. Even if he had lost power, he would not have lost his greatest asset: his credibility.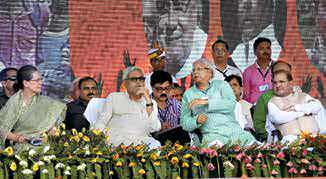 Sonia, Nitish, Laloo, Sharad Yadav at a 'swabhiman rally' organised in Patna as a show of strength against the NDA.
That is the puritanical view. But puri­tanism doesn't work in politics. It hap­ pens to be the philosophy of the sages of religious preachers, scholars, media pundits. Would Nitish have ever been able to oust Laloo from power and end the 'jungle raj' he'd allowed without his party, the JD(U), banding with the 'com­munal' BJP? But he has now allied with Laloo to fight the homogenising radical Hindutva raj. Laloo had then called Nitish's alliance with the BJP immoral; now, the BJP is calling his alliance with Laloo immoral. The real question is: is the BJP's alliance with opportunists like Paswan, Kushwaha and Manjhi moral?
You can read up to 3 premium stories before you subscribe to Magzter GOLD
Log in, if you are already a subscriber
Get unlimited access to thousands of curated premium stories, newspapers and 5,000+ magazines
READ THE ENTIRE ISSUE
September 28, 2015