Politics As Costume Drama
It's not for nothing that Indian politicians are so conscious of what they wear.
From under-dressed Mohandas Karamchand Gandhi to over-dressed Narendra Damodardas Modi, every Indian politician has been acutely conscious of attire. Like PV Narasimha's famous comment that not taking a decision is also taking a decision, not dressing up is also a form of dressing. Some might think Mamata Banerjee doesn't care a jot how she looks, but anyone who tries to persuade her to doll up like Mayawati is likely to be given short shrift. Mayawati would be equally upset if asked to give up her lacquered hairdo, dupatta flung round her neck like British undergraduates used to drape their university scarves, and swinging handbag.
Although hardly a tailor's dummy, Gandhi appreciated the strategic advantage of what he wore better than one might suspect. How else could he have retorted "His Majesty had enough on for both of us!" when asked if he really wore only a loin cloth to tea with King George V and Queen Mary? The opportunity for a dig at the King-Emperor was worth the risk of catching a chill in Buckingham Palace, where his scanty dress exposed a pair of skinny legs. This semi-nudity also won plaudits in a popular pre-Second World War poem that CF Andrews cited:
Hitler with his Brown Shirts, riding for a fall, Mussolini with his Black Shirts, back against the wall, De Valera with his Green Shirts, caring not at all, Three cheers for Mahatma Gandhi, with no shirt at all!
No Indian politician misses a chance to score a verbal—or sartorial—point. But few can match Modi when it comes to self-advertising even if the discerning fear a self-goal. The writing on Modi's sleeve where someone else might wear his heart proclaimed to the world that Lal Krishna Advani is no longer the BJP's top man. Nor has the glib English-speaking Arun Jaitley taken over. Gujaratis knew this already. The Prime Minister's worry was that English-speaking voters committed to Jawaharlal Nehru and secularism might not. Hence the emblazoned jacket that gave Rahul Gandhi an opening for his cheeky 'suit-boot' crack. But was the boot on the right foot? Someone whose academic escutcheon yells 'Doon, St Stephen's, Trinity College, Cambridge and Harvard' with nary a hint of paathshala or madrassa is surely more suited and booted than a former RSS balswayamsevak from the OBC ranks even if the splendour of his current and ever-changing wardrobe does indicate Modi is scrabbling to make up for lost time. Himself dependent on Roman Hindi, Rahul probably thought Modi was flaunting his mastery of English. His own kurta-pyjama outfit suggests a conscious uniform while his here-today-gone-tomorrow facial hair indicates the now-you-see-him-now-you-don't revolutionary. He is Iran's Mahmoud Ahmadinejad one day and Britain's Prince Harry the next. Modi's bearded visage speaks of the revolution that never was.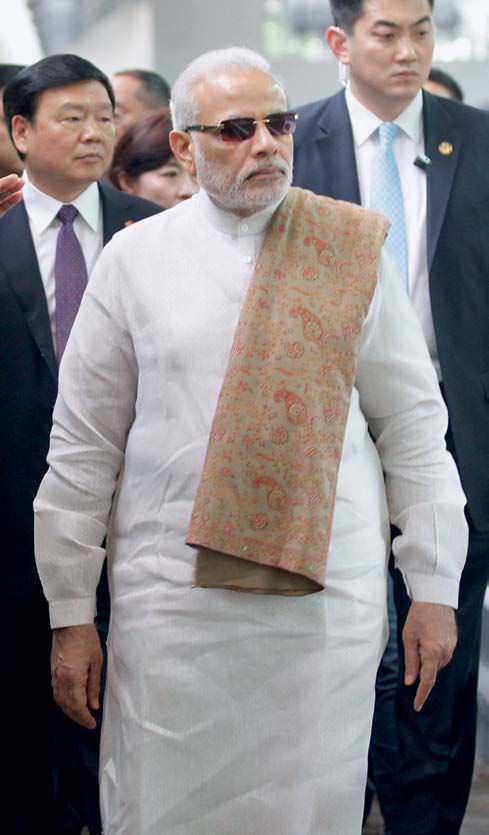 You can read up to 3 premium stories before you subscribe to Magzter GOLD
Log in, if you are already a subscriber
Get unlimited access to thousands of curated premium stories, newspapers and 5,000+ magazines
READ THE ENTIRE ISSUE
September 7, 2015