Mother's Day- Jayalalithaa Is Invincible In Spite Of A Diminished Aura
Jayalalithaa remains unbeatable in the face of a regrouping of smaller parties and the blunted challenge of DMK .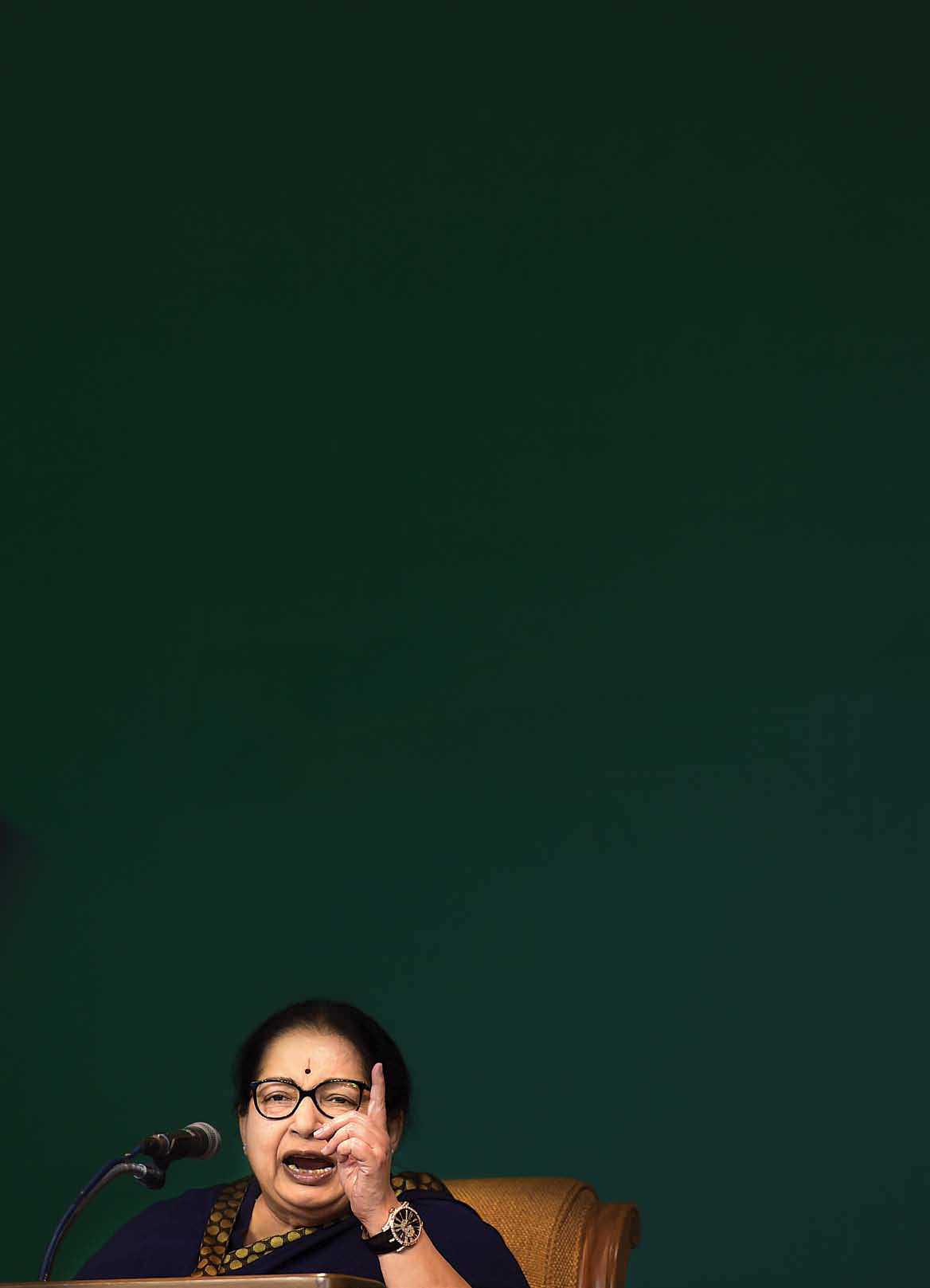 Tens of thousands brave the afternoon sun, lock stepped and sweat-drenched under their green party-issue caps, roaring and waving at TV cameras as though they were plucked from their mundane lives for just this moment. Their hours-long wait is nearly over, with moments to go before Tamil Nadu Chief Minister J Jayalalithaa lands in Alichikudi near the town of Virudhachalam on a hastily-conjured helipad. The commentator scurries off with a final exultation for Amma, suspending his real-time account of her journey from Poes Garden to the venue of her second public meeting ahead of the Assembly elections—in Tamil Nadu's Cuddalore district. Instead, a jaunty welcome song composed for the occasion pulsates from the speakers. An old woman sweeps the stage one last time, lingering a tad longer in the cool blast from the air conditioners. A party functionary wipes down with his handkerchief the chair and table from where Amma will read out a prepared speech about her government's munificence.
The 13 candidates from Cuddalore, Ariyalur and Perambalur districts that the AIADMK chief will shortly introduce spring to attention as she strides past with a nod and takes the stage. All is perfect. A little push from the universe and Amma could forever rule over Tamil Nadu. For a magical moment, one is inclined to forget that this is mere spectacle, orchestrated like a bad play without wit or humour. Where the protagonist is a benign mother, but her voice does not touch an emotional octave.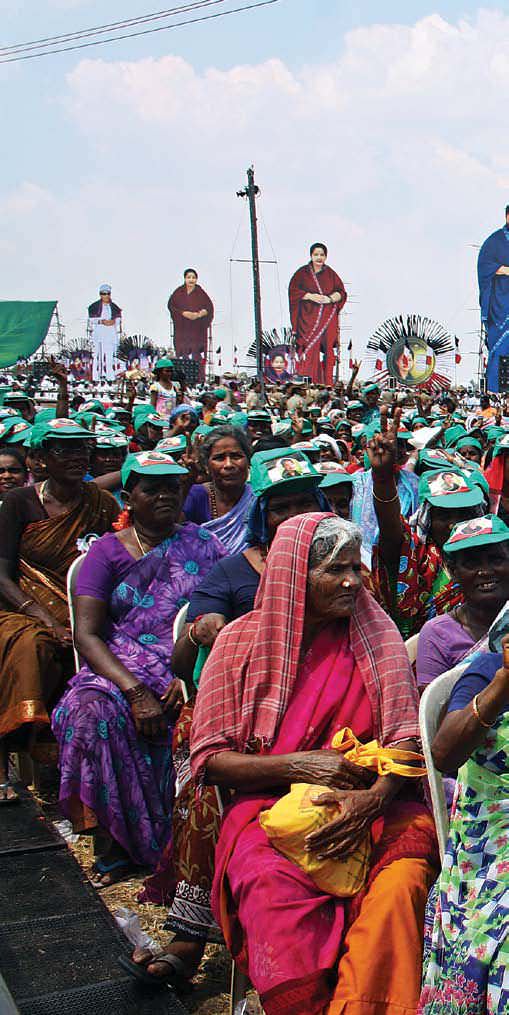 The story of the death of emotion in Tamil electioneering runs parallel to the political trajectory of Jayalalithaa, who turned the Dravidian tradition of powerful oratory on its head. She did not inherit her benefactor MGR's easy charm or ability to turn a dithery voter. Words were not her weapon of choice. Her larger than-life persona and a carefully cultivated aura of mystery made up for that. At any rate, a heapful of biryani and a few hundred rupees could just as easily pull a crowd. As for the votes of the unwashed masses—they could be rustled up like so many idlis in the hearths of Amma canteens, or won over with a shiny new mixer-grinder, if only by putting a strain on the exchequer. In the Burkean parlour of Tamil Nadu's welfare discourse, where no party can hope to have the last word, Amma's has been the one booming voice. "I have delivered not just what I have promised but much more," she reminds the people in Virudhachalam. She goes on to stomp on the sole poll plank that her adversaries—the DMK and a third front constituted of the Viduthalai Chiruthaigal Katchi (VCK), the Left parties, Vijayakanth's DMDK, Vaiko's MDMK and the Tamil Maanila Congress—have been employing against her. She will abolish liquor, but in a phased and realistic manner, she says, stressing that her government, if re-elected, will set up de-addiction centres across the state. People seem to swoon at this, although the blistering heat that killed two at the rally may have played a role.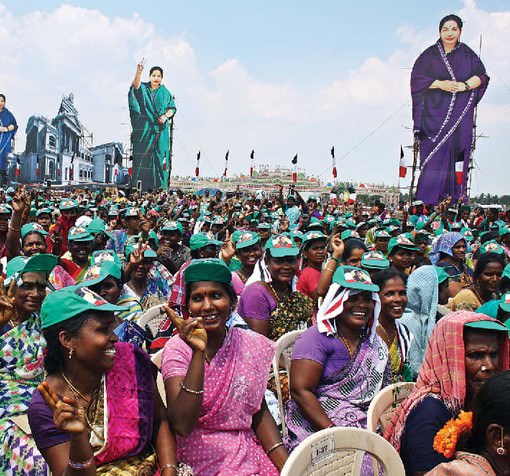 Around this time yesterday—10 April—workers hollered across scaffoldings that would hold up massive cutouts of Amma throughout the grounds. A tailor relentlessly sewed scalloped stage skirtings from yards of green satin in preparation for the mega event. R Munisamy, a cucumber seller, found himself richer by hundreds of rupees and hoped to make a killing serving 5,000 policemen on the day of the rally. "An event like this, it costs tens of crores. The DMK's meetings pale in comparison," said an AIADMK party functionary. "We have contractors for everything from food, water and decoration to transporting people from across the state." As we chatted, a safari-suited man who claimed to be in charge of security eyed me suspiciously. "You are not welcome, not now," he said, walking over from behind the stage where he was helping MC Sampath, Minister for Commercial Taxes and Registration Department, review security arrangements. "We may invite everyone to our housewarming, but would we ask them over to watch the construction process?" he asked. "This is the Chief Minister's dignity we are talking about."
You can read up to 3 premium stories before you subscribe to Magzter GOLD
Log in, if you are already a subscriber
Get unlimited access to thousands of curated premium stories, newspapers and 5,000+ magazines
READ THE ENTIRE ISSUE
May 2, 2016