Gujarat: Caste Struggle For Power
An unjustified demand for reservations by a dominant group has engulfed Gujarat in a caste struggle for power.
It Is not difficult to find the entry gate of Matrushakti Society on India Colony Road of Bapu Nagar in Ahmedabad. Once we enter the gated complex, a deafening silence welcomes us, disturbed only by the occasional dog bark and in complete contrast with the buzz of activity outside. We see a young man coming towards us. Without speaking, he guides us to the house of Shwetang Patel, the 33-year-old who died in police custody on the night of 25 August after having allegedly participated in mob violence to attract public attention to the demand of Gujarat's Patels for OBC status—a demand that several pundits consider unreasonable, given the social status of this powerful and affluent community.
An old man is lying on a cot in an open veranda. His moist eyes blink, but there is no body movement. He is Naresh Bhai Patel, Shwetang's bed-ridden father who has had complete paralysis for two years. "He can't speak or move," says Purvish Bhai Patel, Shwetang's cousin, "Shwetang was the only earning member of the family." Inside the house, a few women are seated on the floor in silence. An A4 size picture of the deceased is visible on a wooden stand. Among those present are his mother Prabha Patel and sister Palak who performed the 33-year-old's last rites a day earlier.
Family members claim that Shwetang was picked up by the police around 10 pm along with other youths of the colony on 25 August. At 11 the next morning, they received a call from the Bapu Nagar police station. His mother went there, and was asked to sign a blank sheet of paper to secure her son's release. She insisted on talking to her son first, but says she later signed the sheet under police pressure. As soon as she did so, she was taken to the mortuary of the government hospital nearby. It was only then that she learnt of her son's death at the hands of the police, acting against Patel youth after public property was vandalised by protestors of the community. It took the intervention of the Gujarat High Court for an autopsy to be conducted, and it revealed several injuries—especially one to the head—as Shwetang's cause of death.
Ironically, while the family says that Shwetang was not part of the quota protests, they express pride that he died for a 'cause'. "His sacrifice won't go waste," says Palak, "I have lost one brother but got thousands of new ones." Among them, she counts Hardik Patel, the young community leader who started this state-wise agitation for job and educational reservations for Patels. On 30 August, Hardik visited the family and Palak tied him a rakhi. "I visited the families of all my fellow brothers who sacrificed their lives for the community on that black night," says Hardik Patel over the phone to Open, "This is just the beginning. The movement will gain further momentum. I have also demanded compensation for families of the deceased."
Mobile internet and messaging services have been blocked in several parts of Gujarat as the government in Gandhinagar fears the effect of rumours, which could worsen the violence in the state. This fear is not unjustified. Purvish Patel shows us some pictures of his cousin's body taken right after the autopsy.
It has wound marks on the arms, between the legs and on the head. Along with that, he shows us a video of policemen entering a housing colony, damaging vehicles parked on the road and beating up some boys. "Wait for mobile services to resume, then you would see evidence of police atrocities spreading like a wildfire," he warns. "The entire Patidar samaj will get to know about their heroes who battled for their honour and respect."
Shwetang was not the only one to die. Eleven deaths that day/night have been reported from different parts of Gujarat. For Patidars—or Patels as they are popularly known—they are martyrs. Even if it's to a cause that rests on a faulty premise.
For the past three months, Gujarat's Patidars, who form around 12 percent of the state's population, have been in agitation mode demanding their classification as an Other Backward Class, a move that would assure them reservation benefits if conceded. Hardik Patel, the 21-year-old convener of the Patidar Anamat Andolan Samiti (PAAS), has already held 181 rallies across several districts and talukas of Gujarat to unite Patidars in this cause. The rally of 25 August at GMDC grounds was a culmination of the movement, drawing around 350,000 Patels together from different parts of the state in a massive show of numbers. Encouraged by the response of the crowd, Hardik Patel made a charged speech, challenging the BJP government to either award the desired quota or face the music of angry Patels.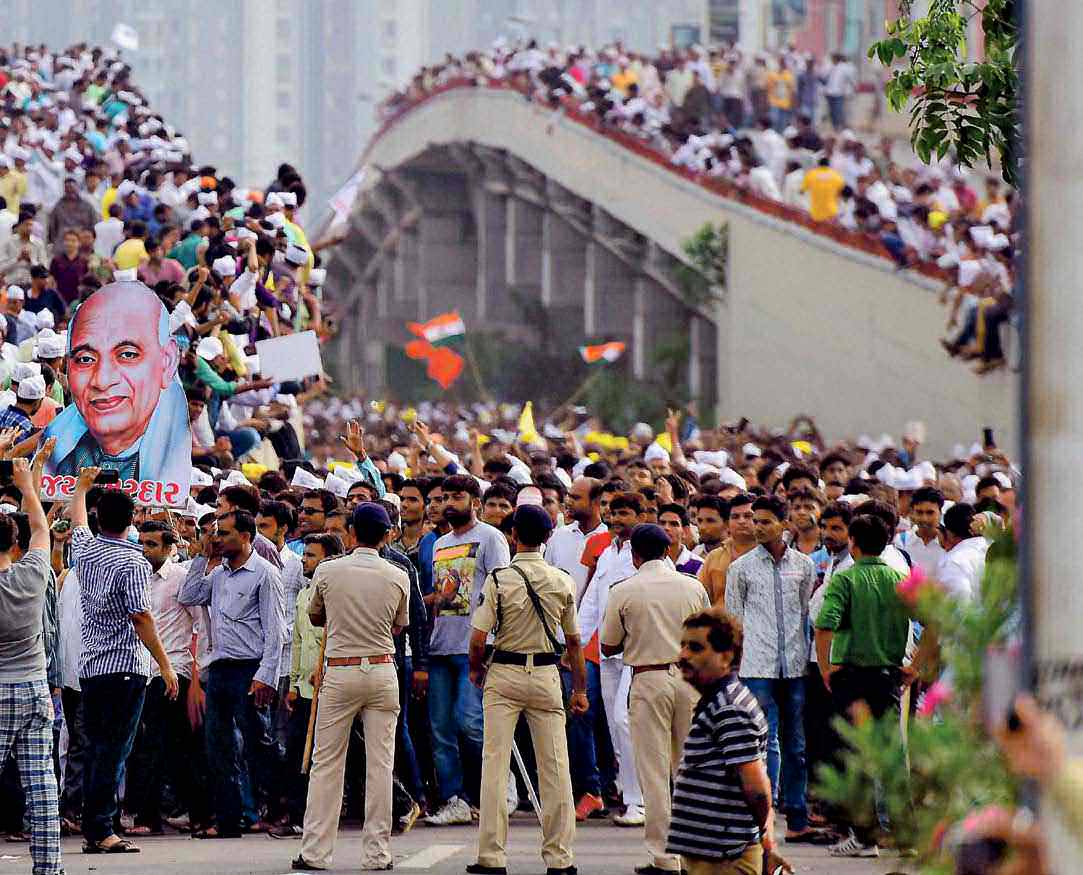 You can read up to 3 premium stories before you subscribe to Magzter GOLD
Log in, if you are already a subscriber
Get unlimited access to thousands of curated premium stories, newspapers and 5,000+ magazines
READ THE ENTIRE ISSUE
September 14, 2015