You're Invited To A Finnish Tea Party
Bloomberg Businessweek
|
September 07 - September 13 2015
(Unless you're gay...or Muslim...or Greek)
Stephanie Faris, photography by Aapo Huhta
In early August, Timo Soini, the foreign minister of Finland, mounts a stage at the convention center in the town of Turku. The occasion is celebratory, marking the 20th anniversary of the formation of the Finns, the conservative party he heads, and his entrance into government for the first time following elections in April.
Soini is a big man, with the girth and mirth of a television sitcom dad and a gift for the colorful phrase. His speeches are usually easygoing affairs, loaded with crowd-pleasing mockery of Finland's participation in the bailout of Europe's weak southern economies. But on this occasion his imagery is stark. He describes his party's performance in the election as "a hard, diamond like achievement" and likens the tough decisions he's since had to make as facing "the cosmic cold."
In the past 20 years, Soini has led the Finns from an insignificant also-ran to the country's second-largest party, now governing in coalition with two other conservative parties, including Prime Minister Juha Sipila's Centre Party. Soini has done so by being the voice of opposition. And yet, just three months after taking office, he's being forced to explain why Finland agreed to sign on to a new €86 billion ($96 billion) bailout for Greece.
When Greek Prime Minister Alexis Tsipras and his left-wing Syriza party forced a crisis in June by skipping payment on part of its country's debt, Finland was among the countries favoring the harshest response. Largely because of pressure from the Finns, Helsinki's official position going into the negotiations was that Athens should exit the currency union, at least temporarily.
When the talks instead looked likely to produce a new rescue package—Greece's third bailout in five years—Finnish media reported that the Finns were threatening to bring the government down. Soini denies that. "We decided to stay in government," he tells the assembled members of his party. "All the members of Parliament voted for the deal. But this doesn't mean we are happy with what's happening in Europe."
Allowing Greece to fail, he explains, would cost Finland from €3 billion to €4 billion (money it's already lent to Athens) and weaken Europe strategically. Sticking to his principles and bringing down the government would have opened the door for political rivals and reduced his ability to shape a rescue package that Finland couldn't block on its own. Soini characterizes his acquiescence as the inevitable result of the previous government's commitments, which—unlike his Greek counterparts—he feels honor bound to uphold. "We are not Syriza," he says. "And we won't be."
Like Syriza, however, Soini is learning that being in government means sometimes carrying out policies you oppose.
Soini founded the Finns in a typical Finnish fashion, with three other men in a sauna. He and his confederates had been members of the Finnish Rural Party, which went bankrupt and disbanded in 1995, and they believed there was space for a party representing the conservative working class.
Perussuomalaiset is the party's name in Finnish, and until 2011 its official English-language name was the True Finns. "That sounded much more right wing than we actually are," says Sampo Terho, the party's current leader in Parliament. "It sounded like there were false Finns and true Finns." Translated literally, the name means "basic Finns," but its significance is closer to "ordinary Joes."
Finland is a country of 5.4 million. Its political culture is based more on consensus than conflict, and its spectrum is narrow: Every party in Parliament is a staunch supporter of the welfare state. So its politicians differentiate themselves primarily in terms of cultural identity.
The Finns party is unabashedly populist. Its signature topics are immigration, family values, opposition to European authority, and identity issues such as eating meat, wearing fur, and driving big cars. In the European press, the Finns are often grouped with far-right parties such as the Italian Northern League or France's National Front, but the closest analogue may be the American Tea Party, with antipathy toward the European Union in place of objections to wasteful government spending. Its implicit promise is a return to a simpler time, when the economy was predictable and the culture was uniform.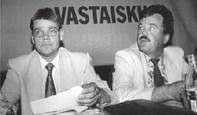 Soini and Finnish Rural Party official Reijo Rinne in 1992.
You can read up to 3 premium stories before you subscribe to Magzter GOLD
Log in, if you are already a subscriber
Get unlimited access to thousands of curated premium stories, newspapers and 5,000+ magazines
READ THE ENTIRE ISSUE
September 07 - September 13 2015