Luminar 4 A Smart Photo Editor Part I
Smart Photography
|
October 2020
A month ago, we reviewed Affinity Photo – a full-featured yet cost-effective photo editor.
This month we will look at Luminar 4 post-processing software that has won several awards (from TIPA, EISA, and many others). Its claim to fame is that it brings new technologies that make post-processing easy for photographers who do not want to get bogged down by increasingly complex commands and other complications. Luminar, in its current avatar (called Version 4) achieves this by using smart algorithms, based on AI (Artificial Intelligence) technology.
While you can adjust the usual parameters like, exposure, contrast, saturation, white balance, etc., the same are executed intelligently, in the sense that Luminar analyses the image and does its best to prevent overcorrections. If you want more automation, Luminar also offers single-click solutions. If you use these, Luminar analyses the image and then presents you with several different 'pre-cooked' outputs, called 'Looks' which are shown as thumbnails. All you need to do is click on the one you like. That is all! Many complex editing steps can thus be performed with a single click. You can further tweak the result to suit your needs.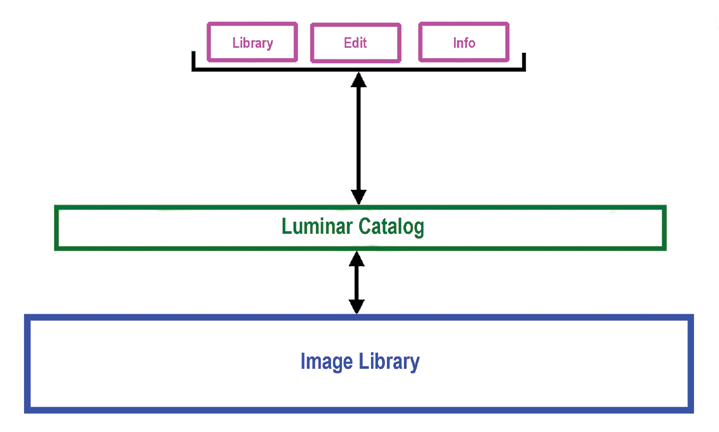 Architecture
Luminar resembles Adobe's Lightroom to an extent. Architecturally, it is organised as three views, viz. Library, Edit, and Info (Picture 1). These three interact with your image library (that is, your pictures) through the Luminar Catalogue which stores the location information, the editing steps you had performed as well as the metadata for all images. The Library and Edit views are functionally similar to Lightroom's Library and Develop modules. Thus, Luminar has a DAM (Digital Asset Manager or image library manager) and a Raw converter/ developer. This is unlike Affinity Photo, which is a close clone of Photoshop, and does not include a DAM, though a Raw converter is present. Note that, Luminar does not have several other modules like Map, Print, etc. that Lightroom includes.
Now, it is time for us to take a deeper look at some of Luminar's features. We will start with the common ones and then move on to some of its exclusive features that makes Luminar popular, even with Lightroom users. Let's begin with the simplest one, the Info view.
Info view
This is essentially a display only view that shows all the image data (Picture 2), viz. histogram, the date and time of capture, image size in pixels, file size in MB, the camera used, white balance set, type of exposure meter, ISO, aperture, shutter speed, exposure compensation, and focal length.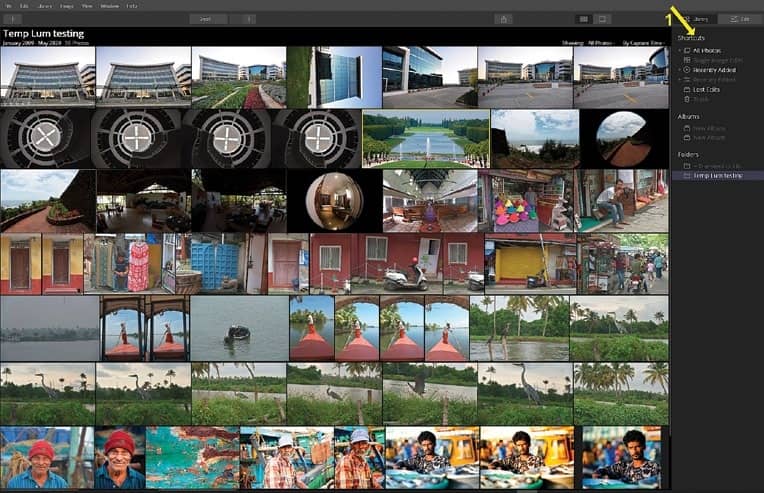 Library view
You can read up to 3 premium stories before you subscribe to Magzter GOLD
Log in, if you are already a subscriber
Get unlimited access to thousands of curated premium stories, newspapers and 5,000+ magazines
READ THE ENTIRE ISSUE
October 2020