Bears: How To Capture Grizzly Pics...And Survive
Popular Photography
|
September 2015
A nature photographers tips for capturing dramatic images of these majestic - and often misunderstood - creatures.
Jack Crager, photography by Tom Mangelsen
TOM MANGELSEN has photo graphed wildlife from hummingbirds to elephants, but he has a special soft spot for bears. And he's particularly fond of the grizzlies that roam Grand Teton National Park near his home in Jackson Hole, Wyoming. "The more I see bears, the more I feel for them, and their plight in a terribly crowded world," Mangelsen says. "These bears in the parks are enjoyed by so many people—and the awareness the people come away with because they've seen these grand animals, it's the high light of their vacation most times." Mangelsen has produced or con tributed to more than a dozen books on various wildlife species around the world. But in his forthcoming volume Grizzly: The Bears of Greater Yellowstone (Rizzoli, $60), he focuses on a single family of bears, all born and raised by a matriarch known only as 399. "She was the 399th bear that was tagged in the Greater Yellowstone ecosystem," Mangelsen explains. "She's as good a mom as you get. She's raised several sets of cubs to adulthood— which is about two and a half years, when they go off on their own."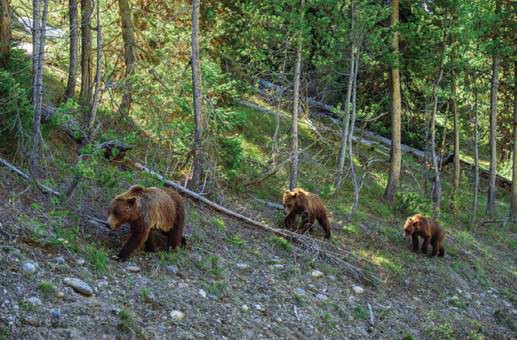 WANDERERS - Shot with a Nikon D4 and 80–400mm f/4.5–5.6G ED VR AF-S Nikkor lens; 1/320 sec at f/5.6, ISO 800.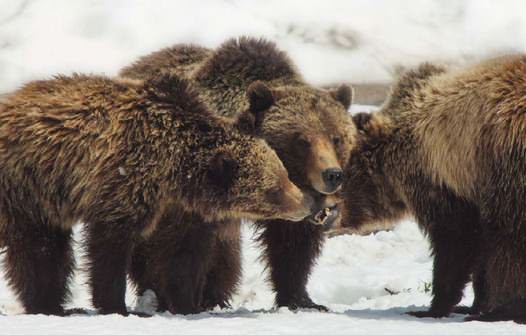 FOOD FIGHT - Mangelsen shot 399 and her two cubs with a Nikon D2Xs, 600mm f/4G ED VR AF-S Nikkor lens, and TC-17EII AF-S teleconverter (1.7X); 1/400 sec at f/16, ISO 250.
In the Tetons, the 20-year-old 399 and her cubs are so accustomed to human tourists that they often scavenge for food near the park's paved roads. "She has learned to negotiate between the human world and the bear world," Mangelsen observes. "She knows it's probably safer to be around humans and their vehicles than in the deep forest where big boars or male grizzlies may harm her cubs."
You can read up to 3 premium stories before you subscribe to Magzter GOLD
Log in, if you are already a subscriber
Get unlimited access to thousands of curated premium stories, newspapers and 5,000+ magazines
READ THE ENTIRE ISSUE
September 2015