SHOOT WINTER LANDSCAPES
PhotoPlus : The Canon Magazine|February 2020
Take advantage of the year's toughest season and venture outdoors to take incredible landscapes when they're magically transformed by snow and frost
Winter is here and this time of year brings with it some fantastic chances for shooting landscapes as the environment transforms. A blanket of fresh snow can give a scene a completely different look and frozen bodies of water can make for a striking focal point, or add interest to the foreground of your images that you can't get in warmer seasons.
At this time of the year the sun sits lower in the sky, creating a lovely diffused glow, which is great for photographing landscapes – you essentially get an extended golden hour where the wonderful warm light from the sun as it rises, or sets, for much longer than usual. The old adage less is more is certainly the case here, as although the sun is up for a significantly shorter period, the quality of light is massively improved.
In our big winter landscapes photo guide we have some fantastic top tips for getting the best out of your Canon kit, including the best ways to fend off the cold and keep warm, so you can stay out for longer and avoid missing the perfect moment. We also reveal the best ways to deal with tricky high contrast light encountered at sunrise and sunset, as well as how to edit your winter scenes back at the comfort of your computer.
GET THE GEAR
We run through our top picks of essential photo kit that will make shooting landscapes easier this winter
Landscapes is one of the more accessible genres photography has to offer, as even the most entry-level Canon cameras have great resolution for capturing every detail. But there are a few select pieces of kit, that will help you take your photography further when out shooting landscapes this winter, such as a rock-solid tripod, better optics and warm clothing. A hot drink and hand warmers will help you fight off the cold, so you can stay out longer and make sure you don't miss the split-second moment when the sun lights up the landscape perfectly. Here's our top picks of the kit you should take out with you on your next wintery excursion.
01 Sturdy tripod
A good sturdy tripod will help eliminate camera-shake and make it possible to capture long exposures. If you're in the market for one, look out for a model with rubber or foam cladding around the top of the leg sections. This way, when you grip it, you don't have to hold a freezing cold piece of metal when transporting it.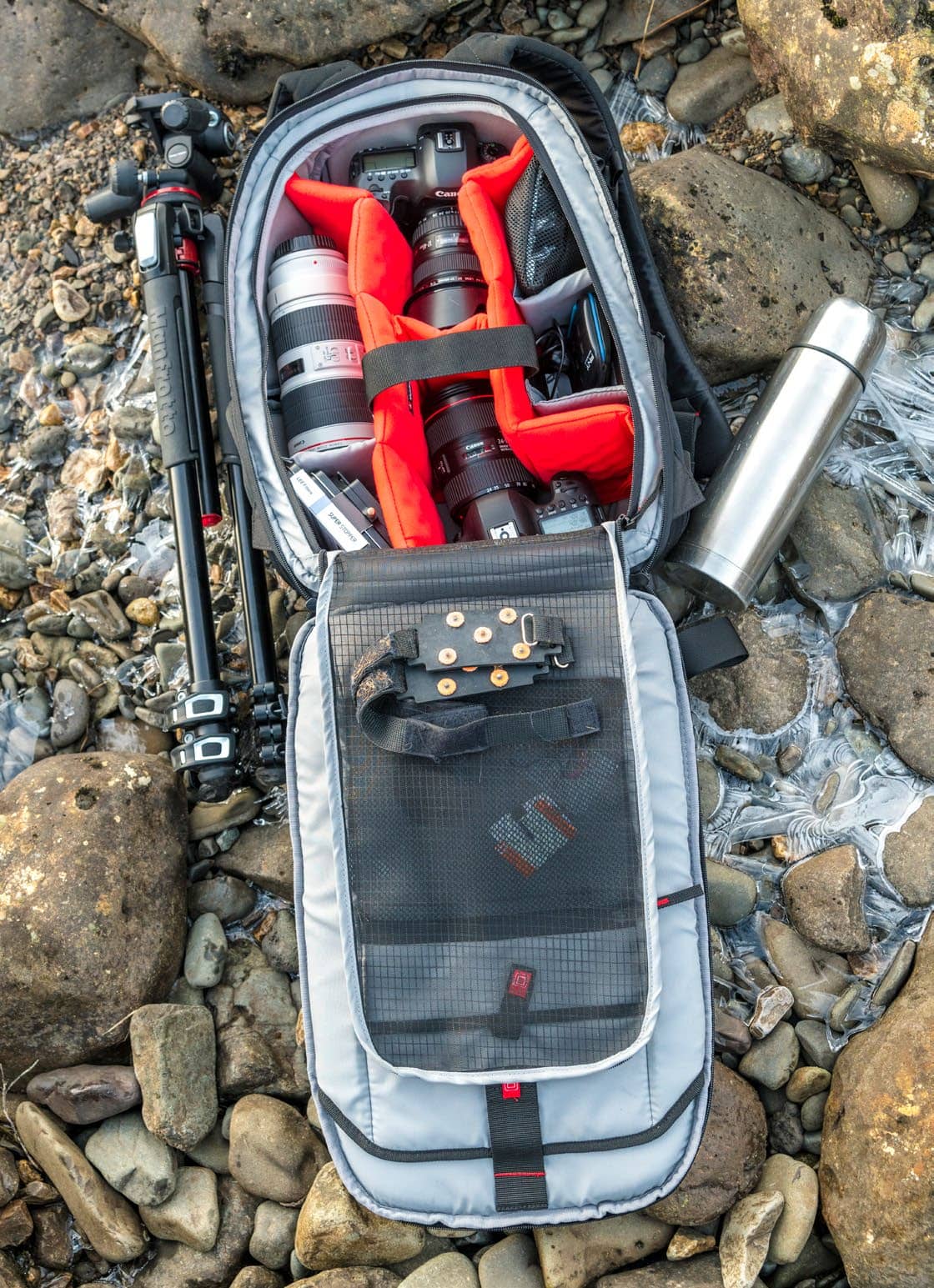 02 Wide-angle lens
These are lenses with a focal length below the standard 50mm, creating a much wider angle of view. This will help you to squeeze more of the wide-spanning vista into the frame. Canon's EF 17-40mm f/4L USM wide-angle is a great choice.
03 Telephoto lens
A lens with a focal length above 50mm, like a 70-200mm, is ideal for picking out details in the distance. Even when you're out shooting landscapes, you may have a surprise encounter with a wild animal and an optic like this will help you get a frame-filling picture. They're also helpful for shooting landscapes, as they can be used to compress the perspective of a scene.
04 Camera body
You can take great landscape images with almost any Canon DSLR or mirrorless body, as they have large APS-C or full-frame imaging sensors that deliver fantastic image quality. A high number of megapixels can be beneficial as this will allow you to print your pictures larger and also enable a greater freedom when back at home and editing / cropping shots later on in post.
05 Rucksack
You'll need a comfortable bag to carry all of your equipment in. The Manfrotto Pro Light RedBee-310 backpack that we used had plenty of room for all of our kit and loads of thick padding to keep it all protected from knocks. It was also very handy at keeping all the kit insulated from the cold air too.
06 Filters
There's a large selection of filters that are great for landscapes, such as Neutral Density filters that block out light for long exposures. There's also graduated ND filters that allow you to balance out the contrast between bright skies and dark foreground. Lastly, a polarizer makes it possible to boost contrast in blue skies and remove reflections.
07 Memory card case
It's a good idea to use a memory card case or wallet to keep all of your cards organized, so you know which ones are full and which are freshly formatted. This large card and battery soft case from Vanguard has space for four batteries and loads of room for memory cards.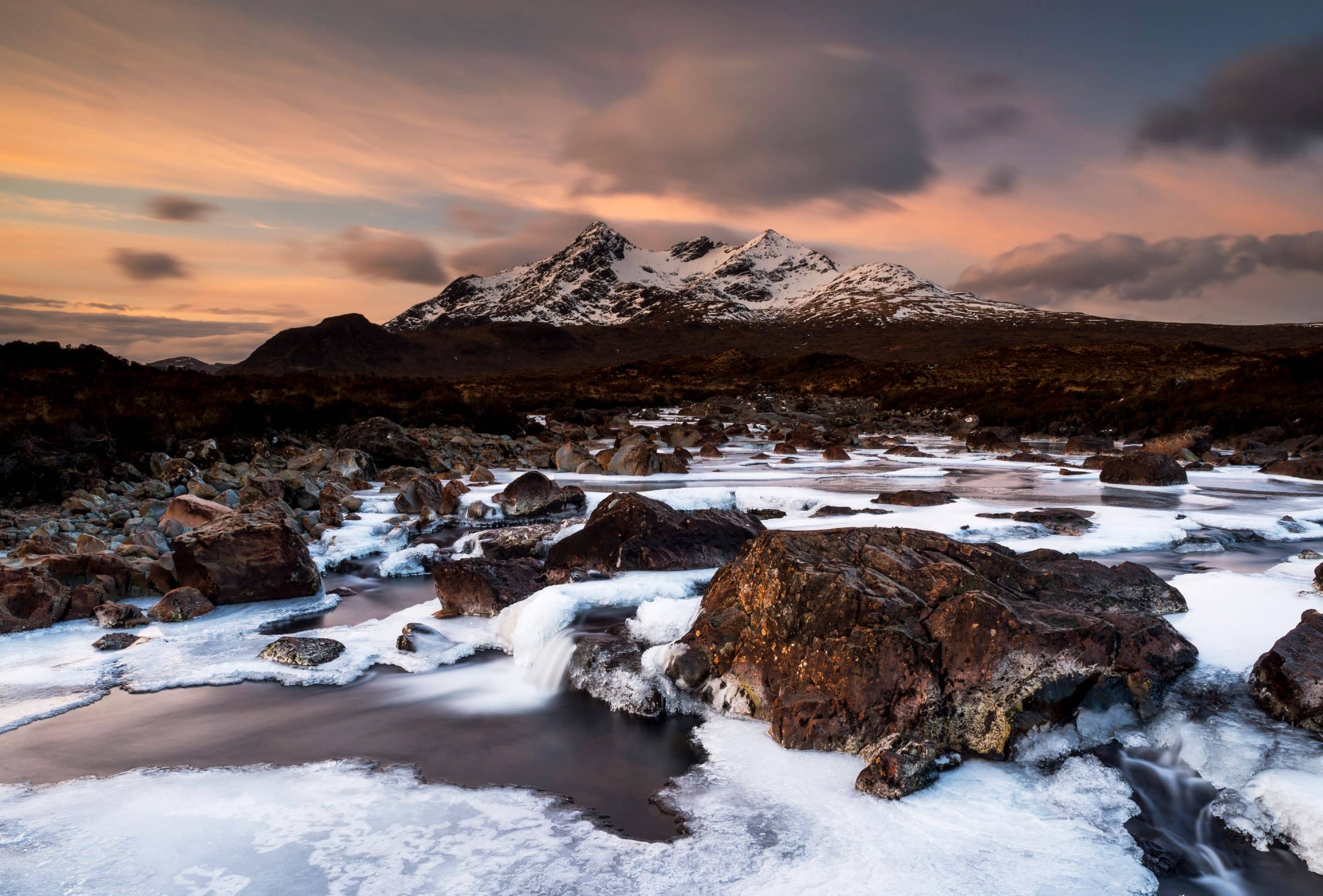 FROZEN WONDERS
The sub-zero temperatures at winter bring with it the unique opportunity to include frost and ice in your landscapes
One sure-fire way to make your landscapes look instantly more wintery is to include some frozen elements, like water or frosty leaves. Use a frozen pool of water, or some frosty foliage, to anchor the bottom third of the frame and lead the eye into the shot.
Time is a luxury when it comes to photography, but luckily landscapes are an area where you can slow things down and pace yourself to get the framing and settings spot-on. Be sure to use a tripod for a more considered composition – it will also reduce the risk of camera shake.
You can read upto 3 premium stories before you subscribe to Magzter GOLD
Log-in, if you are already a subscriber
Get unlimited access to thousands of curated premium stories and 5,000+ magazines
READ THE ENTIRE ISSUE
February 2020