ELINCHROM ELC 125 TTL / ELC 500 TTL
PhotoPlus : The Canon Magazine|June 2020
Elinchrom unleashes top-flight, fully featured studio flash at affordable prices with the ELC 125 TTL & ELC 500 TTL heads
Elinchrom has built a strong reputation in studio and location flash systems for robust build quality, top-drawer performance, reliability and ease of use. Mains-powered D-Lite monobloc heads and kits have long been a favourite of discerning photographers, thanks to their compact portability, simplicity and overall superb lighting quality, especially when combined with Elinchrom's excellent range of softboxes and various other light modifiers.
However, based on conventional, rather than IGBT (Insulated-Gate Bipolar Transistor) technology, D-Lite heads lack advanced modes like TTL flash metering and an 'Action' option, which fires a short-duration flash for freezing action. The new Elinchrom ELC 125 and ELC 500 heads add these as well as many other upgrades.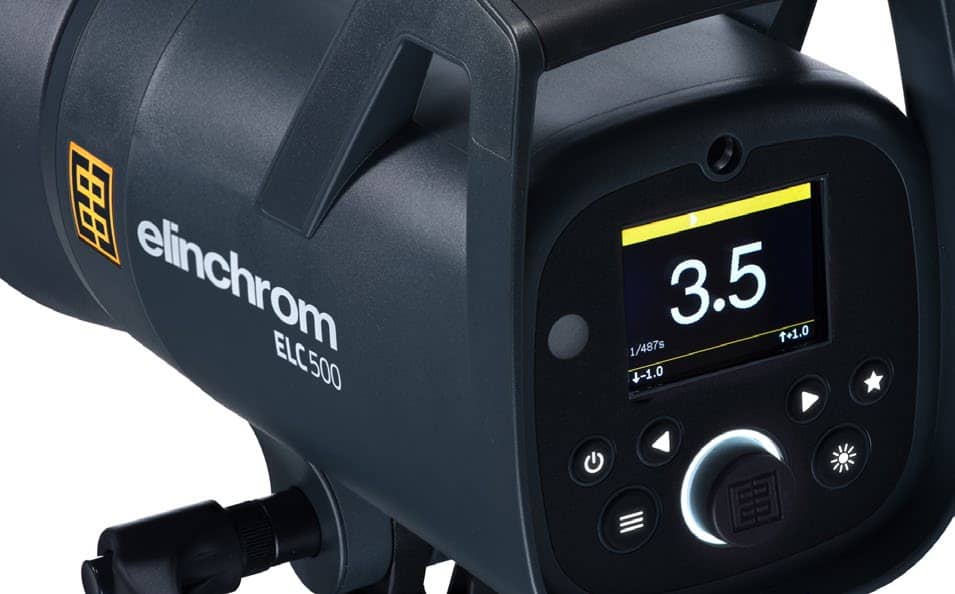 Key features
IGBT technology enables the versatility of advanced shooting modes, but it comes with a catch. There's a real technical challenge in maintaining the consistency of colour temperature throughout the power range, especially at low-power settings. Consistent colour quality has always been a particularly strong point of Elinchrom flash heads and, thankfully, it's been passed down to the new IGBT heads we have here.
The 125 and 500 heads have power ratings of 131Ws and 522Ws respectively, the latter being somewhat larger and heavier at 2.5kg compared with the smaller unit's 2kg. Unlike the older, more conventional D-Lite heads, there's a larger overall power range, both heads enabling a minimum output of just 7Ws. The lower end of the scale is especially useful if you want to use wide apertures to enable a shallow depth of field, or you don't want to overpower low-level ambient lighting. With D-Lite kits, you'd have to resort to using an RX One head for subtle output, coupled with RX 2 or RX 4 heads for when you need more power.
On their own, or with a basic trigger, both heads offer a wide range of features. The streamlined interface combines a full-colour OLED screen with a simple rotary dial and pushbutton controls. For example, left and right arrow buttons enable you to alter the flash intensity in full f-stop increments, whereas the rotary dial allows for 1/10th or 1/3rd f/stop fine adjustments. There's a menu button at the bottom left of the back panel which can be easily navigated by turning the rotary knob and pressing it to select and change settings. The menu itself includes many customization options, including the facility to optically slave the head from a flashgun, ignoring any pre-flash pulses. Opposite at the bottom right of the back panel is a modelling lamp button, above which there's a 'favourite' button, which you can assign to your preferred function for quick and easy access.
FEATURES
01
The illuminated logo changes colour to signify one of four available wireless groups.
02
A rugged grab handle enables secure lifting and easy handling.
03
The main rotary dial all has a pushbutton action for quick and easy adjustments.
04
Intuitive and simple, the interface is based around a colour OLED screen.
05
You can read up to 3 premium stories before you subscribe to Magzter GOLD
Log in, if you are already a subscriber
Get unlimited access to thousands of curated premium stories and 5,000+ magazines
READ THE ENTIRE ISSUE
June 2020