CANON EOS SKILLS - CAPTURE THE ACTION
PhotoPlus : The Canon Magazine
|
November 2020
Never miss the moment again with our 21 tips for great action photos from our Canon pro sports and wildlife photographers
Action photography in genres like sports and wildlife, where you often need lightning-fast reflexes to capture fleeting moments as a high-speed subject zooms past your lens, will really put your skills to the test.
That being said, the challenge is half the fun! There's no greater feeling than when overcoming all odds to get the perfect image. This month, we get insight from four top Canon pros Drew Buckley, Marc Aspland, Martin Bissig and Drew Gibson. Between them, these pros have shot everything from puffins on Skomer island in Wales to mountain biking races in Pakistan, World Endurance Championship racing, the Olympics and more.
Read on to see how you can perfect your autofocus technique; uncover the Canon settings you need for razor-sharp images; when to slow down your shutter speed; how to incorporate ash; and nd the gear you need to get started.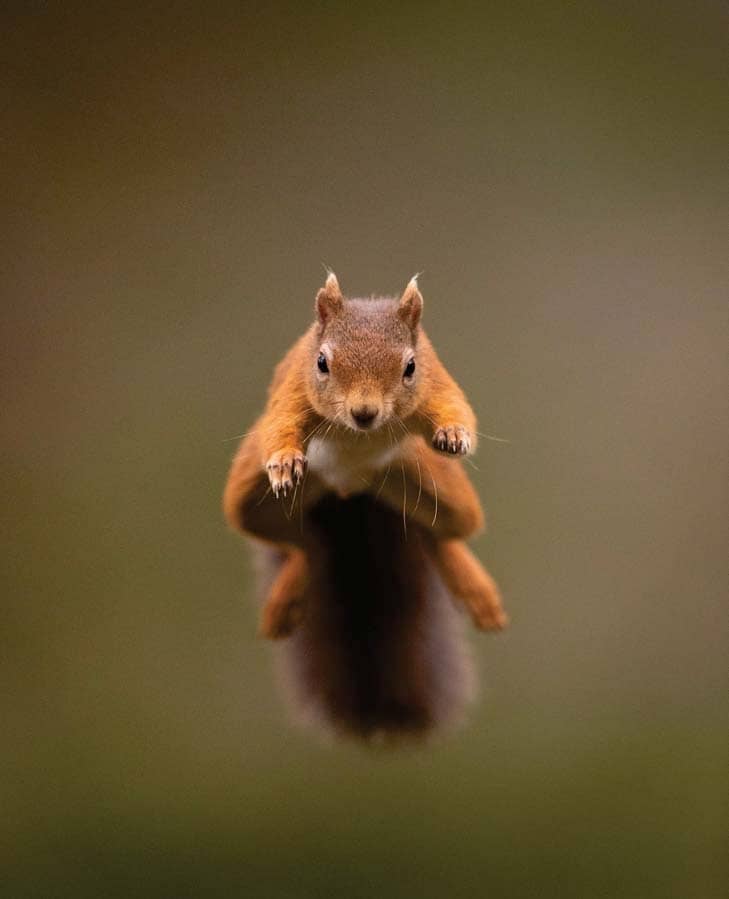 WILDLIFE PHOTOS DREW BUCKLEY
Our Canon pro's tips on how to take award-winning nature-in-action photos
Freeze action with a rapid shutter speed
01 USING A fast shutter speed of 1/3200 sec enabled me to capture this red squirrel frozen in mid-flight, jumping between branches. Coupled with the blistering 16fps continuous drive mode on the Canon EOS-1D X Mark II, meant I had a multitude of images from the sequence to choose from – I picked the one where the squirrel's eyes were on the focus plane. I was shooting with an EF 500mm IS lens and with low light in the woodland, so I had to use a wide-open aperture of f/4 and bump the ISO to 2500 – enabling a faster shutter speed. Ultimately, this freezes movement, rendering the subject pin-sharp and banishing any blur.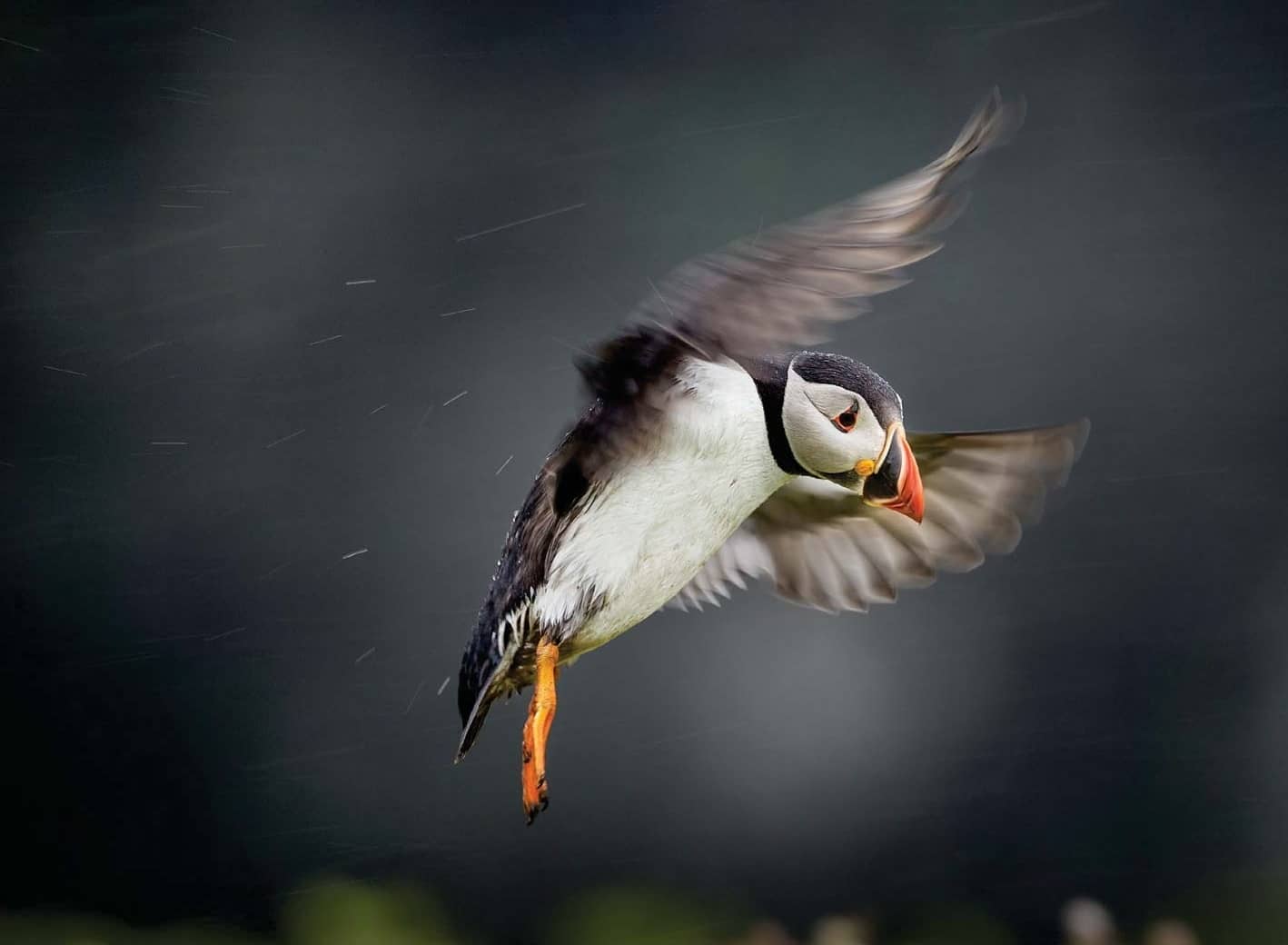 Try to capture a little movement in bird wings
02 WHILE MANY prefer a sunny visit to Skomer in the summer, I enjoy the more overcast, rainier days, as the subdued lighting helps to expose the black and white subjects better. By not having to deal with distracting harsh highlights and shadows, it makes for the perfect conditions to use panning techniques and slower shutter speeds. Shooting handheld gave me the freedom to consistently pan and track incoming birds with my Canon EOS-1D X Mark II and Canon EF 500mm f/4L IS lens. Experimenting with shutter speeds down to 1/200 sec, there were many outright blurry images. But, when the rain was not affecting my vision too much, I managed to track and focus on a few birds perfectly. With their head and body sharp, while the wings and background are blurred, giving a great sense of motion.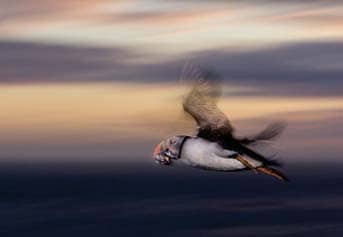 Use flash once the sun sets
03 COMBINING AMBIENT light and fill flash can always provide varied results and there is usually some trial and error. With daylight fading and sunset over, I thought I would try some experiments with panning, slow shutter speeds of 1/25 sec (to blur the sunset clouds behind) and a small blast of fill flash (front curtain sync on a Speedlite 580EX II in an Ezybox) to freeze the puffin in front of the motion-blur background. Using Manual mode and settings exposed for the sky, I was limited by not having enough daylight to aid continuous autofocusing. Therefore, I thought the best way was to manually pre-focus at the edge of the cliffs where the many birds were. This, coupled with an aperture of f/9, was just enough depth of field to render a bird entering the focal plane, for a sharp result.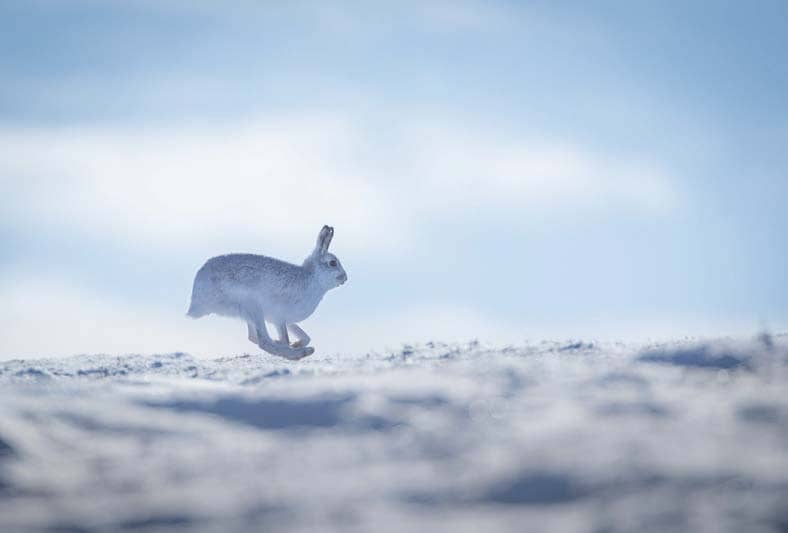 Wait to capture the perfect moment
04 WHEN I'M looking for wildlife I always have my DSLR set up ready to go. It's no good taking shots if the shutter speed or ISO are set to unsuitable settings that would lead to high levels of noise or camera shake. I pre-set my ISO, aperture and shutter speeds, as well as enable AI Servo autofocus for continuous AF tracking and select an AF Case that's suitable for my subject. Mountain hares are masters of disguise, especially in winter when their coats turn white to blend in with the snowy scenery. When I saw this hare I fired off six shots and this was my favourite of the bunch with all four of its legs off the ground. As my settings were already taken care of, all I had to do was quickly compose, focus and take the shot.
Practice, practice & practice more!
You can read up to 3 premium stories before you subscribe to Magzter GOLD
Log in, if you are already a subscriber
Get unlimited access to thousands of curated premium stories, newspapers and 5,000+ magazines
READ THE ENTIRE ISSUE
November 2020