Go Under, Take that Picture
Asian Photography
|
September 2020
WE LIVE IN A WORLD OF MYSTERY AND THERE IS ALWAYS SO MUCH TO LEARN AND TO EXPLORE. TECHNOLOGY, WHICH HAS EVOLVED WITH TIME, HAS GIVEN US IMMENSE OPPORTUNITIES TO CAPTURE THE BEAUTY OF THIS MYSTERIOUS WORLD AND WHY LET GO OF THAT OPPORTUNITY? HAVE YOU EVER WONDERED ABOUT THE HIDDEN WORLD THAT EXISTS BELOW US? WITH THE AVAILABILITY OF GOOD WATERPROOF CAMERAS AND CASINGS, IT IS NOW POSSIBLE TO CAPTURE EVERY SINGLE DETAIL OF THE UNDERWATER WORLD. BUT BEFORE YOU BEGIN YOUR JOURNEY, LET'S EXPLORE THE ART OF UNDERWATER PHOTOGRAPHY AND LEARN MORE ABOUT THE GADGETS IDEAL FOR THIS GENRE OF PHOTOGRAPHY.
What to look for?
If you are wondering what should I look for while shooting? Then the answer to these questions are pretty straight forward. Marine life speaks of undiscovered, unexplored beauty. Underwater, you will find the chance to observe many different species of fishes, octopuses, sea horses, turtles, corals, shells, rocks, shipwrecks, and much more.
To encapsulate the beauty of the sea, try shooting wide, macro, and with different depth of fields. Play with different compositions and framing. Bring variety to your pictures. Understanding timing will help you click the perfect shot.
Timing is especially crucial when you are capturing pictures of fishes; try to be as stable as you can and observe them carefully. You might discover some patterns in their movements. Try to find different species of sea creatures and color contrast. And look amongst the coral reefs; you might luckily end up finding Nemo there! To add a dose of creativity to your underwater pictures while showcasing the vastness of the sea, capture a human element with caustics.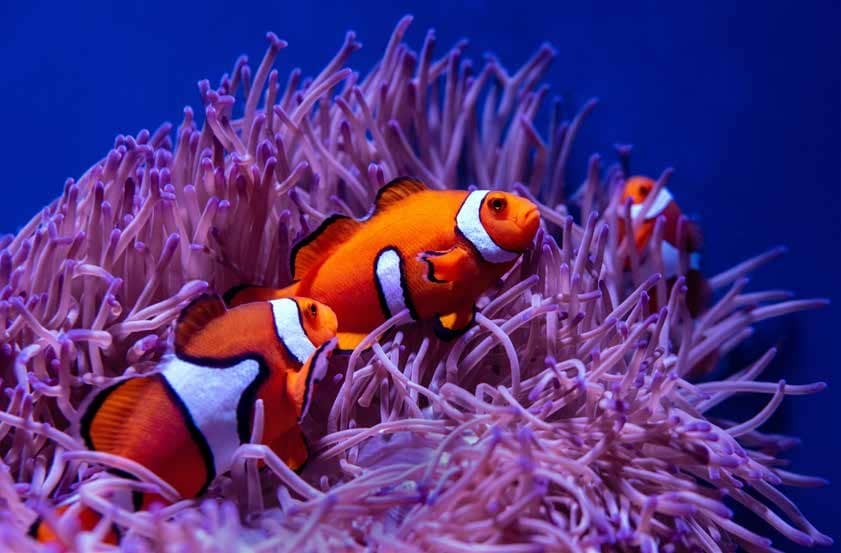 Now that you know what subjects you can click underwater, take efforts in developing your observation skills and brainstorm innovative ideas to make your pictures stand out from the rest.
Precautions you should take
Before you grab your camera and dive underwater to capture those breath-taking shots, take a few moments to understand the sea life and the precautions you need to take for your own safety. Take some scuba diving or snorkeling classes first. Obviously, shooting underwater is not going to be an easy task as your body won't be stable while you are swimming and the constant movement and current of the water won't help either. To get accustomed to being underwater, you will need lots of practice.
Tips for Preparing
Understanding sea creatures will help you capture exceptional pictures. With knowledge of sea creatures and good research of locations, you will be better prepared for underwater photography. Good natural lighting conditions will always help to capture properly exposed pictures. Always remember you will not get proper results of flash underwater. So always choose wise timing for shooting or use an external light source that works well underwater. Non-swimmers can always shoot in shallow areas for safety.
You can read up to 3 premium stories before you subscribe to Magzter GOLD
Log in, if you are already a subscriber
Get unlimited access to thousands of curated premium stories, newspapers and 5,000+ magazines
READ THE ENTIRE ISSUE
September 2020