LIFESKILLS THROUGH games
ParentEdge
|
July - August 2020
The previous edition of this serialised feature was based on the findings from the Stanford Marshmallow Experiment that children who displayed a capacity to delay gratification went on to be very successful in later life. The episode showed, how parents can facilitate children to develop this valuable life skill namely Delayed Gratification. This episode discusses the subject of optimism as a trainable trait and shows how parents can combine the Brainstorming technique with the Seligman's Method of Learning Optimism to raise their children to embrace optimism.
Suresh, a professor of management, was an excellent teacher. In his class, students roared with laughter every now and then. He would stomp around the stage, with the collar mike picking up the thuds as well to add a background bass drum beat to his diction. When a question was raised – which was often – he would walk down the aisle as he answered, till he was looking directly into the eyes of the one who had raised the question. A good question was rewarded with a pat on the shoulder.
The prestigious institute – as were several other organisations – was shut to control the spread of the Corona Virus. Students attended on-line classes from their homes. So Suresh conducted webinars from his home. He hated conducting webinars as he was constrained to stay more or less still to be within the span of the camera. He had to cut out the theatrics. Webinars were drab. He felt miserable after each webinar session. He settled with a cup of cold coffee to drown his misery soon after he had completed a webinar lecture.
Kala normally did not disturb Suresh, when he was working from home. She noticed his dejected look, staring into empty space. 'What's the matter?' she queried. 'The virus is taking its toll on me, even without an infection', he said with a wry smile. 'I like to look into my students' eyes, interact in person, and drive home a message. Taking classes online is not my cup of tea', and grimaced. Suresh had been working feverishly for the last six months on a novel theory. The paper had been accepted for a presentation at a conference in Barcelona. The novel coronavirus had closed the lid on the presentation of the novel theory.
Kala understood his disappointment. The virus had disrupted normal life for all. Children were confined to the home and did not go outdoors to play with friends. Their school was shut and time weighed heavily on them. She observed that she hadn't heard the children laugh in a while. It was all very grim and distressing. But Kala was not one to wallow in misery. She was an optimist. She saw the glass as half-full, not as half-empty. As she saw pessimism writ large in Suresh's face, she felt the need to train her children to grow up to be optimists. She intuitively believed that optimism was a trainable trait. She wondered whether the present adversity could be an opportunity for such training. The rest of the day and the next, she was on the internet, learning what she needed to, about optimism as a trait and possible training.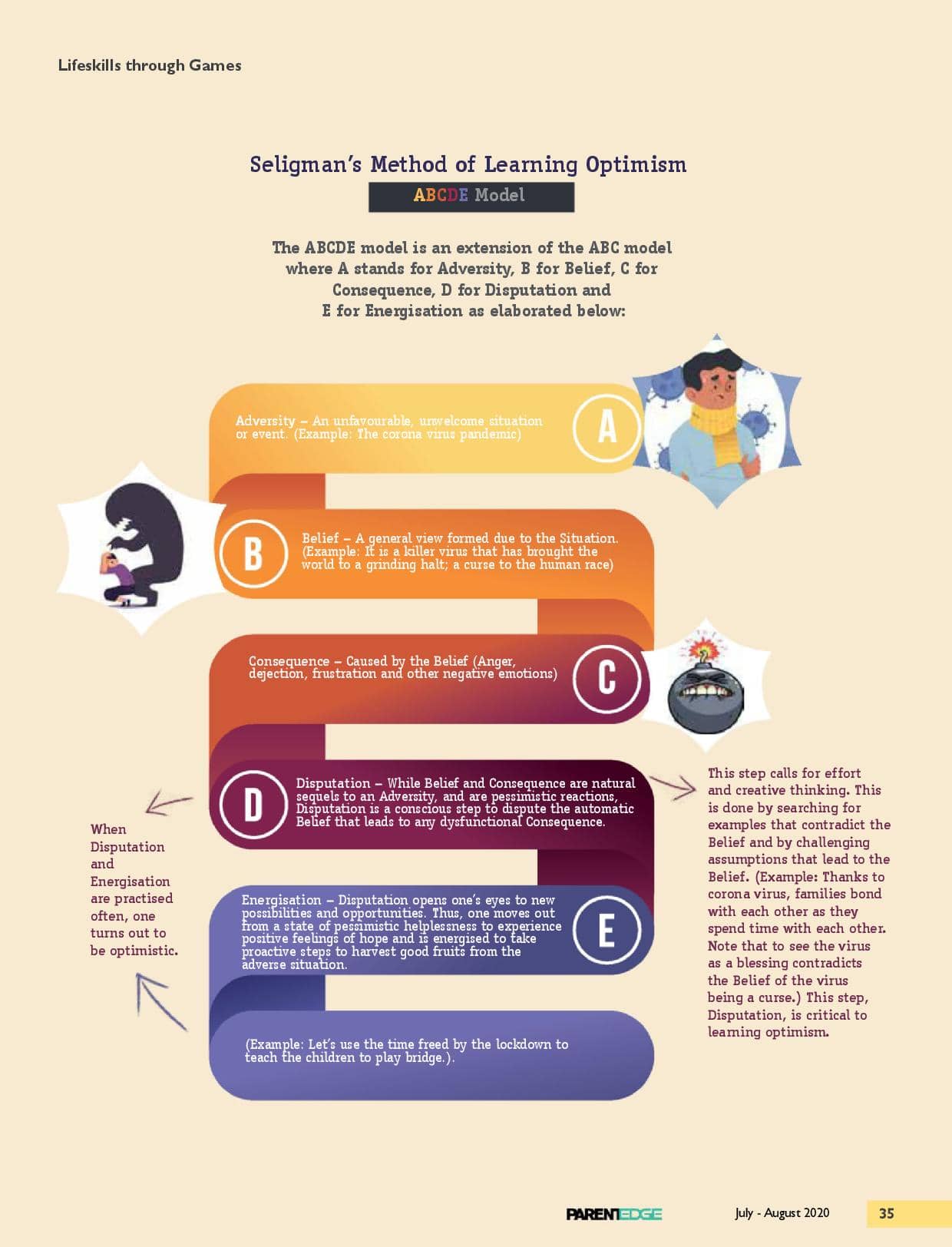 Your life is as good as your mindset
Kala was pleasantly surprised when she discovered that Martin Seligman, an American psychologist had demonstrated that Optimism is a learnable trait. She browsed and studied Seligman's method of learning optimism, the ABCDE Model. She noticed that he had done a lot of work with children and observed that her children were at the appropriate age for the model to be effective. She was excited. Kala planned to do a brainstorming exercise to carry out the Disputation step in the ABCDE model. The next day, after the family had had their evening tea, Kala announced, 'We're going to do some brainstorming. It will be fun'. 'What is brainstorming?' asked Sunder.
You can read up to 3 premium stories before you subscribe to Magzter GOLD
Log in, if you are already a subscriber
Get unlimited access to thousands of curated premium stories, newspapers and 5,000+ magazines
READ THE ENTIRE ISSUE
July - August 2020