Top Tips For Keeping Fit During Isolation
Sunday Express|March 22, 2020
We're offering this story for free to read so that you can stay updated on the COVID-19 outbreak
Sunday Express Health Editor Lucy Johnston's essential cut-out-and-keep guide to Covid-19
What are the symptoms?
Latest scientific advice suggests you may have Covid-19 and need to selfisolate if you have a fever above 37.8 degrees and/or a persistent cough for more than four days. You do not need to have both. The cough is usually dry, but, not always. It normally, but not always, develops three or four days after a fever. You may or may not have other symptoms.
Latest findings this weekend suggest loss of taste or smell without other symptoms could be another early Covid-19 indicator.
A study in China showed 88 per cent of patients have a fever, 68 per cent a cough, 38 per cent are tired and 33 per cent produce phlegm. A smaller number had shortness of breath, muscle and joint pain, a sore throat, headache, chills, nausea, nasal congestion and/or diarrhoea.
What can happen if I get sick?
Most – 80 per cent – recover without needing special treatment. One in six becomes seriously ill and develops difficulty breathing. Older people and those with underlying medical problems such as high blood pressure, heart problems or those with diabetes are more likely to develop serious illness.
What do I do if I get the symptoms?
Stay at home for 14 days with your family. The time starts again if another family member starts with a cough or temperature. Stay at least three steps away from people. Do not go to a GP, pharmacy or hospital. Do not phone 111 unless you are unable to cope, in order to ease the burden on the NHS.
Why is it so infectious?
Scientists think Covid-19 is less deadly than viruses such as SARS (severe acute respiratory syndrome), MERS (Middle East respiratory syndrome) and Ebola, but it seems to spread more easily than diseases such as flu. This is because the number of people one person can infect with Covid-19 is higher than that of many other infectious diseases. A person with flu may on average infect one other person. A person with Covid-19 could infect three others. It is not known why but it may be because in many people symptoms are so mild they do not realise they have it and so come into contact with many other people. It may also be explained by the fact that people are contagious with the disease for a longer time. The "superspreaders" are not those who are emitting more infection, but just came into contact with more people.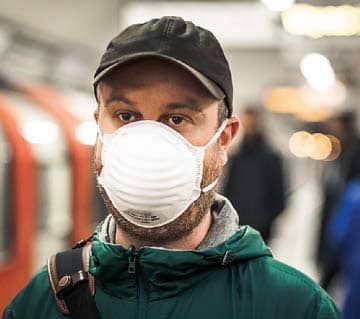 How is it transmitted?
Mainly through respiratory droplets from nose or mouth when an infected person coughs or breaths out, rather than through the air. The Bdrops land on objects or surfaces and other people catch the virus by touching these objects or surfaces then eyes, nose or mouth. The virus can live for hours or days depending on the surface, temperature or humidity. People can also catch it if they breath droplets from an infected person. So it is important to wash hands before touching your face and stay 6ft from a sick person.
Can I get it from someone with no symptoms?
The risk is very low. Yet many people experience only mild symptoms especially early on so it can be caught from someone who has, say, a mild cough but isn't ill.
Will I be immune once I've had it?
Scientists think those who have recovered will have immunity, but this is not definite. Nor do they know how long immunity would last. Some scientists say, based on other coronaviruses, it could last a year to two, but it could be shorter or even lifelong.
Should you wear a mask?
Only if you have symptoms, especially coughing, or you are looking after someone who may have it.
Scientists think if you wear a mask but are not infected you are more likely to become infected as the virus particles stick in the mask.
How likely am I to get it?
The risk depends whether there is an outbreak in your area. Because we have no routine testing for those with symptoms we do not know the true scale of the problem. Current figures are based on estimates. Outbreaks can be contained and transmission stopped as has been shown in China, but it is still not known what happens if restrictions are lifted.
You can read upto 3 premium stories before you subscribe to Magzter GOLD
Log-in, if you are already a subscriber
Get unlimited access to thousands of curated premium stories and 5,000+ magazines
READ THE ENTIRE ISSUE
March 22, 2020