Towns to protesters: Calm down and talk to each other
Island Ad-Vantages|06/25/2020
DEER ISLE—The Towns of Stonington and Deer Isle on June 21 issued a rare joint statement condemning racism after a noose was hung on a telephone wire in Little Deer Isle. (See Forum page 4 of this issue).
Police are investigating what many are calling a hate crime, but have yet to identify a culprit. The noose, though, was the latest and most alarming act in a series of provocations that have roiled the island over the past three weeks.
"Calm down and talk to each other," was the message the towns sent. "We encourage and are willing to facilitate a thoughtful dialogue about race and class among the residents of Deer Isle and Stonington."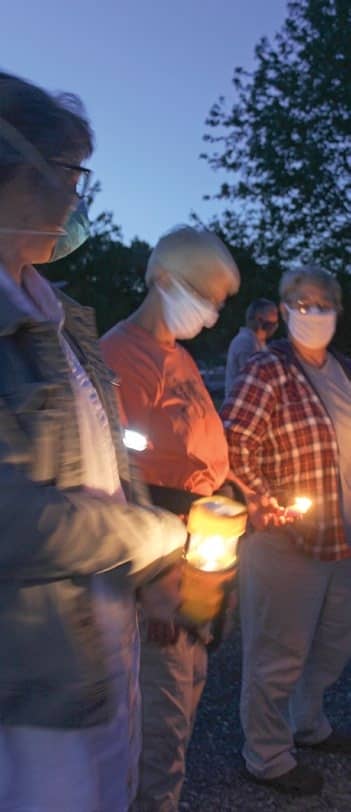 What happened
The Black Lives Matter protests that followed the killing of George Floyd by a Minneapolis police officer spread to Deer Isle, which is unused to such demonstrations. Weekly protests, which began June 7 in Deer Isle village, were punctuated by candlelight vigils, graffiti, vandalism and arguments about race and outsiders.
The provocations about race come at a time of high anxiety on the island. The two main industries, lobster fishing and tourism, have been hit hard by the COVID-19 pandemic. Lobster prices have plummeted, and environmentalist lawsuits threaten severe restrictions on fishermen as soon as August. Business owners who depend on tourism wonder how long they can survive. Kids can't play with their friends, parents have had to home school them and everyone is supposed to wear a mask.
Into that charged atmosphere came the Black Lives Matters actions. And, as the towns put it, "Several incidents have crossed the line from social dialogue to harassment, threat, trespass and vandalism."
Friday night marauders
The sequence of events began at 2 p.m. June 7 when Deer Isle resident Kaolin Pitcher organized a peaceful Black Lives Matter vigil that some would call a protest. It was important, she said that day, to stand in solidarity with the national movement.
Every protester wore a mask, but the crowd of 115 violated the governor's emergency order limiting gatherings to 50. They stood quietly at the intersection of Route 15 and Main Street in Deer Isle and held handmade signs. Few members of the fishing community attended the vigil that included artists, students, retirees and members of the Congregational Church and Island Peach & Justice.
Then the graffiti war began. A "Black Lives Matter" graffito appeared on the road at the site of the vigil. Up the road in Little Deer Isle, Dana Parker put a large sign saying "White Lives Matter" and "All Lives Matter" on his front lawn.
It didn't take long for someone to spray paint the message on Parker's sign. Someone else painted obscene images on the "Black Lives Matter" graffito in Deer Isle.
You can read up to 3 premium stories before you subscribe to Magzter GOLD
Log in, if you are already a subscriber
Get unlimited access to thousands of curated premium stories and 5,000+ magazines
READ THE ENTIRE ISSUE
06/25/2020