The bear care bunch
Daily Mirror
|
July 15, 2020
Conservationists raised cute cub at home to save her from life of abuse
Making mischief at home and clamber-ing all over her surrogate dads, Mary the sun bear will never know the life of torture she narrowly avoided. Mary – full name Mary Christmas because she was rescued in December – was destined for a life either as an illegal pet or caged on a bear bile farm, where fluids would be extracted from her body for traditional medicine.
But instead she was raised by conservationists Matt Hunt and Giles Clark.
The cub was just four months old when a forest ranger spotted her in a cage on the back of a truck in Laos, Southeast Asia, heading for the border with Vietnam.
Giles says: "What happens is the mum gets caught in a snare or a trap, then they will take the parts of that adult bear that are valuable for traditional medicine. As a live young cub, there is value.
"Some cubs will be traded as exotic pets but not very well looked after but others, and what we believe was destined for Mary, will end up in the bear bile industry. On a regular basis Mary would have been being crudely sedated and anaesthetised and have the bile from her gall bladder drained.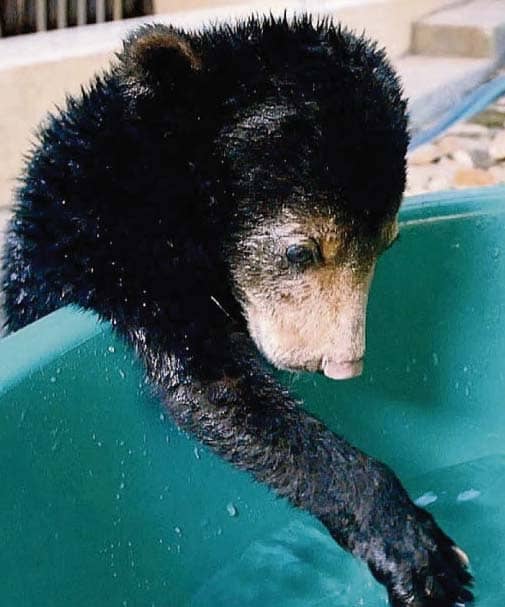 "It's barbaric, they get a big needle and they jab it around until they find the right spot.
"In captivity in the sanctuary, we can expect a bear to live until their 30s.
You can read up to 3 premium stories before you subscribe to Magzter GOLD
Log in, if you are already a subscriber
Get unlimited access to thousands of curated premium stories, newspapers and 5,000+ magazines
READ THE ENTIRE ISSUE
July 15, 2020