People's Curfew: A Trailer
We're offering this story for free to read so that you can stay updated on the COVID-19 outbreak
From Maximum City to Millennium City, the impact of the deadly coronavirus on life and business has been uniform. Although there's no complete shutdown order yet, the country is already in a state of a virtual lockdown
MUMBAI
Trade goes into lockdown
RAJESH BHAYANI Mumbai, 20 March
Even before Prime Minister Narendra Modi asked the country to observe a janata curfew this Sunday, Mumbai had already started taking the threat of coronavirus seriously as traffic and passengers on public transport dwindled over the week. Most offices, especially in the organised sector, are asking employees to work from home.
Malls are shut except for essential items, street food vendors have gone, and the famous khau gallis in market areas are empty. Even parks and beaches are desolate.
Friday's decision by the Maharashtra government to close all workplaces till March 31, except shops selling essential commodities and financial markets, will mean that there will be even less activity in Maximum City.
C-ward, spread across five sq km in south Mumbai, is the hub for several retail and wholesale markets such as Zaveri Bazaar for jewellery, Lohar Chawl for electrical goods, and Mulji Jetha market for textiles. The area is usually very crowded and sees footfalls in hundreds of thousands including traders, customers, and employees. Even on Thursday, in many of these markets that were open, customers were missing. On Friday, most shops were shut and the narrow streets empty.
Till Thursday, local authorities' efforts were to reduce gathering of people, which has now changed to complete closure of commercial premises, including wholesale and retail markets in Mumbai. However, some of the markets had heeded to the government guidance and spun into action. Wholesale food market Agricultural Produce Market Committee in Vashi was kept closed on Thursday to facilitate disinfection and protect participants from coronavirus. The diamond trade had taken steps to decongest the Bharat Diamond Bourse at the Bandra-Kurla Complex and Opera House on Thursday but will now be shut after Friday's commercial area lockdown. Even the number of daily wage earners in these markets such as porters lugging goods has gone down. Around 10,000-12,000 such people are estimated to be working in C-ward alone and half of them are estimated to have gone back to their villages in interior Maharashtra or Uttar Pradesh, given the challenge of procuring food due to closure of eateries.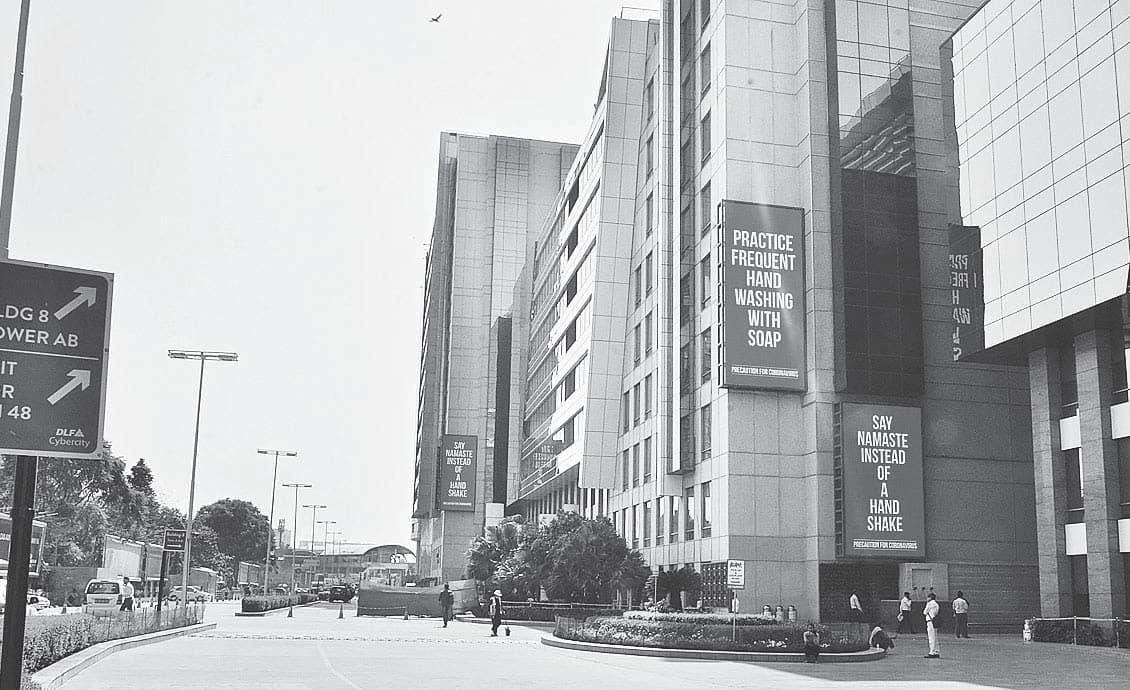 DELHI

Staring nervously at end of business

SUBHAYAN CHAKRABORTY

New Delhi, 20 March

The idea of maintaining a one-metre distance from people is a concept so foreign in the traffic-choked lanes and bylanes of Old Delhi that residents are amazed that the municipal authorities even bothered to suggest it.

"Has Modi ji or Kejriwal ji ever visited Chawri Bazaar? There is hardly any space to walk, as thousands jostle with each other over these bad roads," Prakash Aggarwal exclaims from behind a desk overflowing with mechanical parts. Aggarwal's 43-year-old shop, which caters to dealers of light hydraulic machines, is located in Gali Ghasi Ram, where residents continue to work and play, without face masks and seemingly unruffled by the panic over the coronavirus pandemic.

"Business has been slow since last year and we've got used to orders getting cancelled. I doubt if this virus can ruin things further," says Aggarwal's neighbour Afzal Sheikh, who is a wholesaler of pump sets. Most business owners swing between this cautious optimism and fear of major losses in the densely populated 6.1 sq km urban ghetto of historical Old Delhi.

Despite the restrictions that have come in the wake of the COVID-19 outbreak, this bustling distribution hub for goods is yet to shut down. "But it's coming soon. The market association has called for a total bandh from March 21. It will be disastrous for me if that happens as most of my inventory remains unsold and suppliers are getting anxious over payments," says Sudheer Jain, a retailer of iron pipes and fixtures in Hauz Qazi.

"People in Delhi like to conduct business the old way. Even regular customers who trust our products come over to sign the orders in person. Now, most are cancelling their visits due to the virus," Jain says.

At nearby Khari Baoli, one of India's largest markets for dried fruits and spices, shopkeepers are in a bind over how to deal with the current crisis. "People usually pick up a little bit to taste or inspect. I can't ensure that they will do so after washing their hands," says an exasperated Bhajan Ram, owner of a dried fruits business.

Deserted markets
You can read upto 3 premium stories before you subscribe to Magzter GOLD
Log-in, if you are already a subscriber
Get unlimited access to thousands of curated premium stories and 5,000+ magazines
READ THE ENTIRE ISSUE
March 21, 2020