Born Into War
Time|October 21 - 28, 2019
THE WAY TO END AMERICA'S FOREVER WARS IS TO BRING BACK THE DRAFT
Around Memorial Day each year, I take my children to Arlington National Cemetery.
I've got friends buried there, and I think the best way to tend to their memory is to tell my kids stories about them. Who knows, maybe when my kids are grown up, they'll pass some of those stories down to their own kids. I try not to take them on Memorial Day itself, as it is packed, so usually we wind up there after school the week before. Two years ago on our visit, a detachment from the Old Guard—the ceremonial troops who work at Arlington—was lined up in formation behind a riderless horse and caisson. My kids asked me what was going on, and I explained that the soldiers were preparing for a funeral.
As I told this to my daughter, I caught myself staring across the Potomac, toward downtown Washington. Observing the indifferent afternoon hustle, a sadness came over me. But I was with my kids, so I shook it off. We visited a few more graves, I told a few more stories. Then we left.
On the drive home my daughter asked if someday she would have to fight in a war.
"Only if you want to, kiddo," I answered, but could feel my response stick in my throat.
I then glanced into the rearview mirror, at that little sliver of her face that was just her eyes, and I watched as she tried to understand the difference.
2019 MARKS THE FIRST YEAR someone born after 9/11 will be eligible to enlist in the armed forces to potentially serve in Afghanistan or another theater in the global war on terror. Never before in our history has an American been able to fight in a war that is older than they are. Currently our civil- military divide is arguably as wide as it has ever been. The burden of nearly two decades of war—nearly 7,000 dead and more than 50,000 wounded—has been largely sustained by 1% of our population. From Somalia to Syria, American forces are engaged in combat. With recent military posturing against Iran, against North Korea, it is also easy to imagine our country sleepwalking into another major theater war. To avoid those outcomes—a major theater war, the continuance of our "terror wars," the attendant loss of life—we must move the issues of war and peace from the periphery of our national discourse to its center. And the only way to do that, I increasingly believe, is to reconsider the draft.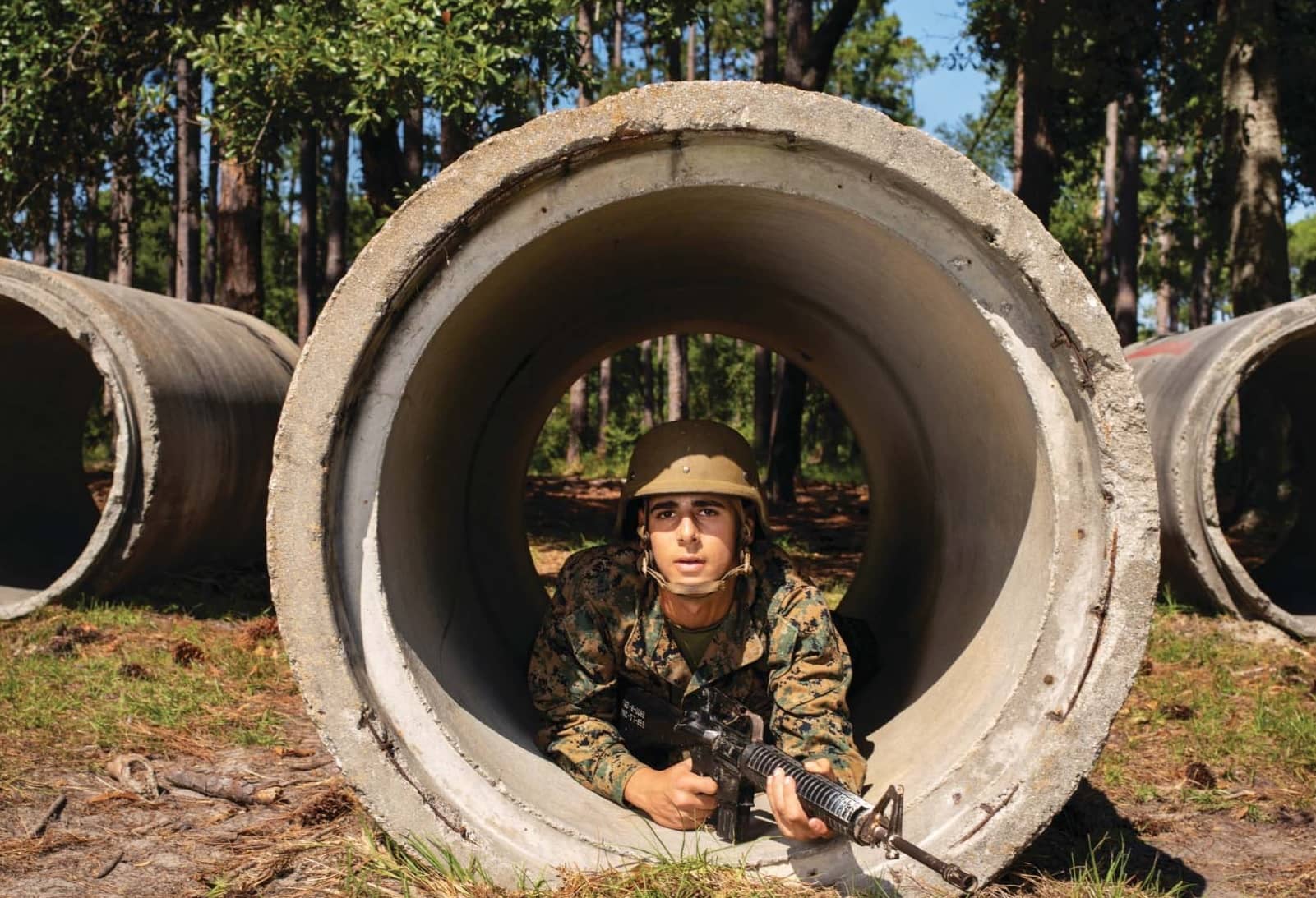 Congress has also taken a renewed interest in the draft, having created in 2016 a bipartisan National Commission on Military, National and Public Service charged with two missions. The first is to determine "whether the Selective Service registration requirement should be extended to include women"—this in light of the 2015 reforms that allow women unrestricted military service. The second is to "explor[e] whether the government should require all Americans to serve in some capacity as part of their civic duty and the duration of that service." The commission is slated to submit these recommendations to Congress and the President in March 2020. This past January, while it continues to hold hearings in communities across the country, it released its first interim report.
The report found that Selective Service is "a mystery to most Americans," who were not aware that all men ages 18 to 25 have a legal obligation to register in case of a draft. Although the draft was abolished in 1973, the Selective Service registration requirement was resumed in 1980, when after the Soviet Union invaded Afghanistan, a capability to conscript was again deemed critical to the national defense. The system for registering for Selective Service is passive: it occurs when you apply for your driver's license or federal student aid. Most American males aren't even aware that they're registered for the draft. Furthermore, the commission's interim report deals explicitly with the numbers we'd be talking about if a draft ever again occurred. Under the military's current standards, 71% of Americans ages 17 to 24 do not meet the physical or mental qualifications for military service. People often assume the draft was compulsory for an entire generation, but this was never the case. Of those killed in Vietnam, the war most inextricably linked to the draft, 69.3% were volunteers.
TO WAGE WAR, America has always had to create a social construct to sustain it, from the colonial militias and French aid in the Revolution, to the introduction of the draft and the first-ever income tax to fund the Civil War, to the war bonds and industrial mobilization of World War II. In the past, a blend of taxation and conscription meant it was difficult for us to sustain a war beyond several years. Neither citizens nor citizen-soldiers had much patience for commanders, or Commanders in Chief, who muddled along. Take, for example, Washington reading Thomas Paine's The American Crisis as a plea to his disbanding army before it famously crossed the Delaware ("These are the times that try men's souls ...") or Lincoln, whose perceived mismanagement of the Civil War made his defeat in the 1864 presidential election a foregone conclusion (until Atlanta fell to the Union two months before the vote). The history of American warfare—even the "good" wars—is a history of our leaders desperately trying to preserve the requisite national will because Americans would not abide a costly, protracted war. This is no longer true.
You can read up to 3 premium stories before you subscribe to Magzter GOLD
Log in, if you are already a subscriber
Get unlimited access to thousands of curated premium stories and 5,000+ magazines
READ THE ENTIRE ISSUE
October 21 - 28, 2019