Flirting With Cargo Drones Ready To Deliver
The STAT Trade Times|October 2019
Drones are the new frontier in the digital revolution. Drone deliveries are creating a new customer experience in the logistics sector that opens up even more opportunities for sustainable growth and greater economic contribution. The technology is flexible enough in its implementation, to be scaled up or down to fit the required application.
Are you craving for a Domino's pizza to reach your doorstep within ten minutes or eager to watch incredible gliding shots of Niagara Falls? Unmanned aerial vehicles (UAVs) are the quick fix to turn it into reality. In 1917, Charles F Kettering of Dayton, Ohio couldn't have imagined that he will sculpt the idea of drones for cargo business in the coming years. His inventionof the giant mosquito-looking contraption called Kettering Aerial Torpedo for the US Army, nicknamed as 'Bug' due to its appearance, had a speed of 120 miles per hour with a payload capacity of 180 pounds. Developed during World War I, Bug was powered by a four-cylinder, 40-horsepower engine built by Henry Ford. Before the armistice, the Dayton-Wright Airplane Co. built fewer than 50 Bugs but it never saw combat. Finally in the 1920s, due to the scarcity of funds, the US army halted further development of Bug.
As per Research and Markets report, the global autonomous last-mile delivery market accounted for $9.98 billion in 2018 and is expected to reach $45.27 billion by 2027, growing at a compound annual growth rate (CAGR) of 18.3 percent during the forecast period.
For years, Amazon has been building an army of sophisticated flying robots and is ready to deliver packages in a few months. At Amazon's re:MARS (Machine Learning, Automation, Robotics and Space) conference held in Las Vegas in June, Jeff Wilke, Amazon's Worldwide Consumer CEO unveiled the company's latest Prime Air drone design. The hybrid-designed drones can easily shift between two modes - from vertical to airplane mode, and back to vertical for take-offand landing.
"E-commerce is the physical manifestation of the digital transformation of retail. Coupled with an increasing appetite for on-demand services in everything from mobility, hospitality, food delivery - this means e-commerce will be the single most important driver for commercial drones," Svilen Rangelov, co-founder & CEO of Bulgaria-based Dronamics states.
Dronamics' Black Swan plans to begin commercial deliveries in 2020 for e-commerce, SMEs, pharma, perishables, spare parts and more after it has conducted extensive technical tests of a variety of prototypes.
Supporting Rangelov's statement, Pang Mei Yee, vice president, head of innovation Asia Pacific, DHL Customer Solutions & Innovation, observes, "E-commerce has dramatically increased B2C shipment volumes, which brings increased challenges for managing the costs and efficiencies of last-mile delivery. In certain niche sectors, drone deliveries can be relevant in addressing the increased demand for same-day deliveries, as it can reduce delivery times and increase the frequency of a business' cut-offtime for deliveries."
In May this year, DHL Express entered into a strategic partnership with an autonomous aerial vehicle company EHang to tackle the last-mile delivery challenges in the urban areas of China. DHL is the first international express company to provide such a service in China. EHang Falcon drone can cover a distance of approximately eight kilometres between the customer premises and the DHL service centre in Liaobu, in the city of Dongguan, Guangdong Province. The drone lands atop intelligent cabinets that are specifically developed for the fully autonomous loading and offloading of the shipment.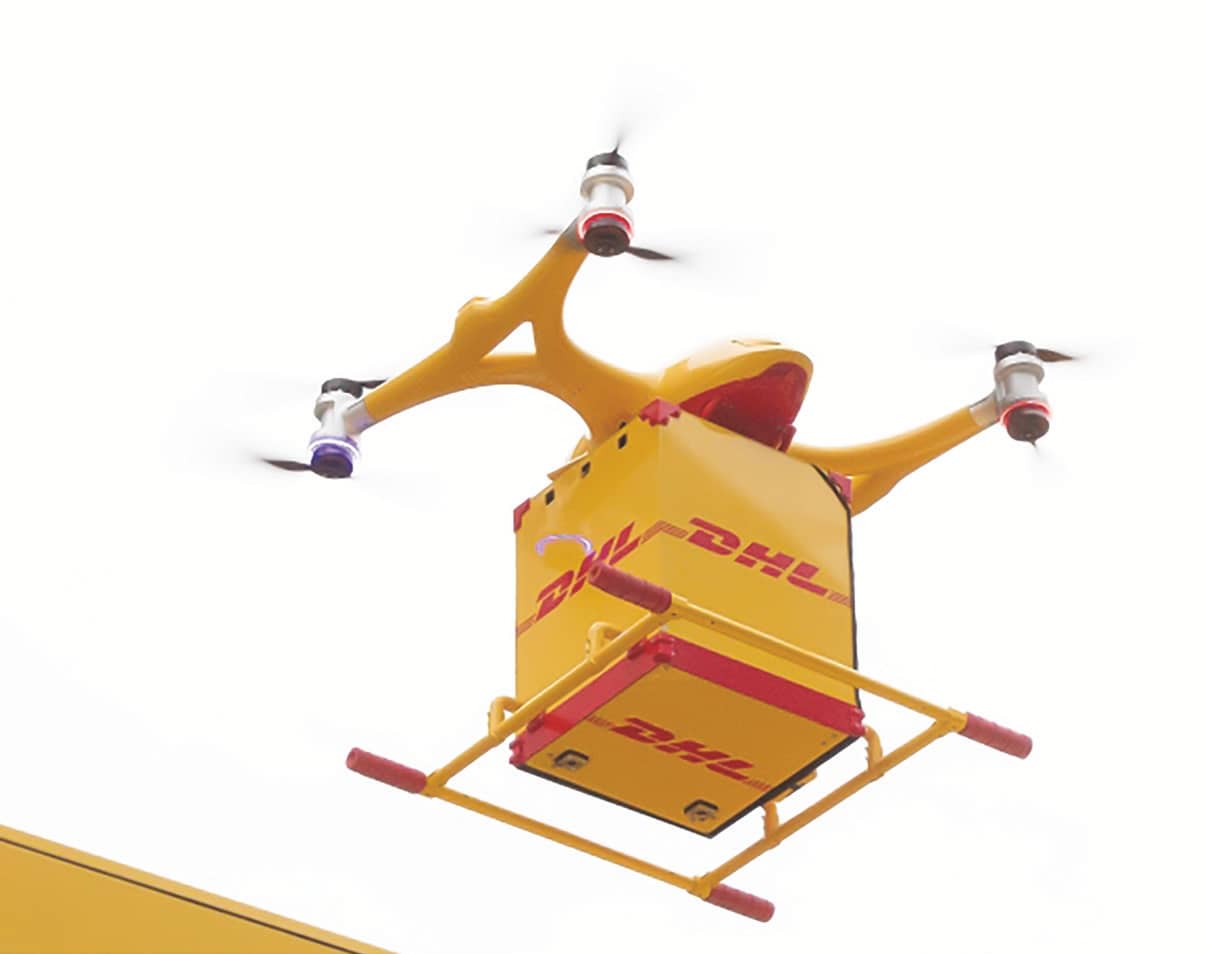 Another Asian country - India has partnered with the US firm Zipline, a life-saving delivery drone, to begin operations in early 2020 for establishing 24X7 service to deliver life-saving and critical medicines to each of its 120 million citizens over the coming years in the state of Maharashtra. The initiative will be supported by Serum Institute of India (SII), a manufacturer of immunobiological drugs and vaccines in India.
Africa is no behind when it comes to the drone revolution. Kenya-based Astral Aerial Solutions' Kush Gadhia, business development director, comments, "In Africa, e-commerce has been a major driver of air cargo transportation. Drone technology will leverage the already created e-commerce eco-system, where the technology will be implemented into an already existing and tested market. This sector has given drone technology a head-start in Africa and will play a key role in enabling the uptake of the technology."
At the recent Cool Chain Association (CCA)'s Pharma and Biosciences conference, Patrique Zaman, founder of Avy, a developer of long-range VTOL UAVs, said, "We are working really hard to make sure this new air ecosystem happens, and we have been focusing on tech, regulatory issues, and also use cases, but what we found really hard is to get in touch with the rest of the value chain."
In 2015, Reno, Nevada-based drone company Flirtey partnered with NASA to perform the first drone delivery on the US soil. Based on extensive research, Flirtey identified that automated external defibrillators (AED) delivery was the application that would have the biggest benefit on society, and thus Flirtey Eagle was born. Matthew Sweeny, founder and CEO, Flirtey, explains, "Eagle can safely deliver defibrillators, as well as we have built our drones for our customer across industries including food, logistics, on-demand delivery, and medical."
Terra Drone Corporation, an end-to-end solution provider in the UAV space for industrial solutions is also interested in entering into the e-commerce world. "We have also started a part of the logistics service operation of drone that can be a fully autonomous flight with 'Drone in a box' solution utilising Terra UTM (unmanned traffic management), which has been developed in-house. By optimising these logistics operations, demand for further e-commerce will increase," notes Yosuke Kaneko, head of UTM Group, Terra Drone.
You can read upto 3 premium stories before you subscribe to Magzter GOLD
Log-in, if you are already a subscriber
Get unlimited access to thousands of curated premium stories and 5,000+ magazines
READ THE ENTIRE ISSUE
October 2019