TOP STUDENT ANDY'S A GOT NEW PLAN FOR PITMEN
The Non-League Football PaperMay 17, 2020
Morrell can teach in ways of Rushie
ANDY MORRELL was wide-eyed and ready to learn when the 23-year-old him turned up at Wrexham in 1998.
Having been at university in the northeast while playing for Newcastle Blue Star, the striker had never had a taste of life as a fulltime footballer.
But he was determined to educate himself quickly and there weren't many better around to learn from.
"I had no academy upbringing," Morrell, the new Hednesford Town boss, tells The NLP.
"I was 23 and really late going into the professional game. But what I was able to do I suppose was I picked things up really quickly. I was hungry to learn. I had Kevin Reeves and Ian Rush at Wrexham for a bit, who I just tried to learn off.
"All the strikers there, they all had a bit I could maybe just gleam a bit off. That helped me a lot because my learning curve was quick going into full-time.
"I like thinking about the game. I remember playing in a play-off semi-final against Oldham for Blackpool. One of our players had five or six really good chances and missed them all. I recognised the keeper was going down early on all of them.
"I thought, 'If I get a chance I'm going to lift it up'. And I did. I got through one-on-one, he went down early and I managed to lift it over. It's just that thinking about your job and how it might happen if it comes up. That's key. And practising that. Even the little tap-ins. Practice them, because you don't want to miss one.
"You may only get three chances in a game. As a striker you've got to be able to take one. The difference from taking one-in-three to one-in-two is practice. That can be the difference between you being a National League player to being a League One/Championship player potentially."
Morrell wants to help strikers unlock that potential and, alongside his return to management with the Step 3 Pitmen, is looking to expand his reputation as a strikers' coach.
It's a growing area with England taking one, Allan Russell, to the last World Cup. Morrell has already been helping out Burton Albion's U18 frontline along with some other one-to-one clients.
"I wish I knew at 22 what I knew at 32," Morrell says. "People are now investing in themselves and the smallest of margins can make a big difference in the long run.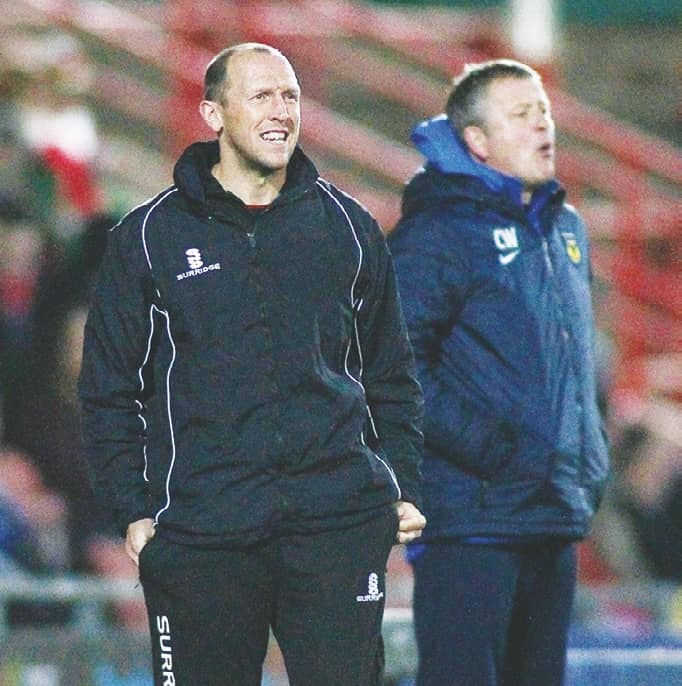 You can read up to 3 premium stories before you subscribe to Magzter GOLD
Log in, if you are already a subscriber
Get unlimited access to thousands of curated premium stories, newspapers and 5,000+ magazines
READ THE ENTIRE ISSUE
May 17, 2020