ANSWERING BACK THE 'ARMCHAIRS'
The Non-League Football Paper
|
October 18, 2020
AT a time when crowds are increasing at Step 3 and below, it pains me when loyal supporters of local teams are subjected to ridicule from glory hunting Premier League armchair fans.
It's a 'them and us' situation. You spend your Saturday afternoon at your local club in the freezing cold and pouring rain, part with your hard earned dosh on the gate, buy a programme, take part in the halftime raffle and then have a drink and a pie, making a valued contribution to help keep the club alive.
Ultimately, you get your 'reward' by watching your team succumb to a last minute winner!
Then, you go into work on the Monday morning and are immediately faced by that smug-looking armchair glory hunter.
He is slurping his coffee from the branded mug of a Premier League team based 200 miles away. A team that he has never once seen play live.
With a self-imagined halo crowning his nauseating sense of entitlement, he starts by boasting about how "we" won at the weekend, how much money "we" have spent on players and the numerous trophies "we" have won.
Then his attention turns to you. "Why don't you just support a proper team?"
"Your fans could fit in a taxi" "Who's your Prem team then?" This is known in modern day parlance as 'banter'. The explosion of social media has exacerbated this so-called banter. But I prefer to call it nonsense.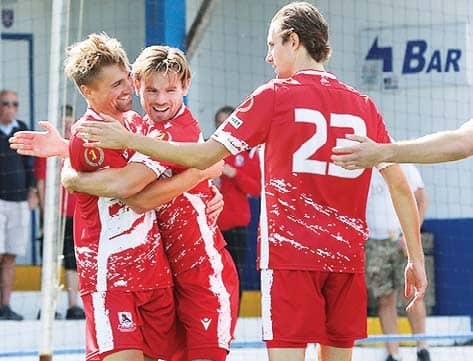 Discerning
I had a hideous dose of it myself last week when I told someone I was going to watch a match at Step 6.
You can read up to 3 premium stories before you subscribe to Magzter GOLD
Log in, if you are already a subscriber
Get unlimited access to thousands of curated premium stories, newspapers and 5,000+ magazines
READ THE ENTIRE ISSUE
October 18, 2020