The Emperor's New Clothes
The Caravan|July 2020
Another sham work of propaganda poses as Modi's latest biography / LITERATURE
FOR A BIG CROWD at a book launch in late August last year, Amit Shah was the proverbial elephant in the room. The home minister was invited to be the chief guest of the high-security event, held at the NCUI Auditorium in Delhi. The occasion was the launch of The New Delhi Conspiracy—a political thriller, co-authored by the Bharatiya Janata Party MP and national spokesperson Meenakshi Lekhi, about a plot to kill a beloved prime minister named Raghav Mohan, known to the people as RaMo. While the audience waited, there were fillers to keep them entertained, including refrains of "Bharat Mata ki Jai" and a poetry recitation about Atal Bihari Vajpayee. A massive flex with Amit Shah's face was on the stage. In some of the photos subsequently shared on social media, his chin towers over Lekhi and other discussants. When, eventually, it seemed clear that Shah was not showing up, JP Nadda, the BJP's national president, released the book.
Eight months later, the launch of Narendra Modi: Harbinger of Prosperity & Apostle of World Peace—to celebrate six years of the Modi government—promised another high-profile chief guest. News articles claimed that the US president, Donald Trump, was meant to inaugurate the "world's largest biography-release," before COVID-19 put an end to such grand plans. The organisers had to make do with the former chief justice of India KG Balakrishnan, a judge whose reputation is tainted with numerous allegations of corruption.
The Zoom event that took place on 29 May could ultimately afford only a pale imitation of the jingoistic pomp and bustle of the Lekhi book launch. A disorienting feedback in the video recording uploaded to YouTube kept turning introductions of guests into mournful echoes: "Sri Sri Sri Sri Gurudev Gurudev Ravi Ravi Shankar Shankar." And the coffee-table book itself was apparently so heavy that Balakrishnan and Adish C Aggarwala, one of the authors, brandished colour printouts of the cover instead. Ravi Shankar, a well-known godman, blessed the book, after which his video feed was replaced by a field of pretty flowers.
Ramdev, another godman, also blessed the book and talked tangentially about yoga as a cure to any ailment. Speakers praised the book and Modi's handling of the national response to the pandemic. The BJP leader Bhubaneshwar Kalita, for instance, chipped in with a cheerful lie: "Our prime minister has already given 100,000 crore to examine and to research on the vaccine, and bring out the vaccine as early as possible."
When the call's attendees did not call out "hellos" and interrupt speakers at random, Aggarwala kept muttering instructions to a man outside the frame. But the most awkward presence was that of the book's American co-author, Elisabeth Horan, who was smiling genially and saying nothing. Nearly an hour into the launch, she took the Zoom stage with her camera off. She described herself as an "acclaimed feminist poet," but said that the book was her greatest achievement so far. The "great nation of India," in her mind, is a "land of dreams," and she prayed that she could one day visit. "Trump is Trump but Modi is a true gentleman," she said, whom she likes, among other things, for not just seeking out the camera. In a poem titled "It Takes A Great Leader," she celebrates how Modi "wash[es] his people clean in the soothing arms of the Ganges." She had bought a dress for the launch.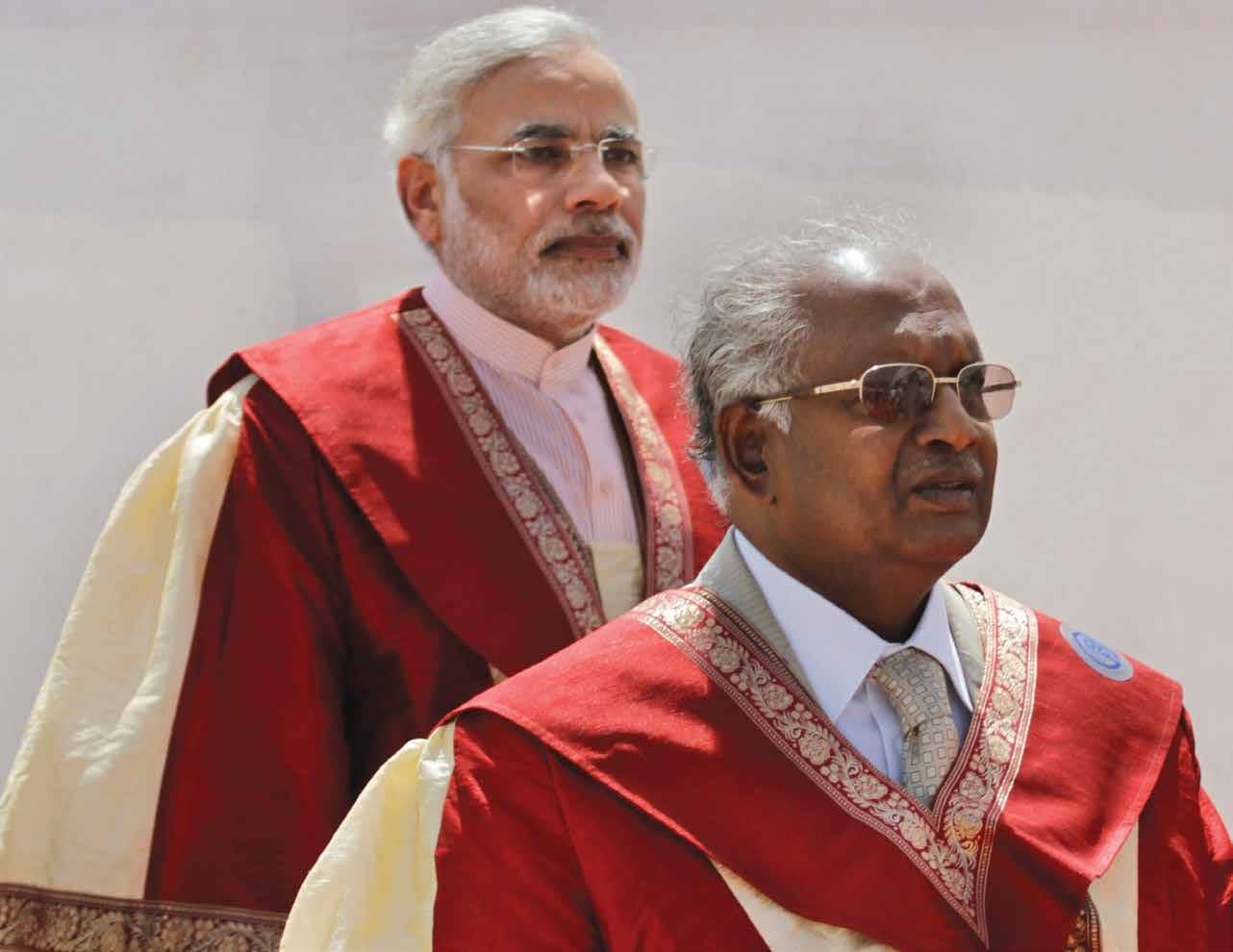 Horan has a sparse digital presence for someone described in the book and by the speakers as "eminent." Her bio on a publishing house's website calls her a "poet/momma/flower/ animal." Despite this eclectic range of identities, the chief guest of the event had some trouble placing her. I asked Balakrishnan if he knew who she was, when we later spoke over the phone. He laughed and said, "No, no idea."
The two launches, and the kind of guests they invited, should indicate where on the ideological spectrum the books lie. Since Narendra Modi swept to power in 2014, the BJP has set in motion a vast machinery whose main role is to manage perceptions about the government's actions, whether through films, news or books. This involves whitewashing past human-rights abuses as well as making contemporary unconstitutional changes to the polity more palatable. The same month as Lekhi's book release, the Indian government effectively revoked Article 370 in Kashmir, putting democratically elected leaders of the state under house arrest, enforcing a communication blackout and deploying military troops. By the time of Horan and Aggarwala's launch, the Modi government had even more feathers in its cap. The decadeslong Ayodhya judgment had been settled in favour of Hindu-majoritarian sentiment, and the exclusionary Citizenship (Amendment) Act had been passed—both moves further alienating Muslims in the country.
This is not the first time a Western author has written a deeply reverent biography of Modi armed with scant knowledge of their subject. Modi, who does not address press conferences and once famously aborted an interview after being grilled about the Gujarat riots, has granted foreign journalists access on a couple of occasions. Lance Price, a former spin doctor for Tony Blair, wrote a book praising Modi—The Modi Effect: Inside Narendra Modi's Campaign to Transform India—while also writing that he had way too much experience around politicians to be enchanted by them. He later admitted he was approached by one of the prime minister's associates to write the book, and was also provided financial support. But at least he met the guy. For Horan, that is still a dream.
According to Aggarwala's author's note, the stated intent of the project was to assess how Modi "won the hearts of the people." The book is dedicated to the "teeming of Indians world over who have dedicated themselves to messiah Narendra Modi." It is endorsed by heavyweights from the BJP and its parent organisation, the Rashtriya Swayamsevak Sangh. One has to only to count the number of promotional messages, many on government letterheads—six prefaces, four messages, seven appreciations and two forewords by political figures, including Nitin Gadkari, Bipin Rawat, Adityanath and India TV's Rajat Sharma. Another way to gauge what the book is trying to do is to check how many times Kashmir is mentioned—71—and how many times the Gujarat pogroms are—once.
The Modi government has a straightforward approach towards journalists, writers and television anchors in India. Sycophancy is generously rewarded, and even moderate critics who question Modi about his past, and his government's policies in the present, are deemed "anti-national." One of the many results of this ethos is a weakened cultural apparatus that tilts towards high-decibel propaganda, of which this new book is yet another artifact.
IT IS FAIRLY COMMON for political leaders to want to build a legacy of their own choosing. "Whether verbalized in story or song, chiselled in stone, carved on totem pole, woven in tapestry or, most effectively if less durably, written on papyrus, parchment, or paper," the historian George Egerton writes, "generations of leaders from nearly every age and culture have attempted to transmit to the future an account of their lives and achievements."
But today, the biographies of world leaders are making people laugh. "I read the worst book of the year so you didn't have to," the columnist Christian Schneider tweeted, in June, about the book Trump and Churchill: Defenders of Western Civilization. According to Schneider, the book "invoked aneurysm-inducing bouts of laughter," not least because of its desperate parallels between the political figures of its title. Trump's presidency has by wide consensus been disastrous, and while he might share some racist proclivities with Churchill, he certainly cannot be accused of stateliness or having comparable political acumen.
Historians tend to be somewhat wary of the political biography as a genre. For instance, Patrick O'Brien points out that biographers often either assume politicians have fascinating lives and describe their subjects as "extraordinary and omnipotent," or try to use an ordinary politician's life to generalise about governments of a certain era. By focussing on the individual's charisma, they lose sight of the lasting effects on political institutions.
Maybe he would agree that the most exciting new political biography yet might be a spoof on Brazil's far-right president Jair Bolsonaro, claiming to describe why he should be respected and trusted. It has 188 blank pages, and got rave reviews on Amazon, but had to be listed as unavailable after it went viral and misled some customers.
You can read up to 3 premium stories before you subscribe to Magzter GOLD
Log in, if you are already a subscriber
Get unlimited access to thousands of curated premium stories and 5,000+ magazines
READ THE ENTIRE ISSUE
July 2020