A Remote Island's Fight To Protect Its Waters
The Caravan
|
September 2015
An island in Lakshadweep tries to save a remarkable spawning site.
Rucha Karkarey And Shreya Yadav
The Island Of Bitra Is one of the northern most inhabited points in the Lakshadweep archipelago. Azure waters surround beaches of pale yellow sand fringed with coconut and casuarina trees. Underwater, a thriving coral metropolis houses reef fish of every imaginable shape and colour.
One evening around six or seven years ago, Hamsa Koya and his brother, residents of the island, set out to sea to fish. Koya steered a kundalam, a mid-sized fishing boat with an outboard engine, carefully across the shallow waters of the island's lagoon. He headed for a popular fishing spot that the locals called "furathabam." Here, where a red buoy marked the lagoon channel, they often fished for chammali, or paddletail snapper, a species that lives in large shoals among nearby coral boulders. Like a few other residents of Bitra, Koya sells his catch for a living. Most others are subsistence fishermen, fishing to feed their families.
That day, Koya rode out a little further, south of the channel, to the outer reef. In these deeper waters, the fishermen were more likely to find large metti, or red snapper, whose meat Bitra's residents are particularly fond of. They stilled the boat's engine, lowered an anchor, and fastened hooks to their fishing lines, which had been neatly rolled around flat wooden boards. Then, they spun the hooks over their heads, and hurled them as far as they could into the sea, sending the lines unfurling through the air.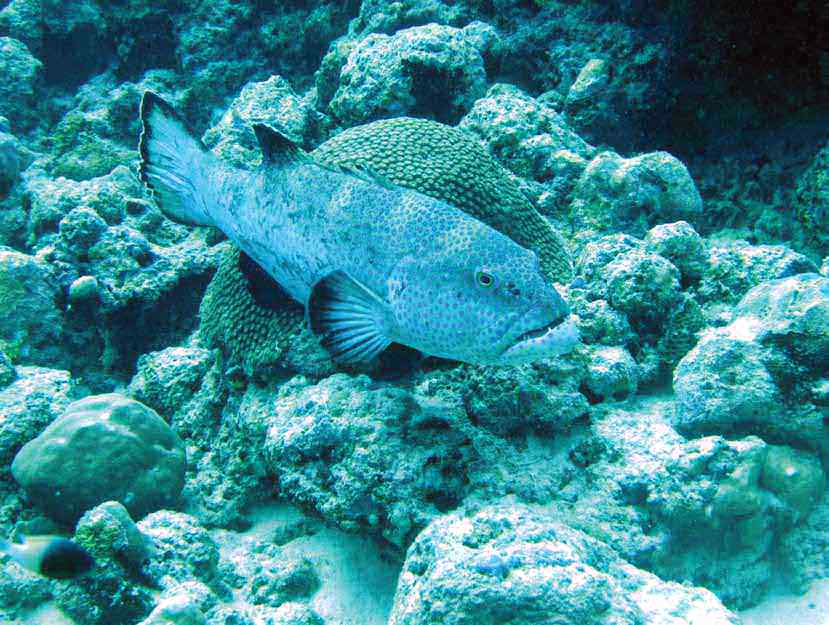 As he waited with his line in the water, Koya noticed something unusual. A swarm of dark brown shapes rose from the depths. Koya thought he recognised the peculiar movements of these fish, with their tails sashaying against the current. But he had never seen so many of them in one place before.
His line caught, and he bent down to slowly reel it in, playing a familiar game with the creature on the other end, keeping his eyes on the darkening water. He pulled his catch out. It was a scaly brown fish, with spots of electric blue, glistening in the twilight—a kokka-chammam, or squaretail grouper, of about the length of his arm. He removed the hook from its gills, and tossed the quivering fish into a gunnysack at the back of the boat. Then he threw his line in again, and effortlessly hooked another. And another. Koya's confusion rose. It normally took him at least an hour to catch even a single kokka-chammam. That day, within ten minutes, he had caught a whole pile.
Koya had stumbled upon a spawning aggregation: hundreds, even thousands, of fishes from a wide swathe of coral reef migrating to a particular site, at a particular time, to mate. This mating behaviour has been observed with over 100 reef fish species. Females release eggs into the water, where they are fertilised by males. Ocean currents then carry the fertilised eggs into open water, where they develop into fish larvae over three or four weeks. The larvae then swim to a coral reef, populating it anew. Aggregation sites, though small, can have large spheres of influence, dispersing juvenile fish over distances of up to 100 kilometres. A healthy reef fish population is often linked to a handful of spawning aggregation sites nearby.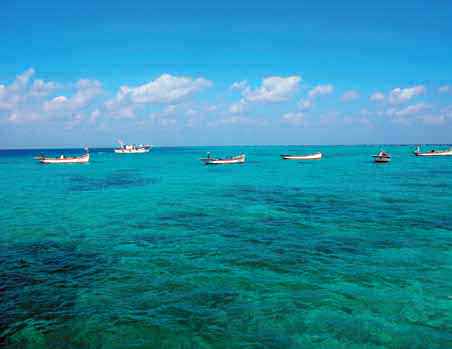 Though the spawning site at Bitra had presumably been active for many years, no one on the island seemed to know of it. As part of a small group of marine biologists working in the area, we had spent many months surveying these waters and interacting with local communities, but had never heard anyone mention it before Hamsa Koya did.
We arrived in Bitra in 2010, after diving around eight of Lakshadweep's southern islands, as part of an archipelago-wide survey of coral reefs after a catastrophic temperature-related disturbance in 2010. Near Bitra's outer reef, anchored a fair distance south of the furathabam, our kundalam sat motionless on the placid water of a receding morning tide. The island was a speck on the horizon.
While assembling our diving gear, we noticed that the sea under us was murky—an unusual sight in Lakshadweep. Geared up, we rolled off the boat, barely able to see the bottom as we descended to the reef. The tumult there was a world away from the calm above. Swarms of squaretail groupers moved across the reef floor, darting around rocks and boulders. Large males staked out and aggressively defended territory, locking jaws with each other and flashing myriad colours: white when fleeing, marbled-brown when warding off intruders, black when resting.
About half an hour later, as we watched transfixed, the jostling paused for a second, and the entire reef appeared to hold its breath. A large shoal of elegant, olive-coloured female squaretails emerged from the deep, and swam slowly towards the reef. Moments later, the males began darting about with renewed ardour, swimming up to the shoal, shimmying behind wary females, rushing back to their territories to chase away competitors. We followed these elaborate courtship displays for more than an hour and a half, and surfaced only when the air in our tanks ran dangerously low.
Coming up from that dive, we wondered if this was a one-off occurrence. We began to monitor the site in the following years, usually visiting between December and April and staying about a week each time.
We noticed that males typically arrived at the site three days before a new moon, to claim territories in anticipation of the female shoals, which appeared two days later. The spawning usually took place on new-moon nights, and both the males and females dispersed by the third day after the event. We found that the aggregation was predictable: for five months of the year, between December and April, with every new moon thousands of squaretail groupers spawned at this fourhectare patch of reef.
We were surprised that the fishermen were unaware of this. Perhaps, we thought, knowledge of reef fish had atrophied with the passing of generations, especially since younger fishermen preferred to fish in deeper waters for tuna, which fetched higher prices in the market. But even the older fishermen knew nothing of the aggregation.
Maybe we shouldn't have been too surprised. A study conducted a few years earlier, based on interviews with fishermen across the Bay of Bengal and the Arabian Sea, revealed that, besides a few anecdotes, there was very little information about reef fish spawning aggregations in India.
Our observations were the first formal documentation of a grouper spawning aggregation in Indian waters based entirely on direct underwater surveys. We recorded densities of over 3,600 fish over four hectares—an area roughly the size of five football fields. This was between two and six times higher than any density previously recorded across south-east Asia, in places such as Papua New Guinea, the Solomon Islands and Indonesia, where squaretail grouper aggregations are known to occur. The densities of squaretail grouper in Bitra were perhaps the highest of any site in the IndoPacific region.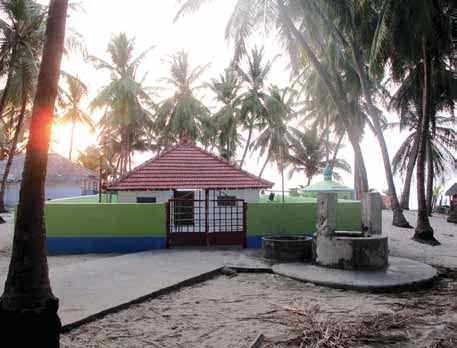 The Mallik-Maula mosque, believed to be 300 years old, is revered across Lakshadweep.
You can read up to 3 premium stories before you subscribe to Magzter GOLD
Log in, if you are already a subscriber
Get unlimited access to thousands of curated premium stories, newspapers and 5,000+ magazines
READ THE ENTIRE ISSUE
September 2015