Sam Shepard Saw It All Coming
The family battles he described foreshadowed our current national crisis.
LAST AUGUST, THE ACTOR Randy Quaid tweeted a photo of himself, stripped to his bike shorts and pretending to be passed out next to a body of water, probably in his adopted home state of Vermont. Quaid had not worked regularly since an apparent psychotic break in 2010, when he announced, looking agitated at a press conference in Vancouver, that a conspiracy of assassins called the "Star Whackers" intended to murder him and his wife, Evi. (He said the Star Whackers had already killed David Carradine and Heath Ledger, disguising Carradine's death as autoerotic asphyxia and Ledger's as an accidental overdose.) The Quaids then spent years in Canada seeking refuge from these imagined stalkers and their partners in the United States government. But now, in the photo, Randy looked to be in a state of enviable bucolic calm, like a bear snoring after a salmon lunch. Next to him was a computer tablet, a big knife, a bottle of Perrier, and—splayed out on the sun-warmed stone, like Quaid himself— a copy of Seven Plays, by Sam Shepard. The book appeared to be open to True West, the play in which he and his real-life younger brother, Dennis, starred as the quarreling brothers Lee and Austin off-Broadway 35 years ago.
Many of Shepard's plays feel like journeys into psychosis, so it seems appropriate that Quaid would reach for Shepard as a guide to his own crack-up. That Shepard is starting to feel like a guide for the rest of us is more surprising. He died two years ago, at the age of 73, and although the valedictions from the dramatic world were respectful, few suggested that his work was acutely relevant. Some hinted that he represented the classic Western, a genre whose exhaustion Shepard himself had lampooned. Obituaries noted the good looks (described as "rugged," although only his teeth were craggy) that helped make him a movie star, and his status as the "paragon playwright of the American West" (Los Angeles Times). Shepard, one might be forgiven for thinking, chronicled a cowboy world that is no more, and that indeed ceased to live in the American collective imagination sometime between the last episode of Bonanza and John Travolta's dismount from the mechanical bull in Urban Cowboy.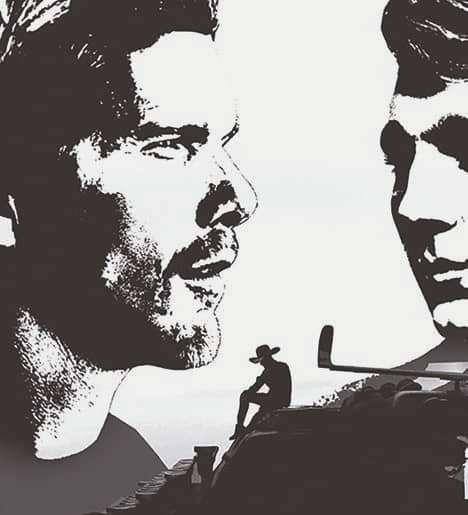 But Shepard plays are back in season, and they are neither antiquarian nor regional. They are modern—even visionary—and disturbingly universal. The best of the plays have all enjoyed revivals, most prominently a Broadway production of True West that ran through March of this year, with Ethan Hawke and Paul Dano in the roles of Lee and Austin. The plays' dominant notes are now darkly political. Critics have always thought of the family strife in Shepard's dramas as representing deeper American strife. But now it's clear that the nerves Shepard vivisected for five decades are precisely the ones that the past several years of political dysfunction have exposed: red America and blue, blended into a violent purple; the failure of the fortunate to respect the wretched; the consequences when the wretched seek their reckoning. Quaid's life went the way of a Shepard script a decade ago, transforming into a self-devouring, hallucinatory version of itself. He was just a few years ahead of us.
You can read up to 3 premium stories before you subscribe to Magzter GOLD
Log in, if you are already a subscriber
Get unlimited access to thousands of curated premium stories, newspapers and 5,000+ magazines
READ THE ENTIRE ISSUE
August 2019