How Disaster Shaped the Modern City
The Atlantic
|
October 2020
We're offering this story for free to read so that you can stay updated on the COVID-19 outbreak
The lessons of history are clear: Visionary responses to calamities have changed urban life for the better.
On December 16, 1835, New York's rivers turned to ice, and Lower Manhattan went up in flames. Smoke had first appeared curling through the windows of a five-story warehouse near the southern tip of Manhattan. Icy gales blew embers into nearby buildings, and within hours the central commercial district had become an urban bonfire visible more than 100 miles away.
Firefighters were helpless. Wells and cisterns held little free-flowing water, and the rivers were frozen solid on a night when temperatures plunged, by one account, to 17 degrees below zero. The fire was contained only after Mayor Cornelius Lawrence ordered city officials to blow up structures surrounding it, starving the flames of fuel.
A new Manhattan would grow from the rubble—made of stone rather than wood, with wider streets and taller buildings. But the most important innovation lay outside the city. Forty-one miles to the north, New York officials acquired a large tract of land on both sides of the Croton River, in Westchester County. They built a dam on the river to create a 400-acre lake, and a system of underground tunnels to carry fresh water to every corner of New York City.
The engineering triumph known as the Croton Aqueduct opened in 1842. It gave firefighters an ample supply of free- flowing water, even in winter. More important, it brought clean drinking water to residents, who had suffered from one waterborne epidemic after another in previous years, and kick-started a revolution in hygiene. Over the next four decades, New York's population quadrupled, to 1.2 million—the city was on its way to becoming a fully modern metropolis.
The 21st-century city is the child of catastrophe. The comforts and infrastructure we take for granted were born of age-old afflictions: fire, flood, pestilence. Our tall buildings, our subways, our subterranean conduits, our systems for bringing water in and taking it away, our building codes and publichealth regulations—all were forged in the aftermath of urban disasters by civic leaders and citizen visionaries.
Natural and man-made disasters have shaped our greatest cities, and our ideas about human progress, for millennia. Once Rome's ancient aqueducts were no longer functional—damaged first by invaders and then ravaged by time—the city's population dwindled to a few tens of thousands, reviving only during the Renaissance, when engineers restored the flow of water. The Lisbon earthquake of 1755 proved so devastating that it caused Enlightenment philosophers such as Jean-Jacques Rousseau to question the very merits of urban civilization and call for a return to the natural world. But it also led to the birth of earthquake engineering, which has evolved to make San Francisco, Tokyo, and countless other cities more resilient.
America's fractious and tragic response to the COVID-19 pandemic has made the nation look more like a failed state than like the richest country in world history. Doom-scrolling through morbid headlines in 2020, one could easily believe that we have lost our capacity for effective crisis response. And maybe we have. But a major crisis has a way of exposing what is broken and giving a new generation of leaders a chance to build something better. Sometimes the ramifications of their choices are wider than one might think.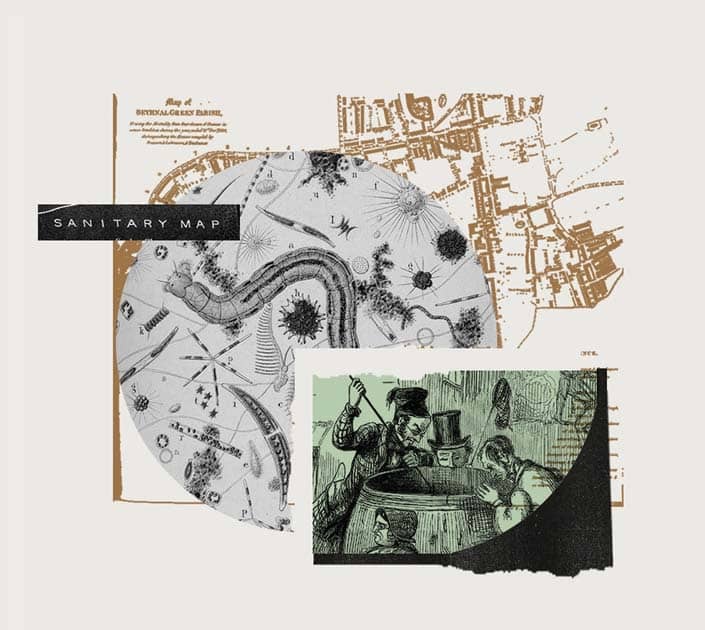 The Invention of Public Health
As Charles Dickens famously described, British cities in the early years of the Industrial Revolution were grim and pestilential. London, Birmingham, Manchester, Leeds—they didn't suffer from individual epidemics so much as from over lapping, never-ending waves of disease: influenza, typhoid, typhus, tuberculosis. They were also filled with human waste. It piled up in basements, spilled from gutters, rotted in the streets, and fouled rivers and canals. In Nottingham—the birthplace of the Luddite movement, which arose to protest textile automation—a typical gallon of river water contained 45 grams of solid effluent. Imagine a third of a cup of raw sewage in a gallon jug.
No outbreak during the industrial age shocked British society as much as the cholera epidemic in 1832. In communities of 100,000 people or more, average life expectancy at birth fell to as low as 26 years. In response, a young government official named Edwin Chadwick, a member of the new Poor Law Commission, conducted an inquiry into urban sanitation. A homely, dyspeptic, and brilliant protégé of the utilitarian philosopher Jeremy Bentham, Chadwick had farsighted ideas for government. They included shortening the workday, shifting spending from prisons to "preventive policing," and establishing government pensions. With a team of researchers, Chadwick undertook one of the earliest public-health investigations in history—a hodgepodge of map making, census-taking, and dumpster diving. They looked at sewers, dumps, and waterways. They interviewed police officers, factory inspectors, and others as they explored the relation ship between city design and disease proliferation.
The final report, titled "The Sanitary Conditions of the Labouring Population of Great Britain," published in 1842, caused a revolution. Conventional wisdom at the time held that disease was largely the result of individual moral shortcomings. Chadwick showed that disease arose from failures of the urban environment. Urban disease, he calculated, was creating more than 1 million new orphans in Britain each decade. The number of people who had died of poverty and disease in British cities in any given year in the 1830s, he found, was greater than the annual death toll of any military conflict in the empire's history. The cholera outbreak was a major event that forced the British government to reckon with the costs of industrial capitalism. That reckoning would also change the way Western cities thought about the role of the state in ensuring public health.
The source of the cholera problem? All that filthy water. Chadwick recommended that the government improve drainage systems and create local councils to clear away refuse and "nuisance"—human and animal waste—from homes and streets. His investigation inspired two key pieces of national legislation, both passed in 1848: the Public Health Act and the Nuisances Removal and Diseases Prevention Act. A new national Board of Health kept the pressure on public authorities. The fruits of engineering (paved streets, clean water, sewage disposal) and of science (a better understanding of disease) led to healthier lives, and longer ones. Life expectancy reached 40 in England and Wales in 1880, and exceeded 60 in 1940.
You can read up to 3 premium stories before you subscribe to Magzter GOLD
Log in, if you are already a subscriber
Get unlimited access to thousands of curated premium stories, newspapers and 5,000+ magazines
READ THE ENTIRE ISSUE
October 2020