When Conservation and Art Meet!
With climate change gradually becoming one of the most immediate global issues of concern, the pressing question exists as to how creators from different sectors react to climate change and environmental issues. In this article, Biba Jasmine stresses on how art can facilitate a transition process towards a more sustainable future. And how would the diffusion of experience and South-South cooperation provide added value to the construction of more stable societies.
Changing climate is one of the most immediate global issues of concern. It is at the core of discourse across countries and industries, a conversation that is often mediated by decision-makers and scientists. Changing climatic regime has been a hot topic in public sentiment and the news, but it is still an abstract notion for most individuals. Climate change impacts call for unique and innovative strategies from both civilized society and governments. It advocates for a change to the way we operate and ask some doubts, such as how is this transformation possible without the need for a change in culture? How can we obtain a broader understanding of climate change through a trans-disciplinary stance?
From participation circles to circles of influence, there has been an increasing loop of contribution to climate change and environmental issues in the cultural sectors of Asia. In India, government funding and schemes such as 'Scheme for Young Artistes' in different cultural fields by the Ministry of Culture, support regional initiatives and platforms, such as 'Centre for Cultural Resources and Training (CCRT)' and 'National Gallery of Modern Art, Delhi', which forge a link between education and culture. The circles have certainly grown in Asia where initiatives tend to be smaller, artist-driven and with a focus on local environmental challenges, which is in contrast to the often more abstract concepts favoured by European artists.
In order to strengthen formal pan- Asian societal networks in the cultural sector, there is a need for attaching greater voice of the arts and culture in the climate and sustainability discussions. Several measures are also being taken by environmental non-governmental organizations (NGOs), which use art as a mechanism to express their ideas and understandings. One such NGO is the Dakshin Foundation, Bengaluru, whose Art, Community and Engagement Programme uses design thinking and cross-disciplinary narratives to make awareness more apparent and to converse with a wide range of audiences in useful and interacting ways. Such distinctive initiatives assist dialogue on global problems, such as climate change and environmental sustainability. What is essential now is to widen interaction loops to leverage circles with greater voices from artists specifically on appropriate cross-sectoral international forums as well.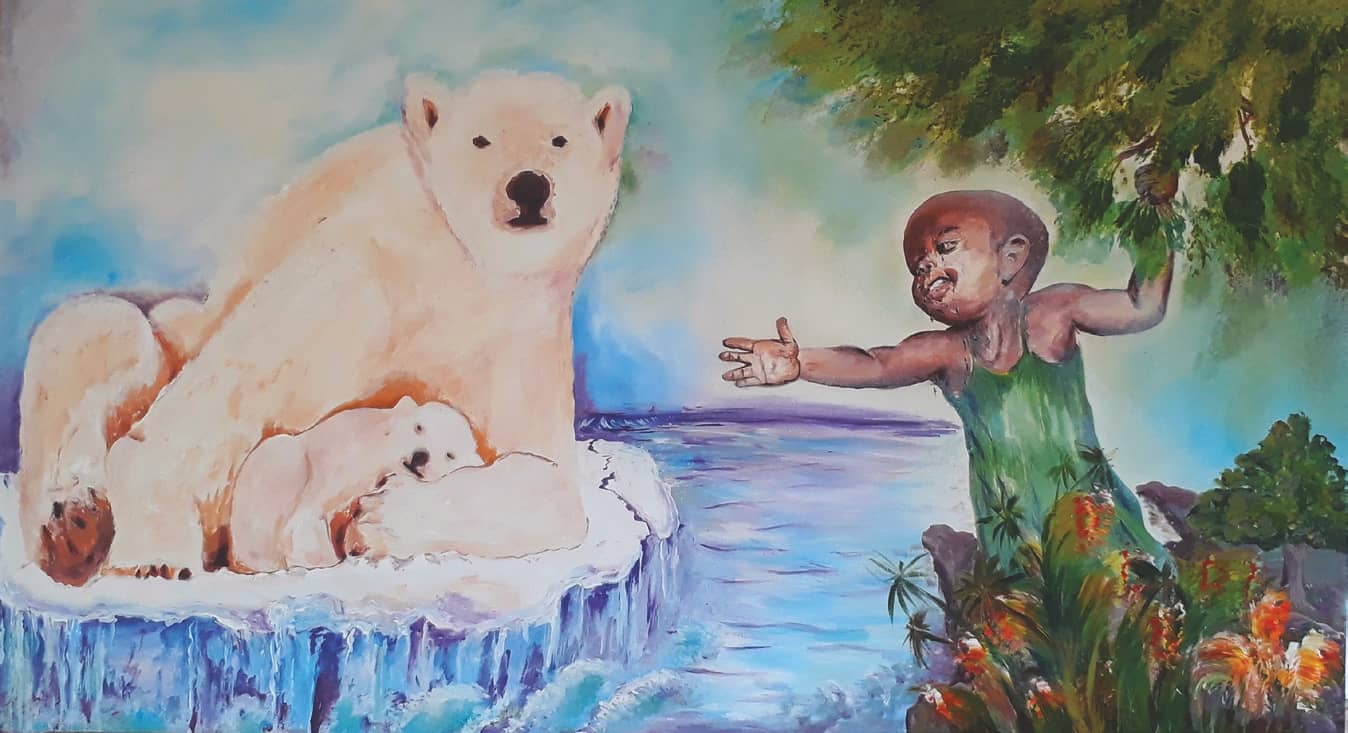 Land Degradation and Climate Change
Land is inseparable from water. As a tropical and sub-tropical region, we have long grappled with the challenges of water availability and access. Some of the earliest technologies of water use and storage developed in India. Today, water and the land–water nexus are a major challenge that the world faces. Droughts, flooding, waterlogging, seawater ingression, suboptimal use of rainwater and unsustainable groundwater extraction are some of the challenges which we are facing in the context of land–water nexus. Drier landscapes will also lead to more wildfires and perpetuates degradation, climate change, and biodiversity loss. To our understanding, degradation of land and natural resources is also an economic threat. Estimates suggest that land degradation and climate change may force 50 to 700 million people to migrate by 2050. Globally, the estimated annual costs of land degradation is estimated to range between $18 billion and 20 trillion. The loss of ecosystem services due to land degradation costs between $6.3 and 10.6 trillion annually, representing 10 per cent to 17 per cent of the world's GDP. Avoiding land degradation and restoring degraded lands makes sound economic sense, resulting in increased food and water security, increased employment, improved gender equality, and avoidance of migration due to distress.
You can read up to 3 premium stories before you subscribe to Magzter GOLD
Log in, if you are already a subscriber
Get unlimited access to thousands of curated premium stories, newspapers and 5,000+ magazines
READ THE ENTIRE ISSUE
August 2020