Immunity Insights: To Fight Against COVID-19 Pandemic
TerraGreen
|
September 2020
We're offering this story for free to read so that you can stay updated on the COVID-19 outbreak
Dr Anil Pratap Singh throws light on some immunity-boosting measures that would surely go a long way in preparing individuals and the society to bravely face the current coronavirus pandemic.
People around the world are suffering due to COVID-19 or coronavirus disease which was asserted as a global pandemic by the World Health Organization (WHO). Hundreds of millions of people are presently suffering from severe health, social, and economic impact of COVID-19. Elderly population, children and those with comorbid conditions are more vulnerable to this infection and require special attention. Individuals with ailments like diabetes, hypertension, respiratory, and cardiovascular diseases are at higher risks. Moreover, a person's general immunity reduces at older age which also magnifies complications. Concerted efforts are also being made towards development of vaccines, treatment, and diagnostics. However, in such a crucial time, several key measures are advised in order to enhance general immunity. In addition to maintenance of hygiene standards such as frequently washing hands, using alcohol-based hand sanitizer for disinfection, wearing masks as well as avoiding touching hand or mouth, social distancing, staying indoors and avoiding non-essential travel, etc., in order to prevent the virus infection; immunity boosting measures are vitally important at this juncture. So, in order to augment immunity, some of the imperative measures are discussed here.

Diet Amelioration
Nutrients play vital role for key functions of the immune system of an individual which include the role of macronutrients, micronutrients as well as gut microbiome in mediating immunological effects. Under-nutrition impairs immune function of the body. Specific nutrient interventions such as taking probiotics enhance immune function and also prevent the onset of infections or chronic inflammatory diseases.
Diet high in sugar, trans and saturated fats, but low in complex carbohydrates, fibres, micronutrients, and other bioactive molecules such as polyphenols and omega 3 polyunsaturated fatty acids; put the person on higher risk for a number of chronic diseases like cardiovascular disease, stroke, type 2 diabetes, chronic liver disease, etc. Low-carb diets help in controlling high blood sugar and pressure. Vegetables and fruits which are rich in beta carotene, ascorbic acid and other essential vitamins need to be consumed regularly. In addition to these, mushrooms, tomato, bell pepper, and green vegetables such as broccoli, spinach, etc., build the body resistant to infections. Diet rich in vegetables, fruits, nuts, legumes, fish, and 'healthy' dietary fats are associated with a reduced risk of chronic diseases such as cardiovascular disease, cancer, and Alzheimer's disease.
Moreover, ginger, gooseberries (amla), garlic, black cumin, turmeric, and basil leaves are considered to be natural immunity boosters. Nutrients may impact directly or indirectly upon immune cells causing changes in their function or may exert effects via changes in the gut microbiome. A better understanding of the role of nutrients in immune function is highly important in an era of coronavirus pandemic.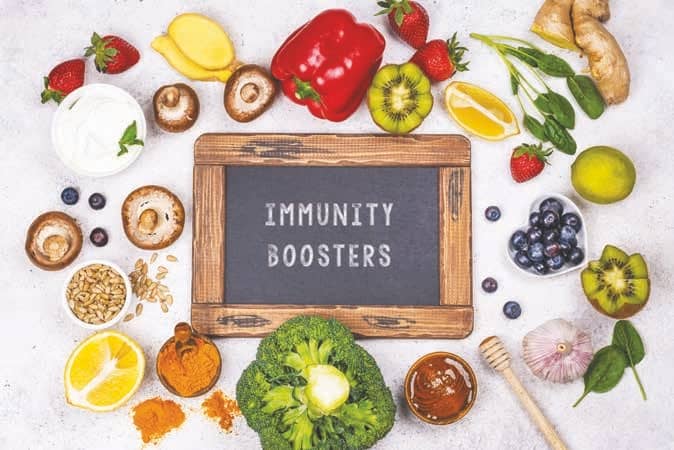 Proper Sleep
You can read up to 3 premium stories before you subscribe to Magzter GOLD
Log in, if you are already a subscriber
Get unlimited access to thousands of curated premium stories, newspapers and 5,000+ magazines
READ THE ENTIRE ISSUE
September 2020