The Decider
TIME Magazine
|
April 08, 2019
William Barr controls the fate of the Mueller report
IT WAS A SOMBER DAY IN THE WASHINGton National Cathedral Dec. 5 as thousands gathered to mourn the death of former President George H.W. Bush. Beneath the glittering stained-glass windows, the crowd of political luminaries wistfully recalled the gentler era of bipartisanship the late leader represented.
Vermont's Patrick Leahy, a Democrat on the Senate Judiciary Committee, took the moment to reconnect with Bush's Attorney General, William Barr. Leahy had known the Republican power lawyer for decades. Speculation was swirling about whom President Donald Trump would ask to fill Barr's old job after Jeff Sessions' departure. Pulling him aside, Leahy urged Barr to take the post again. "Bill, we need you back," Leahy said, according to a Justice Department official with knowledge of the conversation. (Leahy's staff said the Senator does not recall the discussion.)
Barr demurred, but he had a secret that very few of the mourners knew: he had already accepted the job. It hadn't been an easy choice—Barr had turned Trump down once already. And Barr knew the comity on display at the Bush funeral wouldn't last. At his youngest daughter's wedding three days later, shortly after Trump announced his nomination, Barr quipped that at least she was changing her name before it was dragged through the mud at his confirmation hearings. And in fact, when Barr's nomination came up for a vote two months later, Leahy voted against him, along with nearly every other Democrat.
The partisanship has already intensified now that Barr has become the keeper of the conclusions from special counsel Robert Mueller's Russia investigation. After nearly two years of work, Mueller submitted his final report to Barr on Friday, March 22. Two days later, Barr sent Congress a four-page letter summarizing Mueller's findings. The investigation did not establish that members of the Trump campaign or its associates conspired or coordinated with Russia, Barr said, and it was inconclusive on whether Trump obstructed justice. On that question, Mueller laid out the facts on both sides and left it to Barr to render a decision —which Barr and Deputy Attorney General Rod Rosenstein did with alacrity, concluding that "the evidence developed during the Special Counsel's investigation is not sufficient to establish that the President committed an obstruction-of-justice offense." Just five weeks into the job, the new Attorney General had helped lift a cloud hanging over the Trump presidency.
Barr's importance will only grow in the coming weeks, as he determines how much of Mueller's report to share with the White House, Congress and the American people. He is working on scrubbing Mueller's report of grand-jury information and details pertaining to ongoing investigations. Trump has claimed victory, saying it "wouldn't bother" him if Barr wanted to make the whole report public.
Already, Barr's decision on obstruction has angered congressional Democrats, who blasted him for delivering a verdict in two days on a matter that Mueller spent 22 months probing. Moreover, they note that Barr is a political appointee who wrote a memo last year criticizing Mueller's obstruction inquiry. "The Attorney General's comments make it clear that Congress must step in to get the truth," said House Judiciary chairman Jerrold Nadler, a Democrat from New York, who said he will call Barr to testify. "We cannot simply rely on what may be a hasty, partisan interpretation of the facts."
More than politics is at stake in how Barr handles the close of the Mueller probe. The reputation of the Department of Justice, attacked on the one hand for two years by the President who leads it and on the other by Democrats with oversight authority on Capitol Hill, hangs on the Attorney General. So too does the balance of power between the White House and Congress.
But that's partly why Barr took the job. Close aides say he believes the Justice Department has gone astray, internally and in the public perception, and he wants to bring it back in line. "He is in sync with the law-enforcement goals of the President and the Administration," Rosenstein tells TIME. "He views this as an opportunity to advance those goals and also to preserve and enhance the reputation of the department."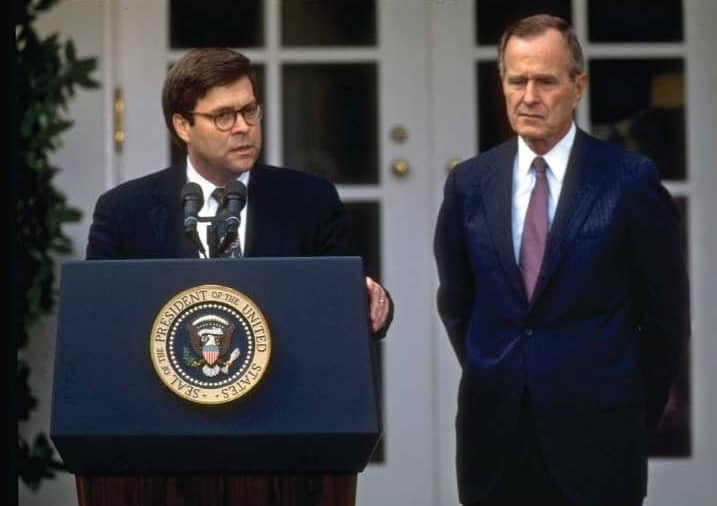 What's clear is that Barr is making history. He alone will decide, on the basis of his experience, beliefs and personality, how this consequential chapter of the Trump presidency plays out. His closest aides recognize the power of the moment. "There's a lot of things coming down the pike at us, there's a lot of decisions that are going to need to be made," admits one, "and it will be kind of viewed through the lens of how [Barr] handles things."
BARR'S RELATIONSHIP with Trump began nearly two years ago, in June 2017, when he took a meeting at the White House because the President wanted Barr to join his personal legal team. It was a brief interaction, Barr testified at his confirmation hearing in January 2019, during which he declined Trump's job offer because he "didn't want to stick my head into that meat grinder." When Trump was curious about his relationship with Mueller, Barr said he told the President that the special counsel is a "straight shooter." (Barr was Mueller's boss as Attorney General under Bush, when Mueller served as head of the criminal division.) Barr gave Trump his phone number and left and didn't hear from the President again for more than a year. But in the fall of 2018, Trump came calling once more, this time to talk about the Attorney General job.
You can read up to 3 premium stories before you subscribe to Magzter GOLD
Log in, if you are already a subscriber
Get unlimited access to thousands of curated premium stories, newspapers and 5,000+ magazines
READ THE ENTIRE ISSUE
April 08, 2019