Inside The Fight Over Rebuilding Notre dame
TIME Magazine
|
August 5, 2019
Rising from the ashes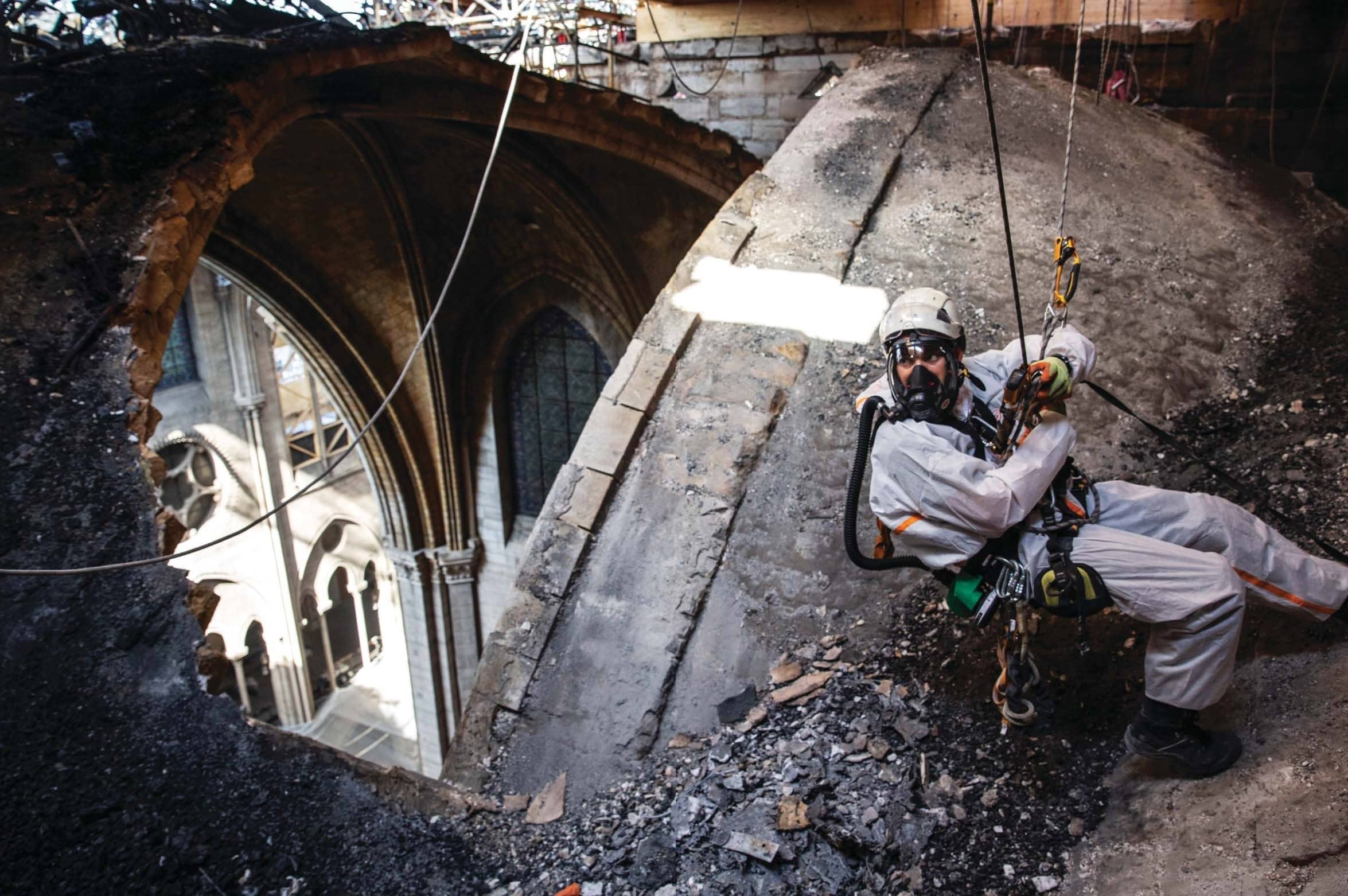 STUMBLING THROUGH CHOKING smoke, Antoine-Marie Préaut was on a divine mission. The conservator of the 4,000 or so historic monuments in the Paris region made his way through the burning Notre Dame cathedral on April 15 to rescue from a locked chest the Crown of Thorns that Jesus is said to have worn to his Crucifixion. The minutes were ticking by, and there was no certainty Préaut and the firefighters accompanying him would succeed in recovering the priceless relic. "I barely had any consciousness about what was happening," he says. Then he heard a roar from the huge crowd that had gathered on the square outside the medieval masterpiece in the heart of Paris, and his heart sank. "We heard the cries of all Parisians outside," he says. "We said to ourselves, 'The spire must have fallen.'"

The cause of the blaze is still unknown, yet what it exposed is clear—the fragility of our most cherished buildings and the wistful attachment we hold to the spaces within their walls. The cathedral's spire snapped off like a twig just before the sunset, crashing 314 ft. into the nave, through the ceiling that carpenters had painstakingly carved by hand in the Middle Ages, using 5,000 oak trees. Within France itself, the Notre Dame fire laid bare another, more complicated fragility: a tension rippling through the country, pitting the urge to preserve the past, and traditions of an exceedingly proud nation, against the need to overhaul its hidebound ways and modernize its system.

In early spring, the fractures in France were playing out in the most violent street demonstrations in decades, with the so-called Yellow Vest movement protesting President Emmanuel Macron's plans to remake the country's economic model. Enraged by an elite class—epitomized in their minds by Macron — that appeared to have no understanding of their financial pain, demonstrators marched, while agitators repeatedly trashed and burned stores and banks across the country.

Then came the Notre Dame fire. Amid the boarded-up and smashed storefronts across the city, the sight of smoke billowing from one of its most treasured icons seemed to deepen a sense of a country under strain. "There was a spirit of destruction which really collided with the spirit of maintenance and protecting our culture from the past," says Nicole Bacharan, a French political analyst and author. "It was a moment people truly shared, that said something important about what it meant to be French. It was not a terrorist attack. It was not a natural disaster. It was a sudden violent destruction of something people hold very dear."

The destruction of the cathedral seemed to many like a turning point. It was "the drop of water that made the vase overflow," says Thierry Paul Valette, one of the Yellow Vest leaders in Paris. With the embers still smoldering inside Notre Dame and the French in collective grief over the fire, Macron went on television the next day to appeal for national unity and vowed to have Notre Dame rebuilt within five years. "I believe very deeply that we can transform this catastrophe into an occasion to come together," he said. "Politics will take over again, but it is not the moment now."
THE APPEAL TO UNITY seems to have worked, at least for now. The weekly protests have abated, with demonstrators exhausted from eight months of battle. But the place of worship that 14 million tourists a year once visited remains a shuttered wreck on Paris' Île de la Cité, and now the old divisions are beginning to gather around what comes next for the beloved building. The fraught discussion cuts to France's most sensitive matters of history and culture, class and political ideology, with questions that will likely take months to resolve. How quickly can it be rebuilt, and what will it look like when it is? What will it cost, and who will pay? And there is another question that has bubbled quietly ever since the fire ignited atop the roof: Did official penny pinching, and the labyrinthine structure of the French state, unwittingly lead to disaster?
In the meantime, the Gothic jewel remains behind police barricades, a magnet for crowds of gawkers who gather to watch the salvage work, like rubberneckers at a road accident. "As Notre Dame burns, so falls France," the French writer Sébastien Lapaque mused in Le Point magazine in June. The cathedral sits at the zero point of all the country's map readings, Lapaque tells us, and is a fitting representation of the country's troubled state at the moment. "It has a double symbol, both politically and spiritually," he says.
STEPPING INSIDE NOTRE DAME today is like entering a mausoleum. In sharp contrast to the cathedral's typically crowded nave, where tourists and worshippers jostle for space, the huge interior is eerily empty and silent, the only movement coming from remote-controlled construction vehicles; it is still deemed too risky to have humans disturb the fire-damaged space. The robot earthmovers, dwarfed by the towering vault, edge slowly in and out of the nave, extracting the fallen stonework and burnt wood, piece by piece—including bits of the shattered spire—that crashed through the roof during the fire and now sit in a pile of debris. Each piece is meticulously cataloged, then placed in a tent in Notre Dame's front yard, in readiness for restoration.
You can read up to 3 premium stories before you subscribe to Magzter GOLD
Log in, if you are already a subscriber
Get unlimited access to thousands of curated premium stories, newspapers and 5,000+ magazines
READ THE ENTIRE ISSUE
August 5, 2019