To Catch A Bomb-Maker
Popular Science India
|
October 2015
In April 2009, an Iraqi refugee arrived in America ready to make a new life. No one suspected he was an Al Qaeda operative. This is the story of a little-known FBI forensics lab and how it changed the war on terror.
The insurgent began with a cordless phone— one of the knockoffs of a Chinese-built Senao so popular in northern Iraq. Hunched over a worktable somewhere near the refinery town of Baiji, about 241.3 km north of Baghdad, he methodically worked through a series of steps by now both familiar and frighteningly simple.
Loosen the screws on the base station. Remove the plastic casing, rip out the power cord, and replace it with a battery. Rewire the phone's page function to an external relay switch, then connect the relay to a battery and any mix of violent chemistry—plastic jugs full of diesel and fertilizer, a pressure cooker packed with homemade explosives, one of the many artillery shells available in post-invasion Iraq. When complete, pressing the page button on the phone's handset—even from kilometers away—will flip the relay and trigger the bomb.
During the conflicts in Iraq and Afghanistan, improvised explosive devices (IEDs) became the single deadliest weapons on the battlefield. In Iraq alone they accounted for between half and two-thirds of all U.S. wartime casualties and killed tens of thousands of civilians. They have now become a staple of insurgencies worldwide. But back in 2005—when the bombmaker sat poring over his Senao—the U.S. military was only beginning to understand the threat they posed.
In the waning days of August that year, insurgents concealed the modified Senao in a gravel heap south of Baiji. They then wired it to three artillery shells buried in a road several meters away. The bomb was presumably meant for one of the patrols that frequented the route, but on September 1, 2005, U.S. forces discovered it before it detonated. A bomb-disposal team neutralized the explosives and then packed the Senao into a crate destined for a little-known FBI forensics lab operating out of a parking garage in northern Virginia. No one knew at the time that the IED was anything more than just another in a flood of roadside bombs. Instead it would end up unmasking a terrorist and helping FBI analysts pioneer techniques that have foiled criminal plots around the globe.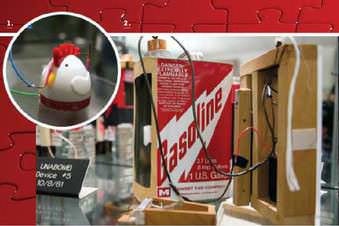 On the heavily wooded grounds of Marine Corps Base Quantico in eastern Virginia, special agent Greg Carl leads the way into an imposing building and down a windowless hallway. Swinging open a pass-code-secured metal door, he steps into the warehouse that contains the FBI's Terrorist Explosive De-vice Analytical Center (TEDAC). A row of white boxes, each 4 feet by 4 feet, runs down the center of the room. Others line the 115-footlong walls, each one bar-coded, inventoried, and packed with IEDs.
Carl is TEDAC's director, and this space—tucked in the bowels of a garage adjacent to the FBI's main forensics lab—is intake. More than 100,000 IEDs have passed through here since the lab opened in 2003. Some arrive inert but intact, others in post-detonation fragments. Lab technicians analyze each one and catalog it in TEDAC's database, creating what has become the world's largest bomb library. In the field, an IED is an anonymous threat. But at TEDAC, it gains context. By comparing physical evidence along with the IED's location, design, and materials, investigators can draw connections between bombs and bombmakers. They might trace multiple IEDs to a single factory—or even a single individual. They might identify new trends or techniques. And they can continue to analyze evidence for years, tracing bombmakers and their apprentices through time.
"Up until TEDAC, the Department of Defense didn't understand the benefit of having forensics on the battlefield," Carl says. "But fighting insurgencies is more like fighting organized crime. It's a conspiracy."
In 12 years, analysts using TEDAC data have tied more than 2,700 suspects to possible terrorist activities, and nominated more than 350 to the terrorist watchlist. The lab has collected and shared 80,000 fingerprints with law-enforcement agencies around the globe. It has been so successful and grown so rapidly that this summer the FBI began moving 250 TEDAC staffers out of the improvised headquarters into a $132 million facility in Huntsville, Alabama.
That's today. In 2003, the center looked much more like a startup. The focus was mostly on Iraq and Afghanistan, and the staff was composed of just a few dozen analysts—many borrowed from other FBI labs. Then the Iraqi insurgency took off. What started as a few IED deliveries a month turned into hundreds, then as many as 2,400. That's how TEDAC ended up working out of a parking garage, Carl says. The lab had to grab whatever space it could.
You can read up to 3 premium stories before you subscribe to Magzter GOLD
Log in, if you are already a subscriber
Get unlimited access to thousands of curated premium stories, newspapers and 5,000+ magazines
READ THE ENTIRE ISSUE
October 2015