Winds of Change sweep U.P. under CM Yogi Adityanath
Outlook|March 16, 2020
In the past three years, Chief Minister Yogi Adityanath has brought remarkable changes in Uttar Pradesh's affairs, touching every aspect of people's life in the state
Uttar Pradesh has been on a forward march like never before ever since Yogi Adityanath was sworn in as Chief Minister on March 19, 2017. In the nearly three years that he has been at the helm, Yogi Adityanath has unveiled a slew of development projects that have been benefitting the state's farmers, youth, women, and the girl child. The logistic schemes are poised to make UP a $1 trillion economy–in keeping with Prime Minister Narendra Modi's vision of making India a $5 trillion economy by 2024.
From his very first historic step of loan waiver to farmers, taken at the first cabinet meeting held on April 4, 2017, Yogi Adityanath has kept Uttar Pradesh and its people at the forefront of his every move.
From holding groundbreaking ceremonies (GBC) to take forward ambitious investment proposals in various sectors, pushing ahead firmly with the Defence Industrial Corridor project – to realise PM Modi's vision of making UP one of the biggest defence hardware manufacturing hubs in the country, stressing improving school education through 'School Chalo Abhiyan', providing long hours of electricity to every nook and cranny of the state, giving homes to the homeless and deprived, building expressways and highways, improving health facilities, cleaning rivers–Yogi Adityanath has ensured that UP is taking rapid strides on the path of development.
March Towards $1 trillion Economy
The CM has lost no time in moving forward with his vision to make Uttar Pradesh a $1 trillion economy. After the UP Investors Summit held in February 2018, his government held the first ground breaking ceremony within a few months to lay the foundation of projects in sectors like renewable energy, infrastructure, power, IT & electronics manufacturing, tourism, to bring to fruition the over Rs 4 lakh crore investment proposals received. A second phase of the GBC was held in July 2019 in key areas like agro and food processing, electric mobility, defence and aerospace manufacturing, among others. The defence corridor project is also a major part of the $1 trillion dream.
Besides focusing on major industries, the Yogi Adityanath government launched the unique 'One District, One Product' (ODOP) scheme in January 2018, to give a major push to traditional industries that are synonymous with districts of the state –like Banarasi silk sarees in Varanasi, carpets in Bhadohi, chikankari work in Lucknow, leather footwear in Agra, locks in Aligarh, brassware in Moradabad, sports goods in Meerut and wooden products in Saharanpur. There are traditional industrial hubs spread across 75 districts.
The core strength of the state is the small and medium industries (MSME) sector that has been the mainstay of Uttar Pradesh's economy. As part of his proindustry and pro-employment vision, the CM is strengthening the ODOP scheme.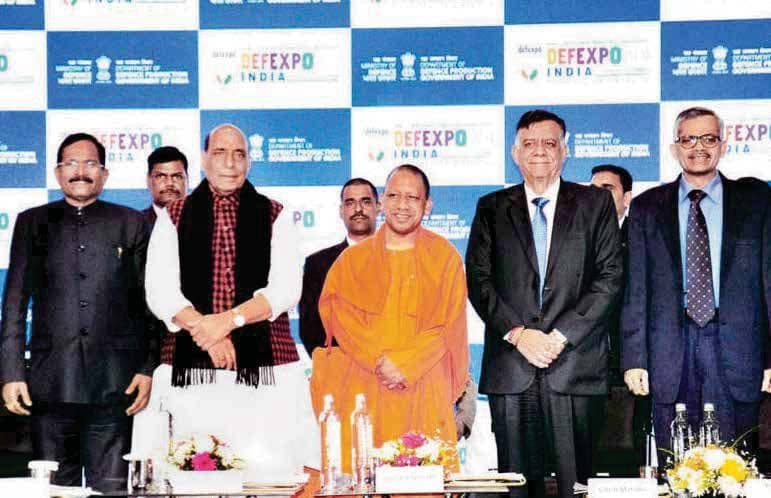 Making UP a Defence Manufacturing Hub
The Bundelkhand defence corridor project, announced by PM Modi in February 2018, is helping transform a region that was known for perennial drought and largescale migration of youth looking for jobs. The Yogi Adityanath government included all the seven districts of BundelkhandJhansi, Mahoba, Banda, Hamirpur, Lalitpur, Chitrakoot and Jalaun-in the defence corridor project.
Earlier, locals were forced to migrate to places like Ahmedabad, Surat, Mumbai and different cities of Uttar Pradesh to work as daily wage labourers. The defence corridor project is to extend up to Agra, Kanpur, Aligarh and Lucknow.
Prime Minister Modi laid the foundation stone of the defence corridor in Jhansi district in February 2019. The corridor is expected to attract investment of Rs 20,000 crore and create 2.5 lakh jobs in the state. Around 25,000 acres have been notified for the project. Of this, almost 3,000 hectares have been acquired in Jhansi, Chitrakoot and Aligarh.
A total of 43 defence equipment manufacturers plan to set up their plants in the corridor. During the UP Defence Industrial Corridor Investors' Summit held in Aligarh in August 2018, investment of Rs 4,000 crore was announced. During the Defence Expo held in Kanpur on November 14-16, 2018, several manufacturers had submitted proposals. The UP government is also planning to set up Defence Parks in Kanpur, Agra and Jhansi. In Lucknow, Agra and Kanpur 100 to 150 acresaerospace parks are being set up, to boost the corridor project.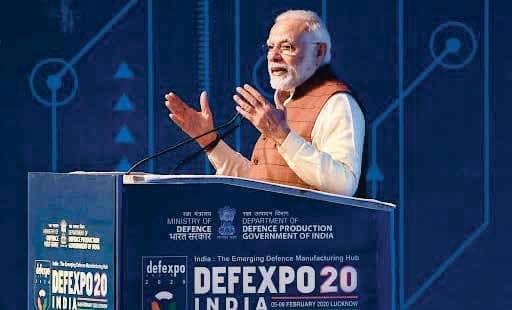 Defence Expo February 2020
Ordnance to Nation: Defence Corridor in UP
As part of its vision to become a major defence manufacturing and export hub, Uttar Pradesh hosted the biggest Defence Expo in the country on February 5-9, 2020 in Lucknow. The mega event saw delegates from 70 countries as well as from India participate, with 1,028 defence firms, including 172 from abroad. Termed by CM Yogi Adityanath as a 'mahakumbh' of defence manufacturing companies, the DefExpo-2020 saw defence ministers from over 40 countries participate. At least 856 Indian companies also took part.
The main theme of the expo was 'India: The Emerging Defence Manufacturing Hub', and the focus was on 'Digital Transformation of Defence'. Prime Minister Narendra Modi formally inaugurated the five-day mega event, that also highlighted all Make in India defence equipment.
The expo saw 23 MoUs being signed to bring in investment of Rs 50,000 crore over the next five years in the defence sector, and generate employment for over 3 lakh youth in the state. Besides positioning Uttar Pradesh as a defence equipment manufacturing hub of India, the Defence Expo is expected to help bring about all-round prosperity to Bundelkhand. It helped showcase the state as a destination for investors wanting to invest in defence production technologies.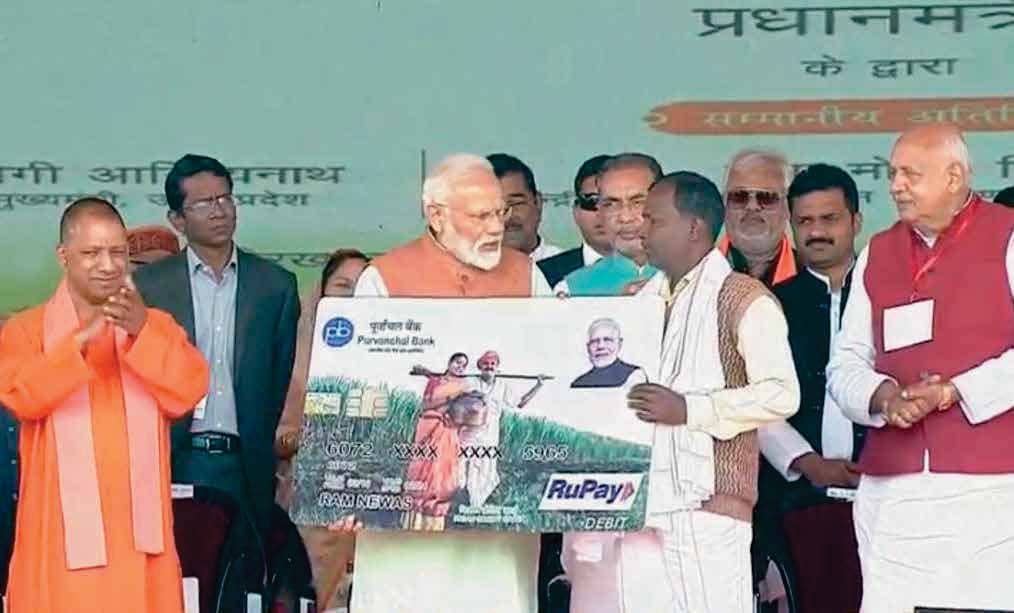 Focus on the Food Providers
CM Adityanath's first cabinet decision to write off loans benefitted 86 lakh small and marginal farmers, giving them a new lease of life. The government redeemed loans worth Rs 36,000 crore, one of the biggest by any state. Famers are the backbone of the rural economy in India, but lakhs of small and marginal farmers were neglected and driven into debt by successive governments in the state. The Yogi government's historic step, which was a fulfillment of his biggest poll promise, helped free these farmers from the burden of debt.
Benefitting the Tillers
His government's next major step was to ensure that sugarcane mills release dues worth Rs 90,000 crore to farmers, whish was pending for long. His government introduced a new procurement policy, announcing higher MSP for crops. UP also saw record purchase of wheat and rice with the minimum support price for wheat and rice being increased substantially. In addition, a transportation charges of Rs 10 per quintal was also provided to farmers.
You can read up to 3 premium stories before you subscribe to Magzter GOLD
Log in, if you are already a subscriber
Get unlimited access to thousands of curated premium stories and 5,000+ magazines
READ THE ENTIRE ISSUE
March 16, 2020