The Great Indian Ripoff
In the bazaars feeding a billion people and selling anything under the sun, it's hard to tell the real from the impostor. Choose carefully.
Up a narrow street in one of the shanty colonies in East Delhi, we are on the top floor of an unassuming, three-storey building. It's a decent-sized hall, about 700 sq feet, the size of a compact 2BHK. Two people, both in their 30s, are stacking empty packets in neat piles on a large table. Nescafe 500 gm, one of the top coffee buys in the world. You still can't smell the coffee…it's empty, remember?
Well, figuratively speaking, you can. It's a stiff concoction. Before Nescafe, they'd just finished stacking empty 200 gm packets of Tata Tea, India's top tea brand. Besides, one can see bundles of several other big brands strewn around the hall: things you wash with (Surf Excel, Tide); things you put in your food (Maggie Masala, Tata Salt); things you put on your body (Sunsilk, Dove, Pantene). All empty…. The maal is elsewhere.
So what exactly is happening here? Well, this is a super bazaar of another kind, and we're at a point high up on its invisible production chain. With a 10-color rotogravure printing machine, these men are printing the packaging materials of over 100 top brands: processed food, dairy products, auto spare parts, what have you. It's off the radar and totally illegal, of course. But you don't even realize it when these labels quietly come out of the dark and join the well-lit racks of the real superbazaar.
"Except for four or five hours when we stop it to put on the printing rolls or cylinder, it works round the clock," says one of them, about the machine's workload. Reluctant to prolong the conversation, they get back to their jobs. The factory worker's stoic face is back. Outlook got this sneak peek into the inner chambers of India's vast counterfeit goods market with the help of a source who facilitates the sale of these packaging materials to wholesalers. The first nodal point in an ecosystem that runs parallel to the legal supply chain.
Nothing very fly-by-night here. The printing is so precise that it blurs the line between original and fake. The machine prints about 3 lakh pieces of wrappers of one brand in a day. "As far as I know, there are 30 such rotogravure machines—each worth between Rs 80 lakh to Rs 1.5 crore—operating in various parts of Delhi," says the source. That's almost 30 crore fakes with this kind of packaging entering the market in just a month. And that's just from these shanty East Delhi hubs, where the majority of these printing machines are whirring away: places like Seelampur, Maujpur, Gokulpuri, Shahadra. The overall scale is near-unimaginable.
Just a mile or so away from that building, there's another four-story building where, in a one-room apartment, a couple of hands are busy printing thin cardboard-based packets of spices (MDH, Everest, Catch); top ghee brands (Mother Dairy, Amul, Milk Food); besides toothpaste, shaving creams, whatnot. This is an offset press that prints only thin card type packaging material. (Outlook collected some samples—packets of Mother Dairy, Milk Food, Amul, Tata Tea, Tata Salt, MDH spices, Surf Excel, Tide—from the two sites.)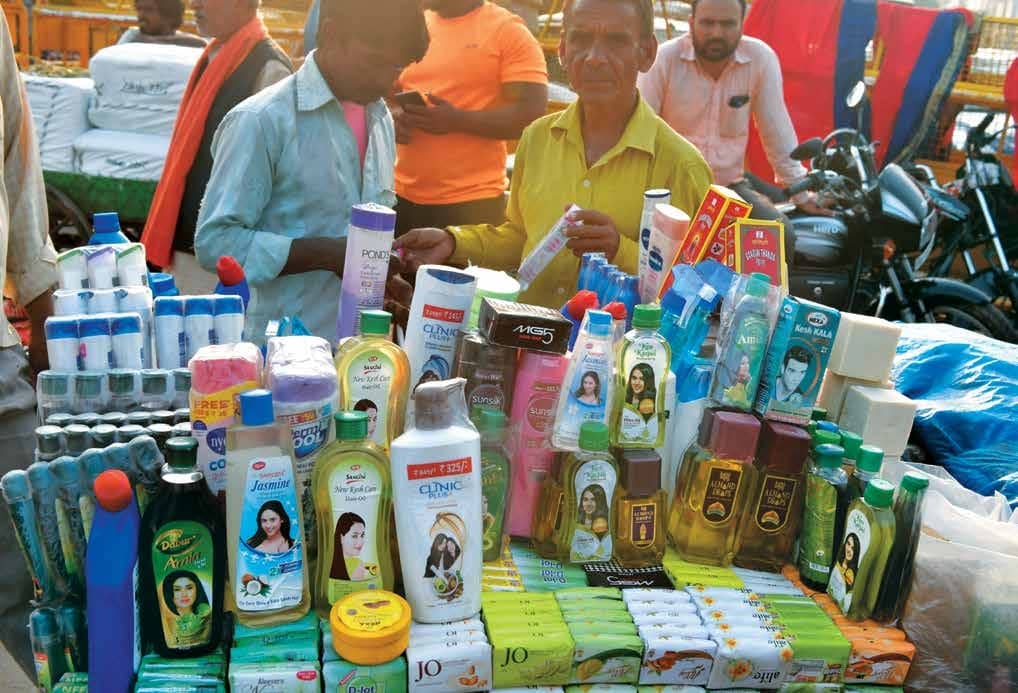 These packets and pouches go-to wholesale dealers. Just these hubs in East Delhi supply over 70 per cent of wholesalers within a 400-500 km radius, say those engaged in the investigation and surveillance of product counterfeiting. That would mean Delhi NCR and other cities in UP, MP, Himachal, Haryana, Punjab. Sleuths claim the ambit of operations includes Bihar and Gujarat. Toss in the East, South, Bombay, and the mind boggles at the size. One estimate of India's total counterfeit market is Rs 1 trillion.
It starts with these small packets in a grubby part of town. A wholesaler who deals in FMCG products buys smaller packets on a per kg rate and bigger packets per piece rate. "One Nescafe 500 gm packet will cost about Rs 15," says Suresh Sati, a private detective. Per kg rates of smaller packets range between Rs 350-600. Next step? There's, of course, a natural interface with adulteration here: wholesalers stuff these packets with substandard stuff that resembles the original in look, feel or taste. These dubious goodies then travel down the chain to your local retailer—and then, if it's a food product, down your gullet. Alimentary, dear Watson.
The dummies are often mixed up with originals at the delivery point to escape easy detection. "Let's say one carton of Tata Tea will have 70 per cent fakes and 30 per cent original," says Sati. Companies are often reluctant to go public with the fact that the bazaar could be awash with fakes of their brands, though it's ubiquitous and affects all brands. Interviews with dozens of brand surveillance officials of top companies reveal an estimate: some 25 to 40 per cent products of every available brand is allegedly counterfeit. Tea consumption makes for an astounding Rs 1.8 lakh crore market in India, for instance—the branded segment within it is smaller, but still runs into thousands of crores, in which big brands command upwards of 20 per cent share.
The logic behind counterfeiting is simple enough. Branded turmeric power, say, costs about Rs 250 per kg, while you can score loose powder at Rs 90 per kg. It's the same thing with tea. That's why adulteration of branded spices and edible oil is very common across India. While India has banned unpacked spices, this food law is most commonly flouted in every weekly bazaar.
Food is where this gets most dangerous, but not singularly so. Think cement. Noida police recently busted four factories that were manufacturing fake cement: they would get the cement sacks of top brands like ACC, JK Cement etc from another unit, fill them with their own grey powder—and then, heave-ho! To market, to market!
The span of fake branded goods takes in a wide variety—besides tea, salt, spices, ghee, paneer and the like, and toothpaste, shampoo, hair oil, conditioner, bathing soap, there's mobile phones, computer hardware, apparel—and yes, liquor. And most dangerously, pharmaceuticals. Here, the story also gets entangled with a concerted attempt by foreign MNCs to run down India's industry, so the trail is murkier (see 'How About the Pill You Pop?' p.43). The surveillance mechanism is often inadequate to deal with the sheer scale of it.
You can read up to 3 premium stories before you subscribe to Magzter GOLD
Log in, if you are already a subscriber
Get unlimited access to thousands of curated premium stories, newspapers and 5,000+ magazines
READ THE ENTIRE ISSUE
October 21, 2019