Office Office In Covid Time
Outlook|July 27, 2020
We're offering this story for free to read so that you can stay updated on the COVID-19 outbreak
Working from home, or from office—how's your workplace and your work adapting to the new Covid-churned ecosystem?
It took me 90 days to muster courage to make the first visit to the office. For three months, I locked myself at home, working in sequestered comfort. Or discomfort, as some would say. The only excursions included the weekly trips, on and off, to the nearest paan shop 20 metres away. To be frank, it wasn't guts, but fear, which forced the decision. One set of fear—about the safety and health of my ageing mother—had kept me confined. Now, another set of dread—the one we still feel with trepidation—made me go to office. It's that dark anxiety of losing one's job. Masked with an N95—the New Yorker said those were used by the medical staff in the US—I reached the magazine's headquarters.
Like everyone, who has been to office or hoped to go after the lockdown, I expec­ ted the obvious changes, but was ready for the startling ones. My mind was in a twirl—hopeful and pessimistic, brood­ ing and excited.
It's a good time to check the mood of the workplace. And so, Outlook teamed up with Toluna— an intelligent techniques for web personalisation (ITWP) company that delivers insights on demand— for a survey among white­collar workers across India, the most definitive one on the post­Covid situation. The country's first employee study of its kind succinctly captures the post­Covid socio­business changes in office spaces and reveals that there is no over­encompassing feeling of gloom­and­doom. Despite the crushing impact on the economy and businesses, employees can still see the positives. Their lives have changed, but it may be for the better to some extent.
People are scared about future job losses, salary cuts, and huge declines in corpo­ rate earnings. They feel social­distancing norms will make them lose office friends as they become nervous about colleagues. But they are also buoyant and confident. They think they will be more productive, offices will become more professional, and a cure for the virus will be found in the next six months. The majority con­ tends that the situation will improve within a month.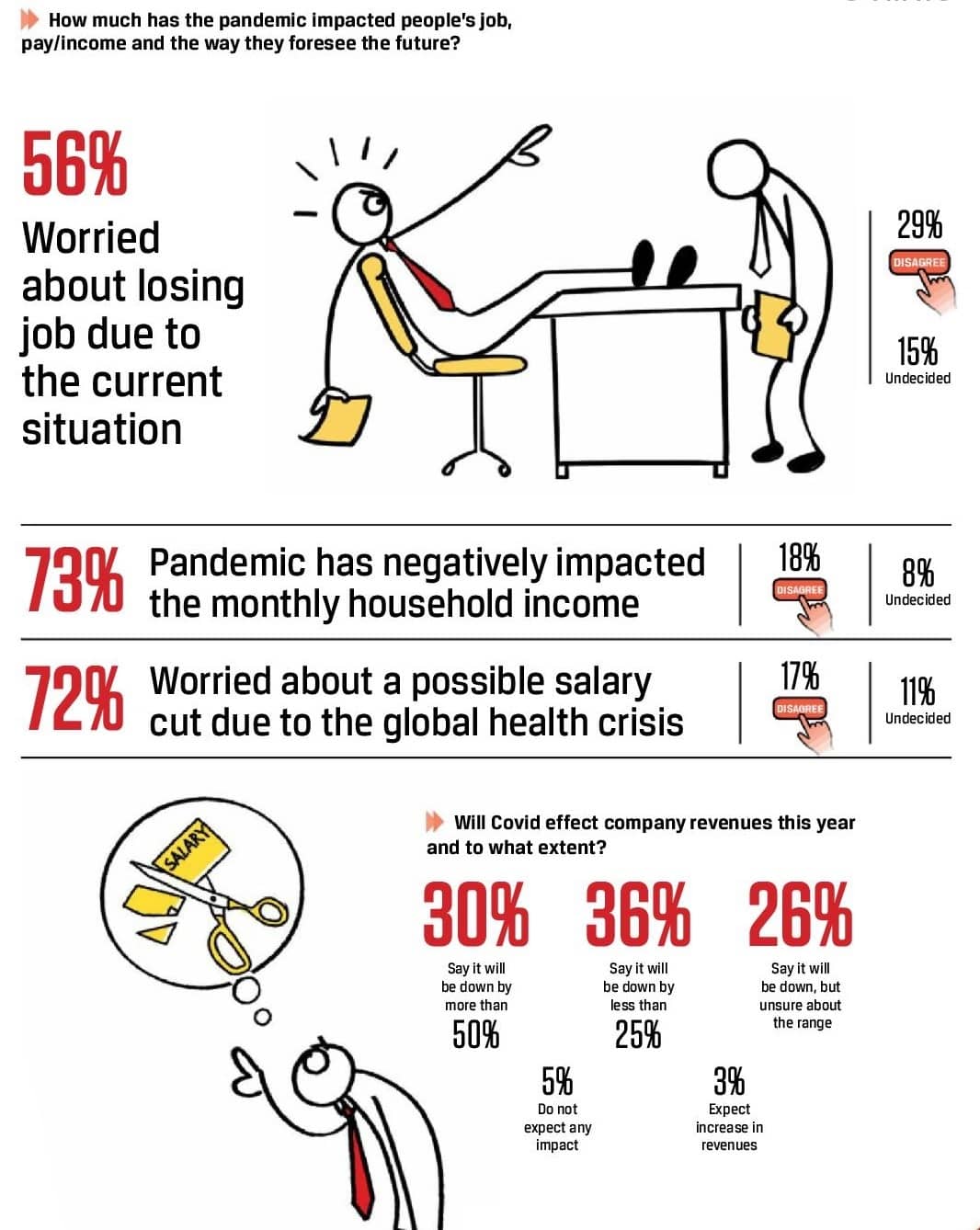 DESPITE the millions of pink slips and across­the­board salary slashes of up to 50 per cent, every surviving employee, including the top bosses, in every office is still apprehen­sive. For them, today can be the last day in office. As the survey shows, 56 per cent of the respondents are still scared of los­ ing their jobs. An overwhelming 72 per cent say they are "still worried" about remuneration cuts. A higher percentage (76 per cent) believes there will be no appraisals, and no increments, possibly until March 2022.
The reasons for such a hopeless mindset are clear. Most businesses are decimated or are on the verge of bankruptcy. Despite Unlock 1 and 2 in India, several sectors may take at least three years to recover to their past levels of financial performances.
Employees realise this, and 92 per cent of the respondents are sure that their firm's revenues will be down in 2020­21. Almost a third (30 per cent) envisages a drop of more than 50 per cent. For 49 per cent of them, it may take more than six months—13 per cent claim more than a year—for their company "to get back to business as usual".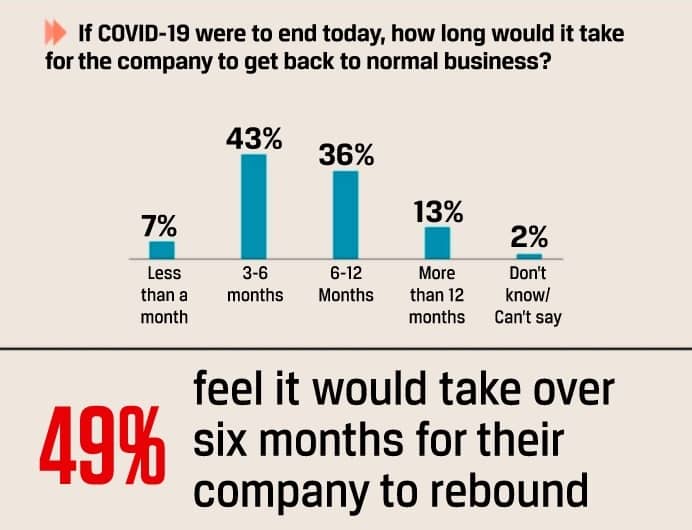 You can read up to 3 premium stories before you subscribe to Magzter GOLD
Log in, if you are already a subscriber
Get unlimited access to thousands of curated premium stories and 5,000+ magazines
READ THE ENTIRE ISSUE
July 27, 2020