'Netaji' Didn't Start This Fire
Outlook|June 20, 2016
So who is really to blame for the conflagration in the Mathura park? The dead, sadly, tell no tales.
Until recently, residents around Jawahar Bagh in Mat­hura didn't have much of a problem with the few thou­ sand squatters who had taken over the park some two years ago. They didn't mind entering personal details in a register to enter the park for buying seasonal vegetables at a third of the market price, sugar for Rs 15 a kilo sugar and potatoes for Rs 10. Only chil­dren from the neighboring police lines were allowed to scale the wall to pick up fruit that fell from the trees.
However, the authorities in this temple town of 3.5 lakh population, some 140 km from Delhi, had been suspicious all along. Tension had been rising over the past few months, with the authorities trying to glean more information on what the squatters— called everything from "religious Naxals" (IGP Durga Charan Mishra) to anarchists, "cultists" and troublemakers—were up to. In the past two years, residents of Jawahar Bagh colony, the police lines, the prison staff colony and the judges colony had synchronized their morning schedules to the 8 am prayer that wafted across the six foot wall of the 260-acre garden into their homes. "That would tell us whether we were running late or not," recalls Kanchan Yadav of Jawahar Bagh colony.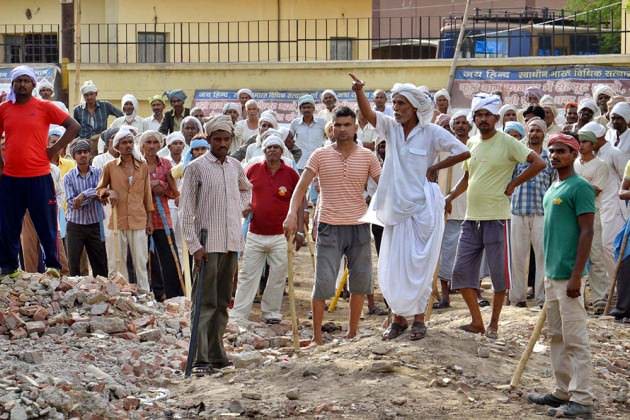 On the other side of the wall is the park curated by the horticultural department that the squatters had turned into a "commune". Claiming to be inspired by Subhash Chandra Bose, Ram Vriksh Yadav, founder-leader of the Swadhin Bharat Vidhik Satyagrah (SBVS), was running the setup as "his own little republic", say officials. The "commune" had its own rules, security, school and even an adjudication system for members' lapses.
You can read up to 3 premium stories before you subscribe to Magzter GOLD
Log in, if you are already a subscriber
Get unlimited access to thousands of curated premium stories and 5,000+ magazines
READ THE ENTIRE ISSUE
June 20, 2016