How They Make The Ledger Lie
Hole-in-the-wall accountants, Tier-2 CA firms and the Big Four—all share a professional DNA of trickery. From there, it's a tiny step to fraud. In the case of foreign firms, their very presence in India hinges on that.
The financially illiterate middle class may encounter chartered acc­ountants around the dreaded season of tax returns—as the self­ pit­ying definition goes, they are people we pay to tell us if we are broke and by how much. Auditors are higher up the angels' hierarchy, known only to businesses. The hollywood caricature is of a bald head crowned with a visor, shirt­sleeves rolled up, digging into dusty, oversized registers, poring over data, crunching numbers, reading complex financial gobbledygook—the things that make many shudder is routine, even exciting, for these certified practition­ers of a modern black art.
But how and why does it matter to us…what these hifa­ lutin professionals get up to in their day jobs? Especially in their role as 'statutory auditors'—as defined by comp­any laws—for big, medium and small corporations? Because it does. Because, as stockmarket regulator SEBI (Securities and Exchange Board of India) explained in the 2009 Satyam case, auditors have a "direct, fiduciary" relationship—that is, one of trust—with the sharehold­ers of the companies they audit. India has over three crore retail investors, and not only do they depend on the auditors to certify the internal health of companies, the auditors are supposed to work on their behalf.
Beyond that internal realm, the financial fate and trajectory of these companies can have larger implications on the economy. Remember only the "window­dressing" offered by top­notch auditors to Lehman Brothers before its collapse plunged the global economy into its worst recession since the 1930s—and the pain suffered by millions of people.
Not all effects are that spectacular: a lot more things happen in the routine sphere. The big global companies are one end of the spectrum, their shenanigans well­recorded. At the other is an equally omnipresent, silently malign force that largely flies under the radar: the home­ grown variety. What the friendly neighbour­ hood CA wreaks—if you add up all the friendly neighbourhood CAs—is nothing short of a haemorrhage. Investigations have shown how CAs help launder money for their clients. In the recent past, the CBI has booked at least eight CAs for pilfering bank loans through shell companies. In one case, the agency found Mahua TV had siphoned funds from a Rs 3,000 crore loan, using 98 shell companies (95 of them Calcutta­based)—all with the help of CAs. Altogether, till this March, 339 such shell companies had been uncovered by the CBI.
"These CAs controlled these suitcase compa­nies themselves, even operated their bank acc­ounts. They would generate fraudulent paper­ work and pass money through the accounts of these different companies while showing a loss in the books of the borrowing entity, one of which was Mahua, a news media company that catered mainly to Bihar­ Jharkhand," says a CBI official.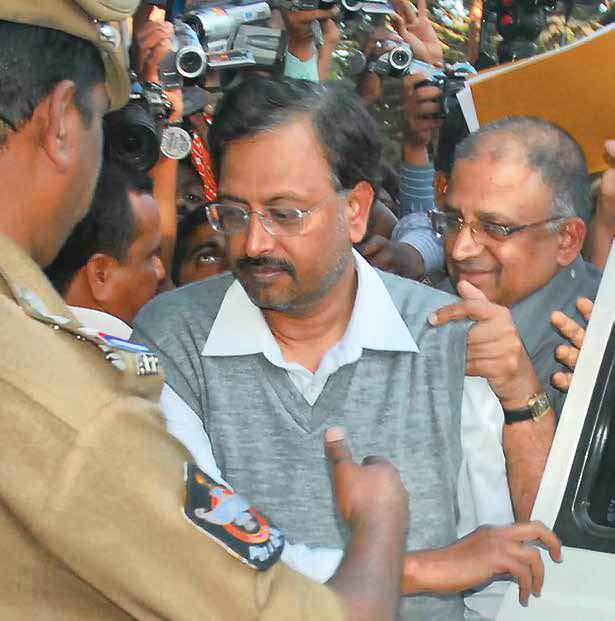 The amounts involved can be staggering. In a recent case, the Enforcement Directorate (ED) filed a chargesheet against a chartered accountant on allegations of laundering Rs 8,000­crore through 90 shell companies. A month ago, Nilesh S. Vikamsey, president of the Institute of Chartered Accountants of India (ICAI), the statutory regulator, posted a message on the ICAI website saying its disciplinary board had taken action against four CAs for enabling money­laundering.
The Serious Fraud Investigation Office (SFIO) had probed a racket allegedly run by a CA, Rakesh Agrawal, whom the ED arrested this May. The agencies suspect Agrawal was laun­dering cash for several high­profile individuals. Information has been revealed about only one of his clients—Misa Bharati, daughter of Laloo Prasad Yadav. The ED has alleged that the CA helped Misa and her husband launder money through shell companies and had also raided their farmhouses in Delhi.
The SFIO—which has an overarching supervisory role across the corporate world—also shared an investigation report with the ICAI on the role of 34 accountants who had helped launder cash through shell companies. An ICAI spokesperson says the regulator found eight of them were not even CAs and is currently probing the role of the remaining 26, who are CAs. All this flurry of activity, though, may mask the fact that the regulatory eye has been rather too lax. The ICAI had penalised only 25 chartered accountants in 11 years (as Prime Minister Modi pointed out in a speech on July 1)—before that number jumped to 402 by March this year. In many cases, though, the 'disciplined' CAs managed to get relief from courts (often with no challenge).
The higher realm of big auditing firms seemingly moves to a more refined, institutional rhythm—till things crack and the light comes in. As former Delhi High Court Chief Justice A.P. Shah recently pointed out, auditors (and often the same firms as consultants) certify documents that help bag contracts which use up subsidies, export incentives, grants, a share of government revenue and taxes and of profits in PPP projects.
The Satyam case is where the auditors, famously, made a mess (and some of the individuals paid the price too). But we saw a wilful repeat of the same series of missteps by the same auditor (and, later, another multinational auditing firm) in the Vijay Mallya/United Spirits Ltd (USL) cases. This organisation— PricewaterhouseCoopers (PwC)—also works as consultants on several projects where public money and projects are involved. Its audit firms are collectively called PW India and the consultancy arm PwC.
The name PwC evokes a valued, competent, old brand of CAs, auditors, tax advisors and financial consultants. Classified as one of the Big Four—with Deloitte Touche, Ernst & Young (EY) and KPMG—PwC legally describes itself as a "global network of audit firms". The word 'network' is rather vital to its mode of operation, as is evident from a brief glance.
A rather deliciously ironic instance that shows this up is where a wing of PwC provided advisory services to the Delhi Electricity Regulatory Commission (DERC). In 2007 and 2012, when the DERC was fixing multi­year tariffs, PwC won the bid to be their consultant and advised DERC on the tariff­ fixing exercise. It's not known whether PwC presents only its specific unit that deals with consultancy projects to win the bid, or the network as a whole, including tax advisors and accountants. Anyway, the drama of confusing identities that ensued is worthy of a Rabelaisian comedy.
This year, the DERC decided not to engage an external consultant at all. Reason: they apprehend that PwC might win the bid! And why should that be an issue? 'Conflict of interest', it turns out. "Other entities under PwC's network have acted as consultants and auditors for power distribution companies in Delhi," says a DERC official engaged in the tariff­fixing exercise. "All these entities are said to be different, but eventually work under one brand. There's a direct conflict: the same network advises the DERC which is fixing the tariff and the discoms who later contest the tariff!"
You can read up to 3 premium stories before you subscribe to Magzter GOLD
Log in, if you are already a subscriber
Get unlimited access to thousands of curated premium stories, newspapers and 5,000+ magazines
READ THE ENTIRE ISSUE
August 14, 2017