Every Home A Studio Rasa
OutlookJune 29, 2020
Driven by passion, enabled by technology, this is how Chennai's musicians are serving concert-starved rasikas
VEENA
vidwan Kannan Balakrishnan had always been a fan of Greek composer-pianist Yanni. Kannan was deeply impressed by Yanni's simplicity when, during his concert in Chennai in April 2014, he walked over to the stage as Kannan played the veena during a private concert to welcome the hugely popular musician.
"He sat there for a while, intrigued by my fingering technique, wonder-struck by the veena's unique sound. Since I could not attend his Chennai concert due to prior commitments the organizers flew me to his Colombo concert," recalls Kannan, 56. Now, the lockdown has provided an interregnum—a cessation of activities that the Chennai-based musician is using, among other things, to play his veena along with two of Yanni's famous compositions, remotely and digitally.
"With no concerts possible I decided to become part of Yanni's orchestra. So, for almost a month I listened and practiced along with the videos of his two short compositions—Standing in Motion and Nostalgia. Since the veena is an instrument with frets I had to scale up my speed to match Yanni's flying fingers on the keyboards and the dizzyingly swift violins of his troupe," says Kannan about his preparation.
Once he was ready, Kannan's son Shyam recorded him; later the two merged it with videos of Yanni's live performance to sync perfectly with the two compositions. "When I posted it on my FB page I was surprised by the humongous response. A friend has promised to reach it to Yanni somehow," Kannan beams. Kannan is not alone; more musicians of this great cultural center have striven to enliven the sombre strains of the lockdown blues with their own experiments. Leveraging technology and the reach of social media they are holding remote Carnatic concerts, recreating old film hits or simply having fun by versifying Tamil songs in English.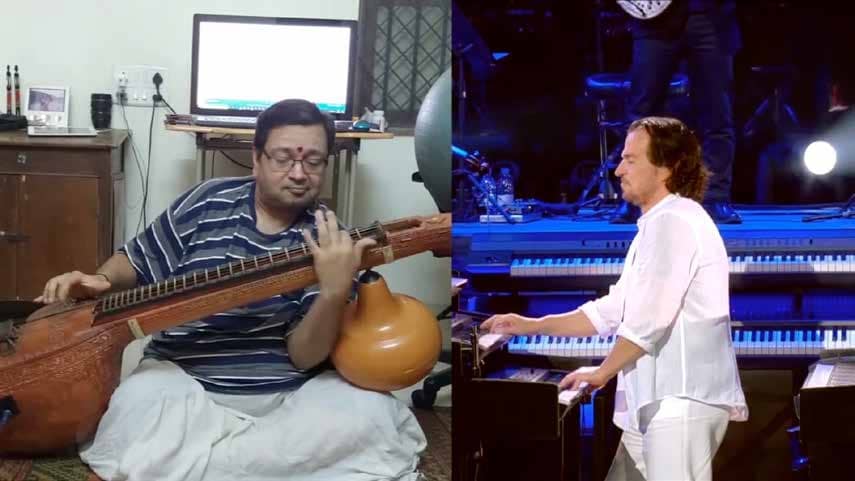 However, the award for stupendous effort should go to Subhasree Thanikachalam, a producer of TV reality musical shows with an eye for singing talent. Otherwise busy compering and producing stage or reality shows, the lockdown gave her a chance to display her passion—old Tamil film songs. She chose songs that were musically unique but not immensely popular, minor gems often overshadowed by other hits from the very same movies.
You can read up to 3 premium stories before you subscribe to Magzter GOLD
Log in, if you are already a subscriber
Get unlimited access to thousands of curated premium stories, newspapers and 5,000+ magazines
READ THE ENTIRE ISSUE
June 29, 2020