Are Nehru-Gandhis Sins Catching Up?
Outlook
|
December 21, 2015
Will the Nehru-Gandhis finally realise that all is not their family fiefdom; are their sins catching up?
Jawaharlal Nehru is once said to have told the employees of the National Herald, the newspaper he founded in 1938, "Hamein baniyagiri nahin aayee (we could never learn how to run a business)." his successors may well have made up for it, if Subramanian Swamy's salvo finally finds its mark. After being on the family's case for years, the BJP leader may have them on the mat this time.
Or will he? Back in May 1978, when Sanjay Gandhi was walking into Tihar after being sentenced to 30 days in prison, Indira Gandhi had told him,"Don't lose heart; this will be your rebirth." Just two years later, the Congress was back in power.
It was this perhaps that Sonia was reminding herself and others of when she declared "I am Indira's daughter-in-law". The party is in the doldrums again, the performance in the recent Bihar assembly elections only a feeble ray of hope, and another crisis could only ground the grand old party completely.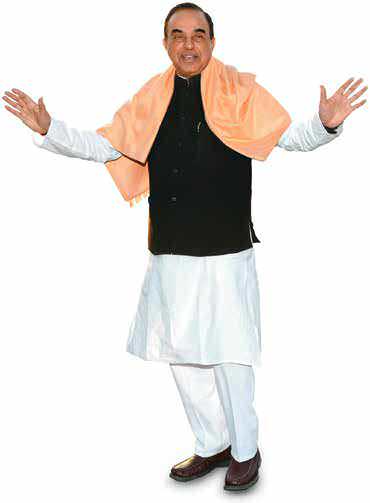 For complainant Subramanian Swamy, an even more salivating prospect would be to cross-examine the Congress leaders on the witness box during the trial. He has, however, done enough damage for the moment, prompting Justice Sunil Gaur of the Delhi High Court to say that the case was "one of its kind". Simply put, the crusader for some and rabble-rouser for others accuses Congress leaders of defrauding their own party and its donors.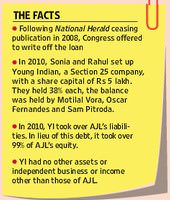 While the Congress always supported Herald, it strangely never owned Associated Journals Ltd (AJL), the company that published the English daily and two other newspapers—Navjeevan in Hindi and Qaumi Awaaz in Urdu. Armed with an array of documents, Swamy seeks judicial intervention on the following questions:
Since a political party is not allowed to give loans, interest-free or otherwise, how did AJL end up showing a Rs 90 crore interest-free loan it owed the Congress in 2008?
AJL was sitting on real estate in several cities worth several thousand crores, why didn't it sell some of it and pay back its debtors in 2008 when the company suspended its publications?
How could AJL, with 1,037 shareholders, transfer 99 per cent of its equity to a private limited company (the newly formed Young Indian Pvt Ltd) promoted by five people (Sonia and Rahul Gandhi, Sam Pitroda, Suman Dubey and Motilal Vora) in 2010?
How did YI decide to take over AJL's debt of Rs 90 crore and assign it a value of Rs 50 lakh?
How did the Congress decide to receive Rs 50 lakh from YI and write off its loan to AJL worth Rs 90 crore?
A majority of AJL's shares seem to be held by the Janhit Nidhi Trust. According to one report, Nehru himself is on record saying that a number of original shareholders of the company, including the Uttar Pradesh Congress Committee, transferred their shares to this trust, formed in 1955.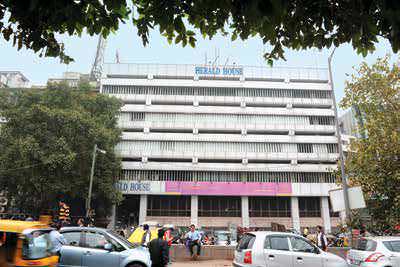 With the Congress neither owning AJL nor YI, the allegation that its five promoters had connived with the party to appropriate AJL property worth several thousand crores resonated with both the trial court and the high court, who felt sufficient facts had been brought on record to merit a trial.
You can read up to 3 premium stories before you subscribe to Magzter GOLD
Log in, if you are already a subscriber
Get unlimited access to thousands of curated premium stories, newspapers and 5,000+ magazines
READ THE ENTIRE ISSUE
December 21, 2015