Amaravati: Abode Of The Immortals
Some 30,000 acres of farmland is Naidus new sketchpad on which he is furiously drawing up his capital city.
Madhavi Tata In Hyderabad
A little after the Y2K scare, on the safer side of the predicted computer-driven apocalypse, one man in Hyderabad set about building a new world: the HiTec City. Chandrababu Naidu, then chief minister of united Andhra Pradesh, leapfrogged into the future when he turned Hyderabad outskirts such as Madhapur and Kondapur into a cyber hemisphere.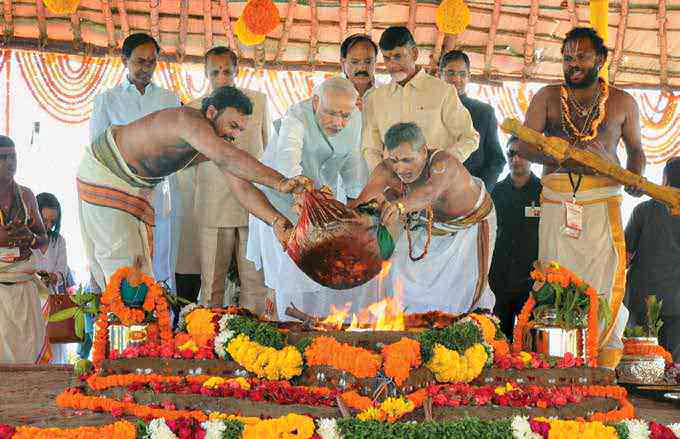 Fifteen years have gone by since, and he is at it again. Raring at the bit to build a smart city from scratch, the blessing he plans to make of the bifurcation of the state. The separation, like any other parting, was painful for Naidu but, having come to pass, he is not looking back.
He is not listening to voices of protesteit her, especially those supporting farmers. Amaravati, the new capital of Andhra Pra­desh, is being built out of lush green farming villages between Vijayawada and Guntur. Opposition politicians, environmentalists and farmers alike are raising an uproar. But never a man to be deterred by critics, Naidu went on to lay the foundation of the 'peo­ple's capital' with Prime Minister Narendra Modi on October 22, Dussehra day.
Sustainable development firm Surbuna Jurong has been entrusted with the task of building the city, as per an MoU inked with the Singapore government. Speaking to Outlook from Singapore, Raghunath Babu Guduru, vice­-president, strategic busi­ nesses, Surbana Jurong, said, "The idea is to build a functional city rather than just one of beauty. While most Singaporeans own a home by 30, in India it is around the age of 40. We hope to change that."
Amaravati's strong Buddhist history strikes a chord in Singapore, China and Japan; this was the seat of the Satavahana dynasty in 3rd century BC. But world­class Amaravati will be nothing like the sleepy little town that currently stands along the Krishna river, a close cousin of R.K. Nara­yan's Malgudi, with a Buddha Stupa and the Amara Swamy temple.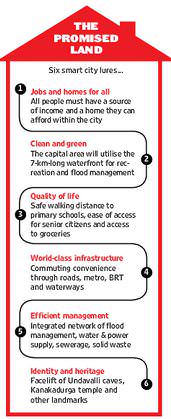 Naidu is also letting people have a stake in the new capital. The Andhra Pradesh government has started an e­brick scheme which allows citizens to buy one brick for Rs 10 each. Recently, Telugu NRIs in North America bought three lakh e­bricks following an appeal by the state IT minister Palle Raghunatha Reddy.
Industrialists in Vijayawada and Guntur are excited. "Amaravati is a template for modern urban planning in India," says Satish Chaganti, who owns a power construction company. "Vijayawada and Amaravati will grow as twin cities due to their close proximity. Development corri­dors such as ports, highways would connect the capital city and regional centres which have been planned around the existing towns of Nuzvid, Gudivada, Tenali, Guntur, Sattenpalli, Nandigama and Parmuru. These would provide for linear develop­ment such as clean industries, infrastruc­ture and logistics­based activities."
You can read up to 3 premium stories before you subscribe to Magzter GOLD
Log in, if you are already a subscriber
Get unlimited access to thousands of curated premium stories, newspapers and 5,000+ magazines
READ THE ENTIRE ISSUE
November 9, 2015