A Tableau Of Feelings Towards Tipu Sultan
Outlook
|
November 23, 2015
As swords are crossed over Tipu Jayanti, everyone revisits a complex debate with all-too-pat answers.
"I have come to the conclusion that everyone should write history based upon his own selection of sources that appear significant to him, but that no one should read it except to obtain general information in areas of peripheral concern. Oddly, only an amateur can be so detached."—Cyril Stanley Smith, 1981
It was with this quote by the famous British metallurgist and science historian that Prof. Roddam Narasimha began his 1985 lecture on 'Rockets in Mysore and Britain, 1750-1850 AD'in Bangalore. Prof Narasimha, who was then director of the National Aero nautical Laboratory, had long been studying the rocket technology employed by Hyder Ali and his son tipu. their military weapon was sufficiently sophisticated for the time, comprising a metal casing holding the combustion powder, tied to a long bamboo pole. Much like a Diwali rocket.
Ironically, the fireworks this Diwali week in the old Mysore region where Tipu Sultan once ruled had less to do with rockets and more with the man himself. The fact is that everything about the Tiger of Mysore has come to be controversial. And this wasn't lost on Karnataka's Congress government when it organised an event to commemorate his 265th birth anniversary—falling, inc identally, on November 10, the first day of Diwali. But things turned ugly—three people were killed in violence in Coorg— and the government has been forced on the backfoot because the narrative shifted bey ond Tipu Sultan and boomeranged, thanks to a remark by play wright Girish Karnad, long a Tipu admirer.
The noise over Tipu's birthday had been brewing for a while but the Siddaramaiah government had stuck to its guns in holding the celebrations which the BJP boycotted. Tipu was a freedom-fighter, an important ruler and a secular one at that, went the CM (who hails from Mysore), brushing aside the protests which he said were part of the BJP agenda to give it a communal colour (the BJP in turn called it the height of votebank politics). Karnad, an invitee to the event at the Vidhana Soudha, was of the opinion that Tipu had not received enough recognition because of his religion. "I feel that had Tipu Sultan been Hindu, not Muslim, he would have attained the position in Karnataka that Shivaji Maharaj enjoys in Maharashtra," he was quoted as saying.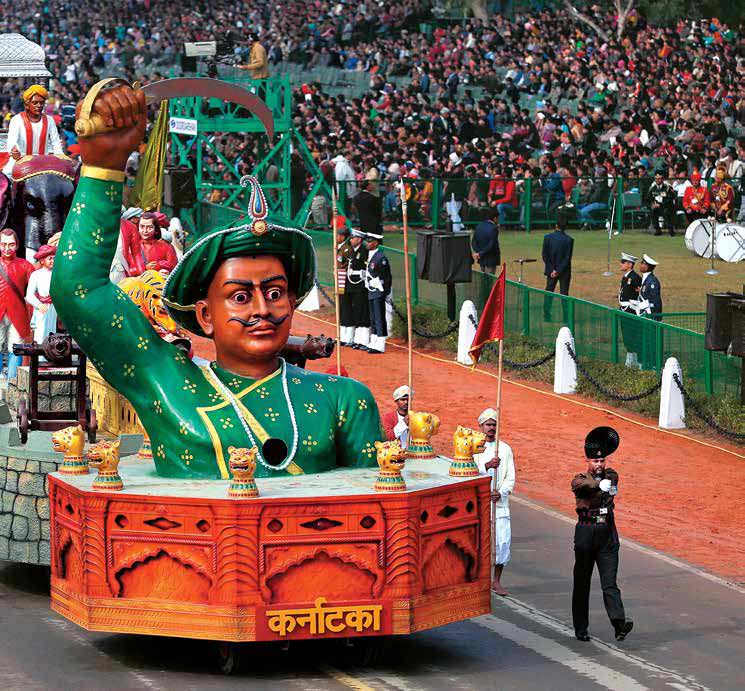 It's a debate that rears its head periodically because there's enough ammunition in this fascinating yet complex figure from history to fuel endless debate. Actor Sanjay
1. Silenced Hindu right-wing cadre 'protesting' Girish Karnad's comments
2. R-Day Regalia tipu spearheads Karnataka tableaux at R-Day parade.
Khan's 1989 teleserial Sword of Tipu Sultan faced court cases before it was allowed to be aired with a disclaimer. About a decade ago, when the BJP first shared power in Karnataka in a coalition government, an education minister said that references to the ruler ought to be struck out from textbooks because he was "anti-Kannada" (though he is said to have co-promoted Kannada, and Persian was used even by the Marathas for administration). There were also reservations over naming the 11.15 am superfast train between Mysore and Bangalore after him. And the UPA wasn't able to do much with a proposal for a university named after Tipu in Srirangapattinam (where he ruled from) some years ago.

"There is no dearth of icons in the Muslim community," Pratap Simha, Lok Sabha MP from Mysore, told Outlook. "If the government wanted, it could have chosen to celebrate the birthday of Sir Mirza Ismail, an equally famous Diwan of Mysore." Or for mer minister Abdul Nazeer Sab, better known as 'Neer Sab' in Karnataka because he promoted the installation of hand pumps in every village. Or the saint poet Shishunala Sharief, revered by all communities. "Instead they chose Tipu whose hands are blood-stained. In a democracy we have every right to oppose it and it was a peaceful opposition," he says. Also, why should the entire state celebrate a historical figure who is a hero only in Srirangapattinam, he asks. (Oblivious perhaps to Tipu's national icon status.)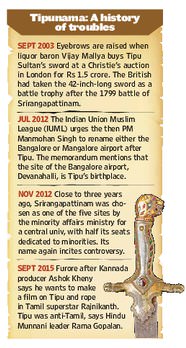 You can read up to 3 premium stories before you subscribe to Magzter GOLD
Log in, if you are already a subscriber
Get unlimited access to thousands of curated premium stories, newspapers and 5,000+ magazines
READ THE ENTIRE ISSUE
November 23, 2015