A Covid-Era How-To For The Money-Wise
We're offering this story for free to read so that you can stay updated on the COVID-19 outbreak
Lessons on investor behaviour during the unprecedented pandemic
Lola Nayar, Yagnesh Kansara & Himali Patel
BOOMS and bull runs lead to "irrational exuberance", a term coined by Alan Greenspan, former chairman of the US Federal Reserve, in 1996. More than a century before him, author Charles Mackay explained the phenomenon succinctly in his aptly titled book, Extraordinary Popular Delusions and the Madness of Crowds. He presciently wrote, "Every age has its peculiar folly...into which it plunges, spurred on by the love of gain, the necessity of excitement, or the mere force of imitation."
Panics and investment pandemics, in contrast, lead to another kind of herd mentality, the lunacy that too is irrational and dynamic. However, what drives it is the pain of loss, the inevitability of volatility, and a desperate need to protect savings. Only in retrospect do investors realize the bitter truth in both cases. Economist Robert J. Shiller explained this about two decades ago when he wrote that the markets do not always reflect the "sum of the available economic information".
What he implied was that the present prices of assets might give a distorted picture of the near future. During boom times, the high prices could suddenly fall. During crises, they could unexpectedly rebound. Since both the scenarios are unforeseen, the investors end up either taking the wrong decisions or making costly blunders. This was evident when Outlook spoke to dozens of investors on how they acted and reacted during the COVID-19 crisis, i.e. in the past six months.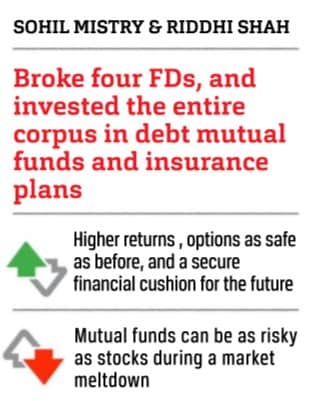 Before we delve into the insane behavior, as also intelligent moves, of sensible and rational people, there is a need for a context. This is because the current crisis, in many ways, is unlike anything seen before. The virus struck in a bizarre manner —although it wasn't as deadly as the others, it spread fast, and across vast geographies. Almost all the economies were paralyzed, and billions were locked up in their homes. A credible cure is still several months away.
Global stock indices, as expected, went into a free fall. In India, the Sensex collapsed from over 42,000 points in March to below 26,000. Then came the miraculous recovery. Today, the index is around 38,000, or less than 10% below its previous high. To hedge bets, institutional and individual investors shifted to the age-old security of gold, and debt instruments. Gold prices zoomed, but the returns on the latter drooped as central banks slashed interest rates to aid and abet economic recoveries.
However, volatility remained. In August, the Sensex saw huge ups and downs on a daily basis. Umesh Mehta of Samco Securities says this may be because many stocks that comprise the index are back to their original levels, and people wish to book profits by selling them. Gold prices witnessed a topsyturvy trend. The World Gold Council (WGC) warned about "higher...volatility in the near term". Mutual funds recovered, but there were wide differences between the various schemes.
In such uncertain periods, those who think they are smart and savvy, as well as strong-hearted and poised, tend to take risks, and actively seek opportunities. Consider the case of Sunil Kumar, a general manager in state-owned oil major, ONGC. Eight years ago, he sold his entire equity holding and invested a portion in mutual funds. In April 2020, he returned and purchased a few marquee stocks at "attractive valuations". Since the Sensex went up, he says, "The results are encouraging."
The 54-year-old Asim Srivastav, a marketing-research professional, confidently claims that he wasn't "fazed by the sharp drop in (equity) market". In fact, he sold a part of his holdings in debt mutual funds, which invest in securities with fixed returns, and purchased shares of blue-chip companies. Within mutual funds, he shifted to those that invest inequities. As the stock prices and indices moved up, he explains that the "benefits of my actions are obvious".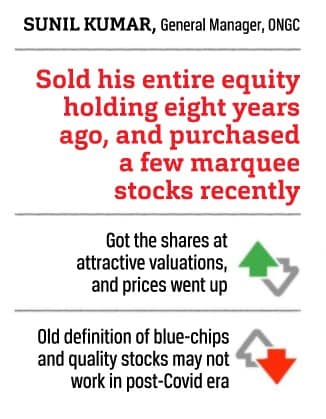 A couple, Sohil Mistry, a 33-year-old professional, and his wife, Riddhi Shah, a 32-year-old lawyer, opted for a different strategy to increase their overall returns. They broke the four fixed deposits they had and shifted the entire corpus to debt funds and insurance plans. "The returns are higher, and the money is still safe in debt funds," says Sohil. Adds Riddhi, "During the crisis, we realised that we had to get out of the deposits' trap, and invest to secure a future financial cushion."
You can read up to 3 premium stories before you subscribe to Magzter GOLD
Log in, if you are already a subscriber
Get unlimited access to thousands of curated premium stories, newspapers and 5,000+ magazines
READ THE ENTIRE ISSUE
August 31, 2020