6 Major Myths About Dropped Calls
It's a problem affecting the common man, as the PM said. Here's getting to the root of call-drops.
This report is about 2,000 words long. You could speak it out in 12-14 minutes. But if you were to read it out over a mobile, depending on your service provider and the city you're in, you'd end up making five to eight calls. Welcome to the world's biggest call-drop nation—that's what some are calling India—as networks across the country snap under the growing weight of calls and data.
The problem has plagued cellphone users for more than six months, but the authorities are finally acting—if almost a month after Prime Minister Narendra Modi expressed concern at the extent of the problem and demanded corrective steps. There could be relief in sight as watchdog Telecom Regulatory Authority of India (TRAI) imposes penalties and forces operators to pay compensation for call-drops. As for operators refusing to toe TRAI's diktats, its chief R.S. Sharma says, "That's a call we have to take: if we pass the orders, they will have to comply." Already telcos, who had been given two weeks to get their act together, have been told their time is up. An open house on October 1 was to discuss penalties that could be imposed and compensation that could be given to customers. TRAI has also been conducting independent tests in Delhi, Mumbai and five other metros to diagnose the problems. And in what could expose the telcos, Sharma says a fact paper analysing telecom operations and deficiencies is being made public. Here are six major myths dispelled:
MYTH 1: Spectrum congestion
REALITY: The problem owes chiefly to non-optimal use of spectrum
Telcos get independent performance audits done for an accurate picture of network efficiency and service quality. This data is carefully hidden, aimed as the audits are at improving profitability. But one such report—by Phimetrics, a global telecom audit firm that has been conducting such audits for Indian telcos for six years—was shared with trai. It was also shared with the prime minister's office, the reason for Modi cracking the whip. The report, accessed by Outlook, says: "All operators have shown an approximate 50 percent increase in their call-drop rate compared to the past year." It blames non-optimal spectrum use, estimating that spectrum congestion and tower shortage account for only a third (some 33 per cent) of the problem.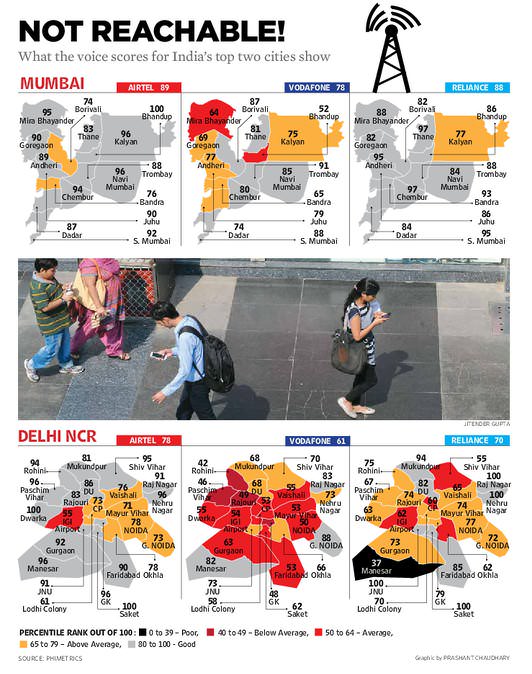 Spectrum congestion occurs when available bandwidth gets divided between more than the number of users it is meant to handle. Calls break, data transmission slows. But the Phimetrics report says, "more than 36 percent of call-drops occur in good coverage areas.... More than 30 percent unsuccessful call attempts occur during off-peak hours.... More than 40 percent of calls-received errors occur post midnight..." Clearly, spectrum congestion is not to blame.
Phimetrics head Kartik Raja also blames a change in policy of a year ago, allowing free use of spectrum instead of tying down particular bands to particular uses: data can now be sent on bands traditionally used for voice and vice versa. Predictably going where the profit is, telcos are using the most expensive (but quicker) 900 MHz band for data, which draws more revenue. Voice transfer suffers as a result, pushed to less efficient bands. This is the chief cause for call-drops. It's not that the problem is unknown to the government. Says Union communications and information technology minister Ravi Shankar Prasad, "We are seeing a trend where voice is being ignored because data generates revenue." And it's neither the case that telcos don't know the route to a solution. Cellular Operators of India chief Rajan Mathews admits that calldrops are being addressed through spectrum optimisation.
You can read up to 3 premium stories before you subscribe to Magzter GOLD
Log in, if you are already a subscriber
Get unlimited access to thousands of curated premium stories, newspapers and 5,000+ magazines
READ THE ENTIRE ISSUE
October 12, 2015