Paris Attack: Friday The 13th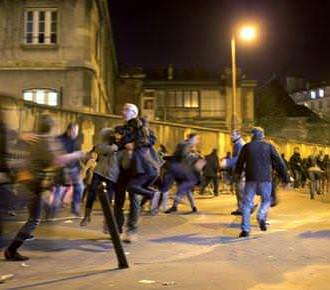 13 November 2015
As news flashes on my iPhone of the Bataclan massacre, I remember going there when I was very young. It was a cinema then, on Boulevard Voltaire, and we kids loved it, as it was built in the peculiar style of a Chinese pagoda. We used to make fun of the name 'Ba Ta Clan', until our parents told us that it was named after an opera of the much-loved French composer Jacques Offenbach. Today it has become a place for concerts, of course. And my first thought was for all my young nephews and nieces: Joachim, the son of my brother Pierre-Yves, who loves heavy metal music, Juliette, daughter of my cousin, Sofia, the anti-conformist, who is into theatre and music…
A quick call to my brother and my cousins: they are all safe. Relief floods all over me. It started at 9.20 pm with three suicide bombers blowing themselves up in France's National Stadium. Were they trying to get at French President François Hollande, who was present? That would have been a major blow to our country. Then at 9.25 pm, two gunmen with AK-47 rifles riddled up with bullets Parisians sitting on the terrace of a popular café called Le Carillon. A few minutes later, gunmen opened fire on an Italian restaurant frequented by the young. At 9.36 pm, two other terrorists rained bullets on La Belle Equipe, a famous restaurant at the limit of 10th and 11th district. A little later, a lone gunman entered Le Petit Cambodge, a restaurant I have never heard of before, still in the 10th district, and opened fire indiscriminately, killing 14 people. The main attack happened at 9.40 when three jihadists, probably assisted by two other men—one a driver and the other a spotter—massacred more than 80 people at our childhood's Ba Ta Clan, where the Eagles of Death group was playing.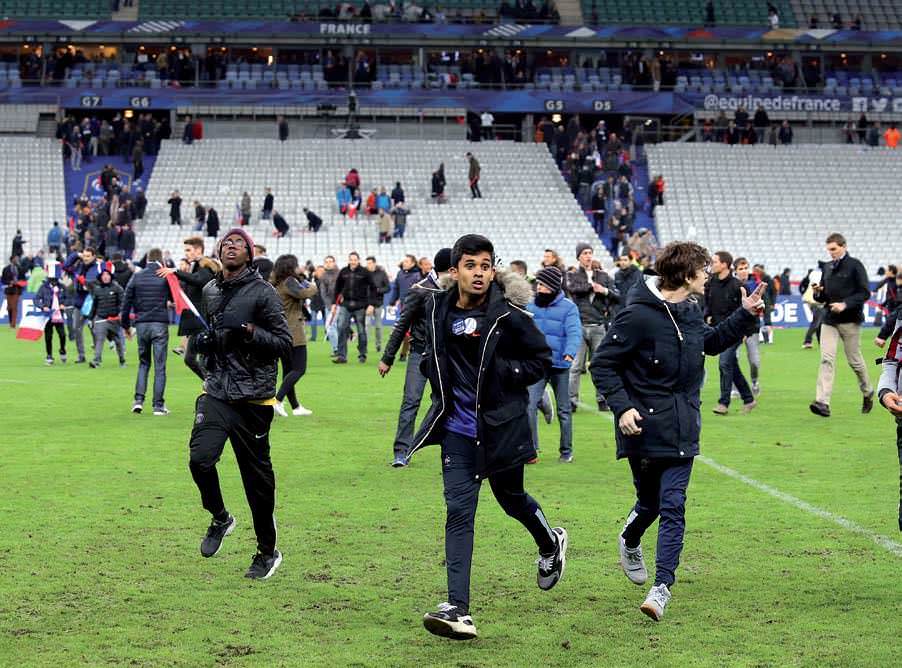 The shooting lasted more than 15 minutes. At 12.20 am, the French police, which reacted amazingly fast, stormed the building after having tried to negotiate with the terrorists who were still holding hostages. Two of the men blew themselves up and the third was shot dead. In all, 129 people died and more than 300 were injured during these attacks, many of them fighting now for their lives.
Only barbarians would attack Paris, I thought, the most beautiful city in the world. Its heart, from the 17th district to the first arrondissement, is eternal, forever unchanged, supremely romantic in the true sense. Nearly 14 centuries ago, Arab invaders, led by Emir Abd el-Rahman, came within 300 km of Paris and were stopped on 25 October 732 by French King Charles Martel, near the town of Poitiers. It was a stunning defeat. Otherwise the whole of Europe could also have become Muslim, like much of North Africa did. Other invaders are coming today, peacefully as refugees. Will they succeed where Abd el-Rahman failed? So I brooded when I learned that one or more of the terrorists had come hidden amongst refugees.

The Bataclan is hardly 12 minutes from the Charlie Hebdo offices, where on 7 January this year, two brothers, Said and Cherif Kouachi, killed pointblank 11 journalists and cartoonists because they had dared to draw, among other controversial cartoons, Prophet Muhammad in a hat with protruding rocket launchers and bombs— which, as one French newspaper headlined after the attack, 'is pretty close to the truth'. The 13 November attacks, I thought, have proved wrong all those who justified directly or indirectly the Charlie Hebdo killings: Al Jazeera TV channel, for example, which is owned by the state of Qatar and has been recruiting with its petrodollars some of the best anchors of CNN and BBC. The executive producer of Al Jazeera, Salah-Aldeen Khadr, gave instructions to its journalists to say that these attacks were only against 'racist' cartoonists and not against Free Speech, while Mohammed Salim, one of the Doha-based journalists wrote in an internal email that 'if you insult 1,5 billion people, there is bound to be some killing...'
The Paris killings had no motivation except to instill terror.
13 November 2015, 11 pm
As more news filters in about the attacks, one of these at rue de la Fontaine au Roi, a pizzeria where nine people died, I remember that it is quite close to my old college, Cours Polles. It is 'une boite a bac', which literally means a 'graduation box', where rich people put their lazy kids to be crammed with useless knowledge so that they pass the Baccalaureate, which is the diploma you get at the end of your secondary studies, before entering university. Every morning, I would drive my Peugeot mobylette, from my home rue de Bourgogne, that starts from Chambre des Députés, France's Lok Sabha, take rue de Varenne, where are at 57° N, reside French prime ministers, cross the Seine at rue du Bac, drive along Quai des Tuileries, turn at Boulevard Sebastopol and enter the 10ème arrrondissement.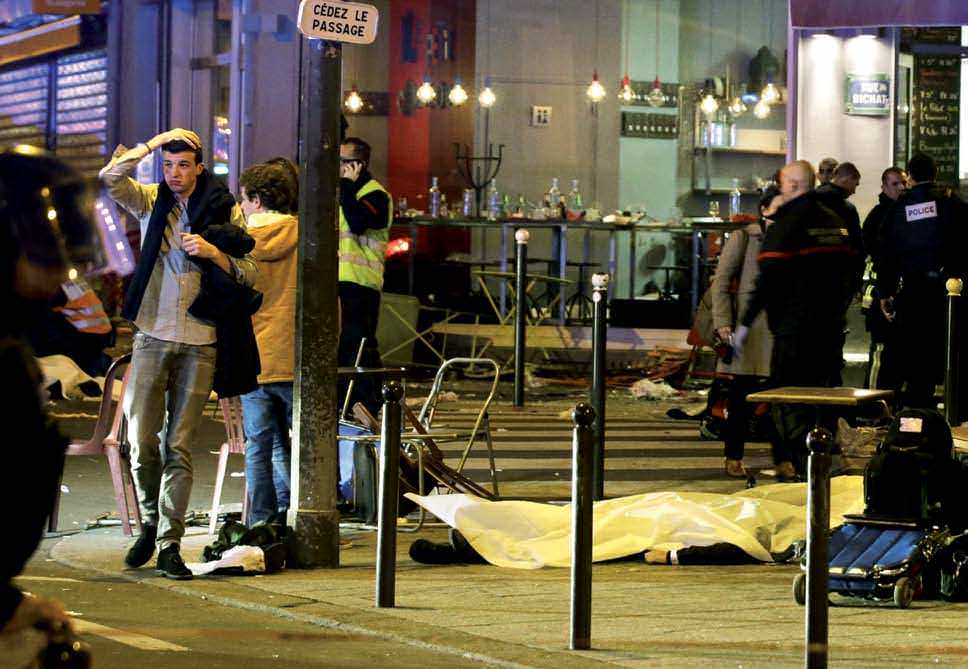 You can read up to 3 premium stories before you subscribe to Magzter GOLD
Log in, if you are already a subscriber
Get unlimited access to thousands of curated premium stories, newspapers and 5,000+ magazines
READ THE ENTIRE ISSUE
November 30, 2015