Pillay's Pension Caper
Noseweek|December 2019
Former SARS deputy commissioner Ivan Pillay's early retirement on full pension and instant re-employment was arguably not criminal, but it did amount to a devious scamming of state funds and flouted strict rules for state employees
NICO COETZEE, a senior operational specialist in the Human Resources division of the SA Revenue Service, woke early on 9 October 2009 with something on his mind. At 5.57am he sent an email to recently appointed SARS Commissioner Oupa Magashula expressing his misgivings over deputy commissioner Ivan Pillay's application for early retirement "to provide for his children's education". And on top of that, after his retirement Pillay wanted immediate reappointment to his job.
Coetzee, then 61, with 22 years' service at SARS under his belt, dealt with HR's most difficult pension cases. He pointed out that in a similar request for early retirement the previous year, Pillay had said "he wished to pursue other interests". If his children's education was now sufficient reason to secure approval for his early retirement – and immediate re-employment – "it could be construed that SARS is willing to contribute from its budget an amount of +R340,000 towards the education of his children. [That] may put yourself and the minister in a tight spot," Coetzee advised Magashula.
The previous day Coetzee had emailed Magashula on the reappointment issue. "It is not unusual that a retired employee is reappointed after retirement in a contract capacity. What may raise some eyebrows in this particular case is that the employee is appointed in the same position he held before his retirement.
"Ordinarily such a reappointment will be to a different and a lower graded position. We had two similar applications for early retirement, both of which were not approved by the minister as he could not find sufficient reason to approve (them)."
In the HR division, Coetzee reported to Susanna Visser, then 47, head of executive remuneration. Visser shared his misgivings, so much so that she advised commissioner Magashula that it was not advisable to continue with the process. "We were both uncomfortable with the request as it was for personal reasons and we could find no business reasons to pay the penalty on behalf of Mr Pillay," said Visser in a sworn statement she was to make later to the Hawks. "We were also concerned that it could set a precedent whereby others could come and claim the same benefit."
There are strict rules for the 1.2mplus active members and 450,322 pensioners and beneficiaries in the Government Employees Pension Fund (GEPF), one of Africa's largest pension funds, with accumulated funds and reserves of R1.8 trillion.
The Public Service Act's section 16 (2 A) gives state employees the right to retire at 55, by written submission to their head of department. That's the normal route. But there's a penalty. Under GEPF rule 14.3.3 (b) their early pension benefits will be reduced by one-third of 1% for each month between leaving and contracted retirement date.
As deputy commissioner and head of enforcement, the then 56-year-old Pillay was pulling in around R2.5m/ year. On that, a full pension at normal retirement age of 60 would give him a lump sum payout of around R2.36m and R53,303/month (with annual increases) for life. But the early retirement penalty would reduce the lump sum to R2.12m and the monthly income to R48,563.
Until May 2009 Pillay's head of department at SARS was then commissioner, Pravin Gordhan. And while Gordhan might have been amenable to letting Pillay go under 16 (2 A), there would have been that annoying reduction in benefits. This the canny Pillay was determined to avoid. He opted for the less-chartered route of PSA rule 16 (6) (a), for both early retirement and full benefits, as though he'd left at 60. However this route required the approval of the executive authority (ie the minister), who had to be satisfied there was "sufficient reason" for the early departure and that this wasn't just an attempt to wangle full benefits years before they were due.
And if the minister gave the okay and an early "full pension" kicked in, so did the GEPF's rule 20: the employer must compensate the fund for lost contributions. In Pillay's case, the penalty would be R1,141,178.
Pillay set about his "early retirement" with his usual meticulous planning and attention to detail. By 2009 he had bought additional pensionable years for the period 28 February 1980 to 27 April 1994 – when he was an ANC intelligence chief in the struggle.
The sting in Pillay's early retirement was that he had absolutely no intention of stepping down as deputy commissioner. It was a sham retirement. He just wanted his pension benefits four years early, and without any reductions.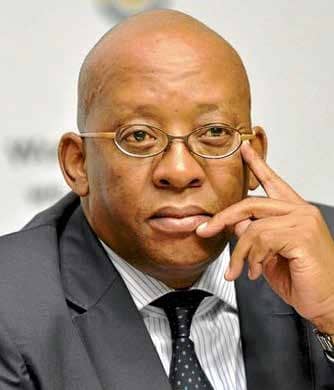 Ivan Pillay and Pravin Gordhan had known each other since the struggle years of the early 1970s. Both were experienced spies, secretive and skilled in the art of smoke and mirrors – and deception. Gordhan was a key figure in the ANC underground network who spent four years developing the structures of Umkhonto weSizwe (MK) and Operation Vula. Pillay was commander of MJK, the much-feared Mandla Judson Kuzwayo unit, and head of Operation Vula in Lusaka. Both were members of the Central Committee of the SACP.
Post-1994 Pillay played a key role amalgamating the former protagonists' intelligence services into the newly formed National Intelligence Agency and South African Secret Service. When Gordhan was deployed to SARS as deputy commissioner, he persuaded his old comrade-in-arms to join him in 1999 as General Manager: Special Investigations.
Pillay's brief was to head the enforcement division and set up a hard-hitting covert surveillance and intelligence unit. It was the alleged activities of this unit that landed Pillay, along with former police spy Johann van Loggerenberg and Andries "Skollie" van Rensburg, in the dock in the current "rogue unit" case over the 2007 bugging of the National Prosecuting Authority. After much-orchestrated media pressure, the case is widely expected to be thrown out next February by new NPA head Shamila Batohi.
Pillay is married to Dutch activist and investigative journalist Evelyn Groenink (author of the 2018 book Incorruptible, a 30-year project investigating the murders of ANC and Swapo activists Dulcie September, Anton Lubowski and Chris Hani). They have two daughters, Devi and Vani, and in 2009 their mother was desperate to relocate to the Netherlands for the girls' education. This provided the motivation for Pillay's early retirement request, which he outlined in an undated memo to then SARS commissioner Gordhan. A bank loan, he told Gordhan, would be "prohibitively expensive" in view of prevailing high-interest rates.
"In view of this I have decided to inform you I intend to retire in 2009 when I reach the age of 56 years. As I have already reached the earliest optional retirement age of 55 years, the retirement benefits will provide me with a lump-sum benefit (that will financially support my decision in terms of the education of my children) as well as a monthly pension."
Pillay's memo continued with a candid admission: "Clearly I am doing this on account of a matter that has nothing to do with my work at SARS. I still feel I am still capable of doing my work, I still have the enthusiasm and will to do it and I am of the opinion that through my work I can still contribute to the establishment of an even better South Africa for all its citizens.
You can read upto 3 premium stories before you subscribe to Magzter GOLD
Log-in, if you are already a subscriber
Get unlimited access to thousands of curated premium stories and 5,000+ magazines
READ THE ENTIRE ISSUE
December 2019