Le Big Bash
Why Tshepo Mahloele's Lebashe has bought Tiso Blackstar's media jewels.
UNTIL IT BECAME SOUTH AFRICA'S latest media mogul in June, most people outside the fuliginous world of infrastructure project funding weren't too familiar with Lebashe Investment Group (Pty). So what has propelled this well-heeled "unknown" down the path of print?
The answer, Noseweek can exclusively reveal, is General Bantu Holomisa. Tshepo Mahloele and his co-directors believe that their R1.05- billion purchase of Sunday Times, Business Day and Financial Mail, three of the country's most iconic titles – not forgetting the rest of the sprawl of Tiso Blackstar's media division extending into Ghana, Kenya and Nigeria – is their best shot to kill the war of words being waged against them by Holomisa and his UDM. A war that Lebashe director Warren Wheatley says "depicts us as greedy, unscrupulous and uncaring fat cats"; a never-ending campaign of "unfounded allegations" that, he claims, has caused incalculable damage to their reputations in their arena of financial services.
If buying a media empire seems an extreme way of combating an irritant like Bantu Holomisa, well, after its chairman raised $1bn (around R15bn) for trans Africa infrastructure, what's a mere billion rand for a few ailing publications?
Holomisa has been on the warpath. In May and June last year he and his United Democratic Movement dispatched three letters to President Cyril Ramaphosa claiming to unmask the fleecing of the Public Investment Corporation (PIC) by Lebashe and its fund-managing company Harith by "double or triple-dipping into the PIC's funds" in more than a decade's worth of alleged pillaging. The general repeated his charges to the Public Protector.
Thirteen months ago Judge Vivian Tlhapi in the North Gauteng High Court ordered Holomisa to cease and desist from making or repeating his defamatory allegations. But despite this, says Lebashe's Warren Wheatley, "the witch-hunt continues. Holomisa is relentless, he won't stop."
What has particularly upset Lebashe is the space the media has given to what they describe as Holomisa's unsubstantiated accusations, without bothering to check the facts. "We were at the butt end of poor reporting."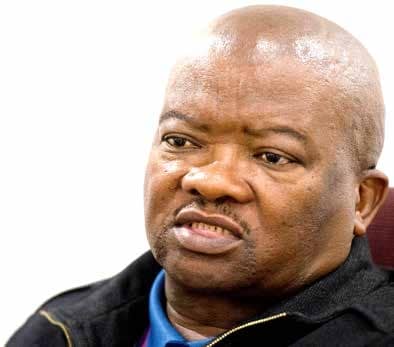 Wheatley, who is Lebashe's 40-year-old chief investment officer, confirms that it was the Holomisa experience that was the catalyst for his company's June 27 purchase of Tiso Blackstar's demoralised and retrenchment-hit media division. "Our experience definitely played a role in us making the decision to buy, it was a factor," says Wheatley.
Of course, there's a financial angle to it. Any situation, these smart money okes believe, can be turned to a profit. Wheatley explains: "What it made us realise is that the quality of reporting in South Africa has left such a gap that there's money to be made if we can ensure the reintroduction of proper investigative reporting.
"You know, where editors are held to account, where people fact-check, where people read supporting documents, where they take their time and not try to be first to break the story. The reintroduction of quality into this industry we think is of significant value. That's why we like these particular brands: Sunday Times, Business Day."
Wheatley tells Noseweek that negotiations with Tiso Blackstar head Andrew Bonamour started in March. It's no coincidence that it was on March 20 that Holomisa began his testimony to the PIC Commission, naming Lebashe and its chairman Tshepo Mahloele among key players allegedly at the centre of a web of multi-billion rand self-enrichment and looting from the Public Investment Corporation.
You can read up to 3 premium stories before you subscribe to Magzter GOLD
Log in, if you are already a subscriber
Get unlimited access to thousands of curated premium stories, newspapers and 5,000+ magazines
READ THE ENTIRE ISSUE
August 2019