Environmental Impact
Noseweek|December 2019
Eco-savvy new minister favours nature-based solutions
BARBARA CREECY HAD BEEN IN office as the new Environment minister for just two weeks when she was slapped with a major court action over the government's appalling progress in cleaning up air pollution in the Mpumalanga Highveld.
Environmental groups Vukani Environmental Justice Movement in Action and groundWork submitted more than 500 pages of court papers demanding that the government clean up the area's killer air.
Represented by the Centre for Environmental Rights, the groups said the government had violated the constitutional right of the people who live and work in the Highveld Priority Area to a healthy environment, having failed to improve the dangerous air pollution levels – mainly caused by 12 of Eskom's coal-fired power stations.
Some environmental activists viewed the court action over this "inherited" issue as a wake-up call, while others dubbed it a "baptism of fire" for the new minister, appointed in May to President Cyril Ramaphosa's new, reduced Cabinet. It was, they said, partly a bid to get Creecy to take urgent action on the air pollution, but was also a test to see how Creecy would handle the complexities of coal, which is key to South Africa's economy but also a huge source of pollution.
With climate change and environmental issues coming to the fore globally, it is significant that Creecy was chosen by Ramaphosa as Environment Minister in a department that's now merged with Fisheries and Forestry. The Department of Environmental Affairs was renamed the Department of Environment, Forestry and Fisheries (DEFF) in June 2019, incorporating the forestry and fisheries functions from the previous Department of Agriculture, Forestry and Fisheries.
Even former mining boss Nicky Oppenheimer said recently the Environment ministry was the most important in the government… with environment "at the forefront of everybody's mind".
Creecy, a member of both the ANC's National Executive Committee and its National Working Committee – and one of the longest-serving members of Gauteng's provincial legislature – has made her mark in government in various ways. As Education MEC – a position she held from 2009 – she led a turnaround strategy for the Gauteng Education department to improve matric performance in 400 under-performing township schools. The programme was recognised by the UN and awarded first prize in the category Improving Delivery of Public Services.
Creecy's integrity stunned observers at the Life Esidimeni hearings in Johannesburg last year when she strongly refuted claims made by former health MEC Qedani Mahlangu and others that Life Esidimeni had cash problems which caused it to shut down. She stressed that the Treasury would never have endorsed cutting down on essential social services and said the provincial health department had more than enough funds.
There was widespread speculation ahead of the cabinet appointments that Creecy, most recently employed as the respected Finance MEC in Gauteng, would become Finance minister or deputy in the new Cabinet – but she's not complaining. Phrases like the "just transition", the "circular economy", "biodiversity loss" and "ecosystem degradation" slipped easily off her tongue when we met for an interview at Parliament. She spoke continually of that elusive concept "the just transition", relating to the move to a low-carbon economy, while keeping in mind the need for an inclusive economy and sustainable development.
"This is a fantastic job; a very interesting, stimulating portfolio," Creecy said. "Now, with fisheries and forestry thrown in, it's huge, with many different policy areas. (The work) is a big mix between economic development issues and conservation, sustainable use, climate change, waste management and everything that creeps and crawls and flies and swims."
When we met, Creecy had just returned from the UN Climate Action Summit in New York where, amongst others, she met Swedish teen-hero Greta Thunberg. "I asked to take a selfie with her! I was very struck by how young and vulnerable she is. She reminded me of how young some of us were when we got involved in the struggle against apartheid. Hector Petersen was ten when he was shot.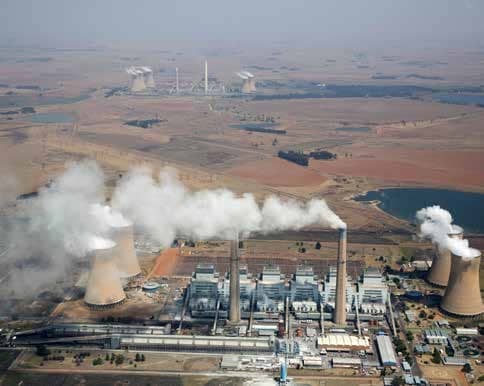 "I am a great believer that if you don't feel strongly and passionately about things when you are young, when will you ever feel strongly and passionately about things? The children of 1976 changed South Africa, so I think these young people who are fighting the climate change struggle deserve respect for their views."
Of the UN Climate Action Summit, Creecy said: "The big issue on everybody's agenda now will be the question of the just transition. South Africa is a heavily coal-dependent economy, with 80% of our power coming from coal. Climate change is affecting our lives already. We have good global commitments but we haven't done enough to domesticate those things. That will be a key area of focus."
Commenting on the government's recently released Integrated Resource Plan (IRP2019), she said she was "happy about the massive increase in renewables".
You can read up to 3 premium stories before you subscribe to Magzter GOLD
Log in, if you are already a subscriber
Get unlimited access to thousands of curated premium stories and 5,000+ magazines
READ THE ENTIRE ISSUE
December 2019