Arch on the march
Noseweek|May 2020
'We will overcome this and we'll realise we are a communion of nations more than we think,' says Anglican Archbishop of Cape Town, Dr Thabo Makgoba
I am seated In a spacIous, sunny boardroom at Bishopscourt, the official residence of the Anglican archbishops of Cape Town since1851. At a safe distance, many metres away at the head of the table, is the Most Reverend Dr Thabo Makgoba, Archbishop of Cape Town.
It's Monday 23 March. Later in the day, President Cyril Ramaphosa was to announce the 21-day lockdown starting in four days' time. The archbishop's office is already practising strict social distancing. He returned 14 days ago from London where, among others, he met with the Archbishop of Canterbury Justin Welby, the principal leader of the Anglican Church worldwide.
"I'm praying that we'll learn solidarity from this Coronavirus, that we'll start talking about common humanity and how we do it in practice," says Dr Makgoba. He sees this time as a turning point for humanity.
Driving down the tree-lined driveway to the estate, in the heart of one of South Africa's richest suburbs, one could not but be reminded of the history of the place. Originally comprising 213 acres (86 hectares), it was given to Jan van Riebeeck, the first commander of the Dutch garrison at the Cape by the Dutch East India Company more than 350 years ago, but the house burned down before he could occupy it.
It was rebuilt by Sir Herbert Baker at the turn of the 19th Century. Today the grounds span 16 acres (nearly 6.5ha). It was in this Bishopscourt house where Nelson Mandela spent his first night of freedom as a guest of then Archbishop Desmond Tutu and his wife Leah.
The boardroom wall is covered with stately portraits of Makgoba's predecessors, bedecked in their robes of office: there's Archbishop Njongonkulu Ndungane (a former prisoner on Robben Island, he was Archbishop from 1996 to 2007); Archbishop Desmond Tutu (1986-1996) and, before them, Archbishops Philip Russell, Bill Burnett, and Robert Selby Taylor. The archbishops of Cape Town go all the way back to Robert Gray, the first bishop of Cape Town, who purchased Bishopscourt in 1851.
It feels strange interviewing somebody seated so many metres apart, but Makgoba, known – besides being politically outspoken – for his charm, engages easily about his personal history and his current challenges.
In the course of the interview, he talks about his origins in Limpopo; about what it was like speaking out against the Zuma regime; about being a twin – his beloved twin sister Nthabiseng, who was a big influence in his life, died some years back; and about his deep respect for Pope Francis, whom he has met three times. Among the books, he is reading is Malcolm Gladwell's Talking to Strangers: "His main point is how often we humans get other people wrong, how we misunderstand each other – and that we all belong, or should belong."
He also chats about his passion for gardening in the grounds of Bishopscourt, where he lives with his wife Lungi, their son Nyakallo and daughter Paballo. Nyakallo is in his second year of a Master's degree in Philosophy, Politics and Economics and Paballo is doing a Humanities degree both at UCT.
Makgoba's current challenge is dealing with the impact of the Coronavirus on his vast number of parishioners. "You can cut the fear among the people," he says. He explains that he has more than 30 bishops, each of whom presides over between 40 and 120 parishes. "If we count the children and the unconfirmed, I have about 5 million parishioners."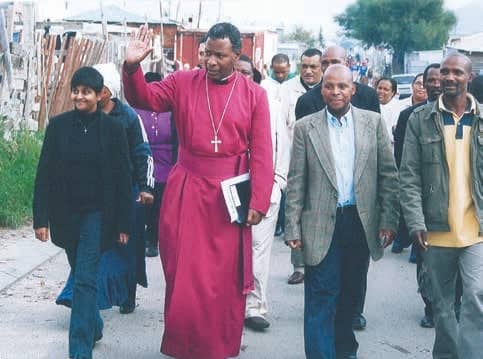 He is technically the Archbishop of Cape Town and the "Metropolitan" the church across Southern Africa. That includes dioceses in South Africa, Angola, Lesotho, Mozambique, Namibia, Swaziland and the island of St Helena.
Makgoba has never before presided over so many Skype and Zoom meetings, WhatsApp groups and website updatings with advisory teams of bishops, doctors, nutritionists and lawyers, as in recent days, to guide his parishes. The challenges range from the need for food and sanitation to ministry.
Then there's the regular contact he keeps with retired archbishops Njongonkulu and Tutu. "I have to keep saying to them, 'Please don't be heroic, stay at home!' They are keen to get involved."
At present, Makgoba says, he is preoccupied with trying to instil hope and "to try and talk about that small strip of light that most of us can't see in the darkness that eventually will overcome the darkness".
Even this period will come and go, he says. "But it needs a collective effort rather than fear, ignorance and forgetting to care and love one another. It's a case of hearing what the President is saying, what the Minister of Health is saying – and getting information from our bishops throughout South Africa and the other African countries.
You can read up to 3 premium stories before you subscribe to Magzter GOLD
Log in, if you are already a subscriber
Get unlimited access to thousands of curated premium stories and 5,000+ magazines
READ THE ENTIRE ISSUE
May 2020